The form and pedigree of the Chelsea and Cameroon striker make his participation in Brazil necessary, even if he can be the source of controversy
GUEST FEATURE
By James Ezimoha
As news of Cameroon's qualification for the 2014 FIFA World Cup travelled from lip to lip, so did stories of the uninspiring demeanor of long-serving captain, Samuel Eto'o Fils. The nation's German manager, Volker Finke, now faces a big decision: Does he include Eto'o in the party to travel to Brazil, or does he overlook him for the good of the team? Can the Indomitable Lions afford to travel with such a divisive figure?
Cameroon clawed their way through the group stages of the qualifiers, looking fatigued and disoriented now and again. They virtually surrendered top spot in the group to Libya but rode their luck after Togo got punished for an administrative error. The Indomitable Lions roared back to trash Tunisia 4-1 in the second-leg of the playoffs.
Considering Eto'o's past accomplishments, it is almost unthinkable that he could be ignored by this stuttering side.
Star in Focus
Eto'o, 32, made his debut for Les Lions Indomptables on the 9th of March, 1997 as a 15-year-old lad in a 5-0 friendly loss to Costa Rica. This introduction signalled the beginning of a successful, trophy-laden, record-breaking and money-making voyage in both international and club domains.
Eto'o's Spanish affair began in 1997 when he was snapped up by Real Madrid to play for their youth academy. After spending a season with Real Madrid B, he moved from one Spanish side to another, learning his trade, honing his skills and developing into one of the world's deadliest strikers at RCD Mallorca.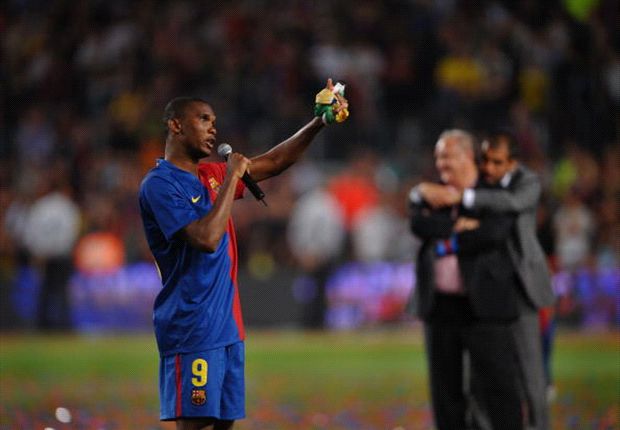 Eto'o | Samuel speaks to the Camp Nou
In the summer of 2004, after stints with second-division side Leganes, Espanyol and Mallorca (where he scored 69 goals in 165 appearances) Barcelona paid 24 Million Euros for the Cameroonian.
Eto'o was tailor-made for Barca.
He scored 129 goals in 201 appearances for the Catalan club. He won three La Liga titles, one Copa del Rey, one Super Cup, and got two Champions League winners' medal during his time at the Camp Nou, breaking numerous records in the process.
Eto'o has won the African Player of the Year award a record four times: 2003, 2004, 2005 & 2010. He was third in the FIFA World Player of the Year award in 2005, but all of his glamorous achievements were accompanied by his penchant for trouble-making and hitting the headlines for the wrong reasons.
His youthful exuberance and volatile attitude off the pitch can be likened to that of Mario Balloteli.
In 2003, a TV journalist filed a complaint after a fall-out in parking-lot where Eto'o was accused of saying "The next time, you are not going to escape; I'm going to kill you." His former agent, Daniel Argibeaut, had previously accused him of assaulting him with four accomplices.
His rant, aimed at Real Madrid during the festive party organized by Barca after winning the 2004-05 La Liga title, also left a bitter taste. He chanted "Madrid, carbon, saluada al campeon" (translated into English as, "Madrid, bastards, salute the Champions.") Even after he had apologized, the head of Real Madrid fan club federation remained unimpressed, stating: "This character is a fantastic player, but leaves a lot to be desired as a person."
The Mourinho Effect
Apart from displaying superb tactical proficiency, one of the assets a manager should possess is man-management skills. This proved to be the case when Eto'o joined Inter Milan in 2009, when current Chelsea boss, Jose Mourinho, was at the helm. Their relationship was 'tense' at the beginning but soon blossomed into a love affair.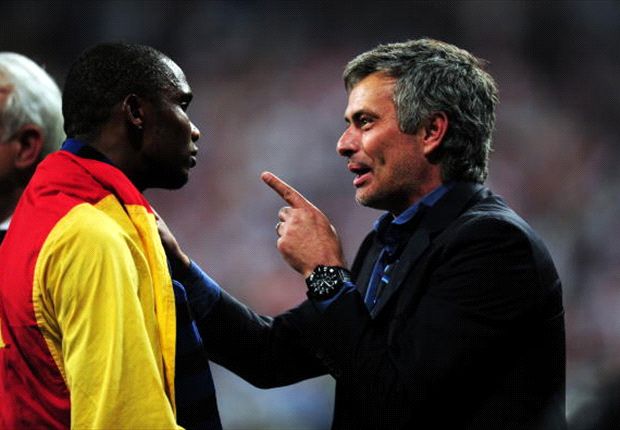 Samuel & Jose | Becoming best of friends
Mourinho performed his 'tricks' and successfully brought out the best from the man whose track record, up till that point, had been both sweet and sour. Eto'o somehow found a way to stay out trouble or at least keep it away from the media, and did his talking on the pitch. He helped the Nerazzurri to their famous treble; landing the Champions League, Serie A and Coppa Italia titles in 2010. The FIFA Club World Cup added more gloss to an already shiny trophy cabinet.
John Terry, 33, who was deemed surplus to requirement at Chelsea last season under current Napoli boss, Rafa Benitez, has become one of the pillars propelling the table-topping Blues towards the title. And credit must go to Mourinho for his renaissance.
Similarly, Eto'o, 32, still looks every bit a top class striker, and he has repaid the confidence shown by the manager for bringing him to west London. He has scored six goals in 12 appearances thus far for Chelsea, including a memorable hat-trick in a League game against Manchester United.
Since arriving at Stamford Bridge, Eto'o has once again looked motivated to succeed. Upon arriving at Chelsea, having left Russian side Anzhi Makhachkala, he said: "Does a rich man get tired of being rich? All I've ever wanted is to be No. 1. The day I stop being hungry for winning will be the end of my career."
To the World Cup
There is a significant weight of expectation surrounding all of Africa's representatives going to the World Cup; the cry is for them to excel and Cameroon aren't excluded from this. Coach Finke will be looking to improve the Indomitable Lions' track-record in their record seventh World Cup appearance and he will need his best legs present in Brazil.
With the well-documented unrest in the den of the Indomitable Lions, the onus falls on Finke as a test of his man-management skills. At the top of his agenda ought to be devising a workable system in which the team is fully focused and motivated to carry out the task at hand, and to get the best out of his captain.
Eto'o is currently at the peak of his career and based on the vast experience he has amassed playing at the highest level in Europe, and the current form he is showing at Chelsea, his inclusion on the plane to Brazil will be invaluable for the Central African nation.