The name Dez Corkhill needs no introduction to football supporters in this part of Asia. If you have somehow not seen him on television before, you must have surely heard his booming voice on it.
His passion for the game is synonymous with his reputation as well. It was with awe that Dez recounted his experience two nights earlier at a Malaysia Super League (MSL) game between Pahang FA and Johor Darul Takzim (JDT) during our interview at a coffee joint.
"It was the most entertaining game you will see anywhere in the world this year," he declared about the match, which saw Pahang win 3-2.
"It was magic. It was attack versus attack, then a mistake; there was an early goal, a late winner. It was drama, it was rivalry - it was everything that football should be."
It comes as no surprise, then, that the 50-year-old is a huge advocate of local football.
"I don't understand why people don't support their local teams, I really don't; it's like anathema to me," he fired off.
Commentating on entertainment
The affable 50-year-old's strong stance stems from his 14 years of television production and commentary work in the region, which has left him a staunch believer in the high entertainment standards of the sport here.
"I am not good enough to talk about the technical side but as pure entertainment - teams attacking, defensive mistakes, goalkeeping errors, 30-yard goals - it's as good as anything you can get," he asserted. "I've seen numerous games where I've gone home and said 'that's good, I enjoyed that night out'."
He has the privilege of having a grandstand view at games that "mean so much" to the supporters. Dez singled out the 2005 Indonesia Cup final, where Persipura Jayapura beat Persija Jakarta 4-3 in extra time, as particularly memorable and described the Malaysia FA Cup final last year between Kelantan FA and JDT as one of his "most remarkable" moments.
"Being right at the top of Bukit Jalil Stadium, I got a wonderful vantage point," he recalled, eyes gleaming at the memory. "The Johor fans started doing a reverse Poznan, jumping up and down and singing their songs. Kelantan supporters followed and we had, I swear, a 100,000 people jumping up and down at the same time. Never, ever have I seen anything close to that. Just…mind-blowing; best thing I've ever seen."
Coming from someone who has experienced atmospheres in the English Premier League, it is high praise. But commentary, he surprisingly reveals, is in fact not his main job.

"Commentary is an absolute hobby, I only started in about 2004," Dez explained. "My background is sports broadcast journalism since 1989; that's when I got my first gig. Then I got the chance to move out to Singapore to work at ESPN for Sportscenter in 2000, where the idea was to localise the international sports programmes. I am a television producer, first and foremost."
That was when he saw that commentary on local football was not being "taken seriously", even though football was already a big deal in Asia.
"Nobody knew their history, nobody cared; it was being compared negatively to European football," he recalled.
"I started doing commentary to try showing people that you could be passionate about Asian football. There's always something good and positive you can talk about, always.
"Even now, it is (still a hobby). My real job is to work at Astro Arena, where I am now a manager and our job is to promote local sports. What we have done is to take local sport seriously and treat it with credibility, which I don't think many people have done before, but more and more people are doing so now."
Getting into the media industry
Dez was surrounded by football from young, having been born in Liverpool. At college in Dundee, Scotland, where he studied history and at South Wales, where he subsequently broke into sports broadcasting, it was the same. Football was part of most people's day-to-day lives, part "of growing up".
Having played as a goalkeeper at a semi-professional level in his youth, he decided journalism was a more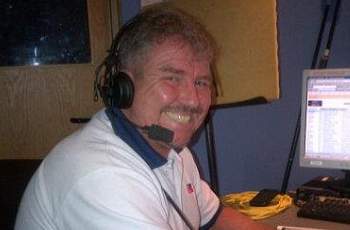 viable career. Dez worked in radio at Swansea Sound and Red Dragon (now Capital South Wales), while also freelancing for BBC Wales and got heavily into commentating on ice hockey for a while. Then, a move to IMG in London to work in the Premier League followed before the opportunity to work in Singapore came up in 2000. He ended up staying here for 10 years.
"I literally thought I'd be here for two years, start something up, bring locals on and move on, and that's what I've done everywhere," he recalled. "I am a big believer that there are certain things we can bring from the West, but it's got to be taken on by local staff. Even at Astro, there are only two of us (his boss and him) and we anticipate being moved on at some stage because local people have seen what can be achieved and they are taking things on."
Identity
The importance of identity in football was something Dez emphasised heavily when we moved on to a more in-depth discussion of the game, particularly in Malaysia and Singapore.
"Liverpool is famous around the world for its football so that is a lot of what I am and I am incredibly proud of that," he explained.
"People in Kelantan, for example, are now recognised around the world because of football. Very few people can tell you an awful lot about Kelantan, other than the fact that they've got the Red Warriors, so it identifies them. Singapore is a lot more cosmopolitan… so it's difficult to get that local identity."
Citing JDT's "state nationalism", Dez believes that having an identity is a big part in capturing the hearts of a team's local community.
"I think things like Tampines Rovers building a new football stadium is a great move, because there will be something to draw the population," he elaborated.
"The attendances in Malaysia are terrific and elsewhere in the region like Thailand, they are really very, very good and the teams that are most well attended are those that have that geographical identification.
"If you've got a club team that has no centre-point, then nobody will support them. So, Tampines must play in Tampines. What the heck is Home United? Why are they playing in Bishan? Why are they playing in a stadium they don't own? Where I come from in the UK, even in the ninth, 10th, 11th divisions, clubs own and build their own stadiums. They are the centre of the community, they attract their own fans.
"Clubs need to market themselves and make themselves available to the community. It's about [teams like] Geylang International getting out to the schools to get the kids watching, it's about the facilities being made better and more approachable.
"The sport has got to mean something [to people]."
LionsXII
Dez believes the LionsXII's popularity is down to the "tangible identification" that Singaporeans can associate it with.
He says matter-of-factly: "It's Singapore isn't it? That's what it is. It's not officially Singapore, but it is. And people can identify with it."
Having predicted before the season that the LionsXII will finish in the bottom half under Fandi Ahmad, he admitted that they've done better than he's expected, although he still feels they will struggle to score.
"It's the Fandi effect; I've heard of Fandi, I knew Fandi, but I wasn't quite aware of what a legend he was, what [kind of] influence he'd have," he stated. "And I am seeing it now, that's part of my education. The players are responding to him.
"I didn't predict it as a necessarily negative thing because this is a developmental squad; as long as the guys learn, then the season will be worth it. The plan is to improve."
Dez also wrote off JDT's chances when everyone was tipping them as title favorites, with their recent results vindicating him so far. He stuck to his pre-season prediction for Kelantan when asked who would be champions, adding that both Pahang and Selangor would have a say in the title race as well.
Work, life and home
Liverpool are playing some "wonderful and expansive" football at the moment - they thrashed Arsenal 5-1 only the night before - but Dez ultimately dismissed their title chances against the likes of Manchester City and Chelsea.
"Money talks; whoever spends the most wins the league," he stated simply.
The youngest of four siblings in a family of Reds, with the exception of a Everton-supporting brother, Dez was born at a rather unusual time.
"I was born on the day Liverpool played Everton!" he chuckled. "My dad had a ticket and eventually he had to give it to somebody, so I made my dad miss the derby! He was a Liverpool fan, so I had to be a Liverpool fan. So yeah, I followed them when I was 18, 19, both home and away. It was scary sometimes, but they were wonderful occasions."
Dez shuttles periodically between Malaysia, his home for the past four years and Singapore, where his wife of seven years works and lives in. There are no kids - no time, he says - and he tries to visit family once a year, as well as to watch his Reds (his family buys three season tickets every year).
"My real-time job is quite demanding, I share the management of Astro Arena and I go to at least three, four games a week," he explained, adding that he still plays the game for leisure. "So it (my life) is kind of full. It's very one-dimensional, very football-focused, but it's… When you go to places like Kelantan and Sabah, when you see how people are enjoying it, what it means to them to win, the atmosphere outside the stadium, it's wonderful. It makes it really worthwhile."
Hopes and future
Dez proud of what he has achieved during his projects at ESPN and currently Astro, and has high hopes for local football going forward.
"I want the local leagues to be taken more seriously than international leagues because I think they deserve it and if I can play a part in that it would be great," he said. "And whoever does it - I hope it's Astro - I would hope to be part of the project."
With the interview drawing to an end, I ask whether he would return to the UK when he retires.
"It's not entirely up to me, but I wouldn't choose to; I love Southeast Asia," he smiled.
"I find Singapore more international and Malaysia more local in how sport is perceived. The thinking in Singapore is all international and sport doesn't have a high priority in this. In Malaysia, sport is more part of a day-to-day life.

"I like the internationalism in Singapore because it keeps me in touch with my roots, but I love and identify with the local sport in Malaysia."
Two countries split by only a Causeway, but so very different. I throw him a final toughie - Singapore or Malaysia, then?
"Good question!" Dez replied cheekily.
"Both are great. I love Singapore, I have a place here and my wife is here, while Malaysia has been a revelation too.

"You're not getting a straight answer from me!"