It is perhaps an understatement to say that
Manchester United
and
Arsenal
have had their fair share of epic battles over the years.
From Roy Keane and Patrick Vieira's colossal rivalry to the "Battle of the Buffet" to United ending the Gunners' record unbeaten run, clashes between both teams have time and again created headlines that will forever be etched in football history.
With both teams having just come out from undesirable results over the weekend (
Arsenal were whooped 5-1 by Liverpool
while
Manchester United conceded a late equaliser in a 2-2 draw against Fulham
), they will be looking to set things right ahead of the massive clash on Thursday morning's kick-off, Singapore time.
In this week's Top 5,
Goal Singapore
takes a look at the most memorable battles that have taken place between the two sides over the years.
5. Manchester United 0-1 Arsenal
May 8, 2002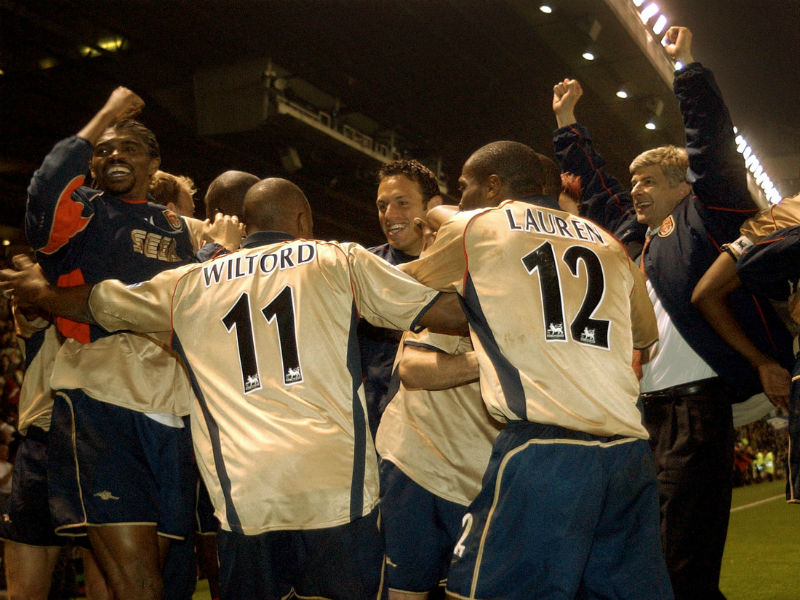 In a season where the Gunners were overwhelming favourites to lift the title after going on an 11-game winning run, they travelled to Old Trafford to face a Red Devils side that still had a faint chance of retaining the title they won the season before.

The match was the penultimate game of the season and a win for Arsenal meant that they would be crowned champions on their fierce rivals' own turf. And that was exactly what happened.

In his 100th appearance for the club, Sylvian Wiltord's 58th-minute strike after Fabien Barthez punched away Freddie Ljungberg's initial effort was enough to give the visitors a comfortable 1-0 win and inflict the ultimate humiliation on the hosts.

The Gunners, who had won titles at White Hart Lane in 1971 at and Anfield in 1989, ensured they completed a trilogy of winning titles at their rivals' home ground. Having won the FA Cup the weekend before as well, the result also meant that they sealed their second Double in four years.
4. Arsenal 0-0 Manchester United (Arsenal won 5-4 on pens)
May 21, 2005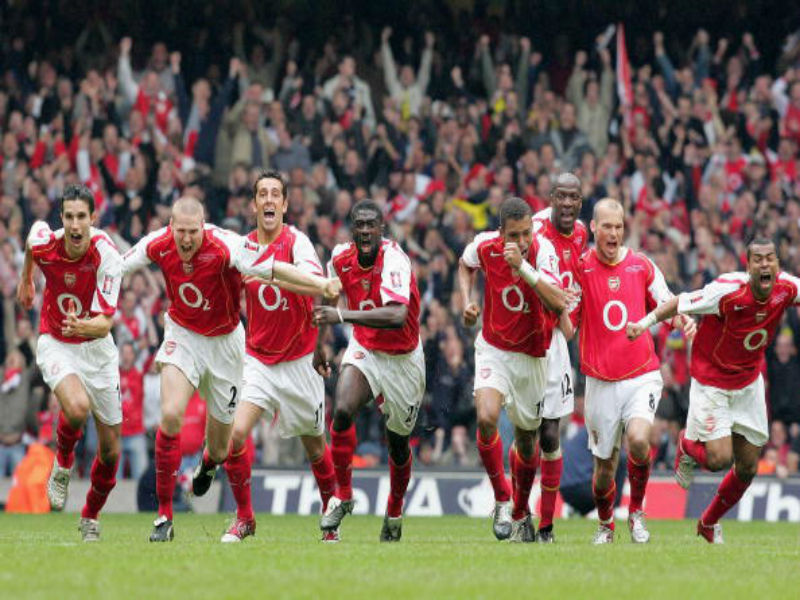 It's not often that you see a 0-0 match being labeled a classic, but this FA Cup final match was an especially significant one, especially for Arsenal.

Having lost both league matches to United earlier in the season, Arsenal came into the final as underdogs and, to be honest, they were absolutely battered during the game in a one-sided affair.

The Red Devils dominated the proceedings and had Wayne Rooney and Ruud van Nistelrooy both hitting the post. Even with Jose Antonio Reyes sent off, the Gunners somehow held on for 120 minutes and

It was a cruel result for Manchester United, who were punished for their inability to score during the game as Arsenal won the penalty shootout 5-4. Jens Lehman saved Paul Scholes's spot-kick before Patrick Vieira scored the penalty to clinch the trophy and deny the favourites a second consecutive FA Cup win.

It was the first time an FA Cup final was decided by spot kicks since 1912 and it was Arsenal's 10th win in the competition. However, till today, the win in 2005 remains the last trophy Arsene Wenger has won with his team.
3.
Manchester United 2-0 Arsenal
October 24, 2004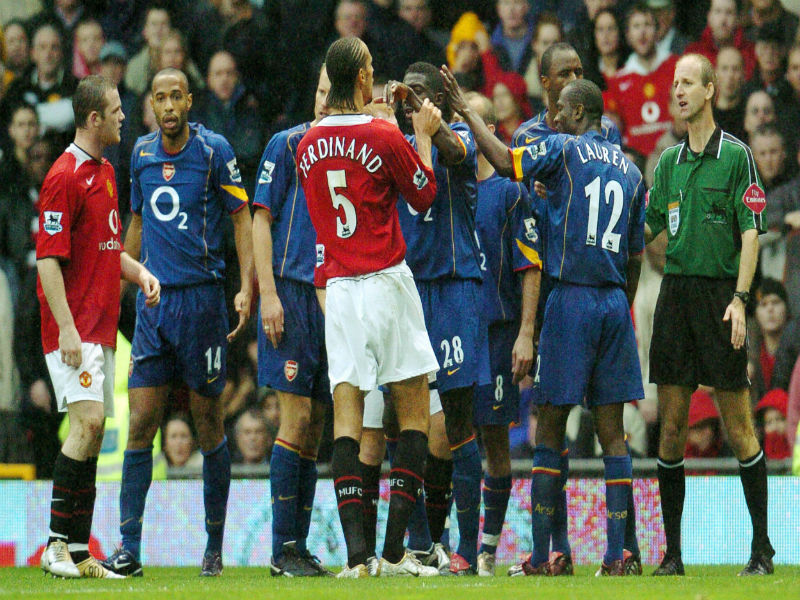 Arsenal came to Old Trafford for this match having gone unbeaten for a record of 49 games, and were looking to reach the half-century mark with a win over their bitter rivals on their own turf.

However, United historically halted their progress as Ruud van Nistelrooy vanquished his demons from the previous season when he missed an injury time penalty in a 0-0 draw.

Mike Riley controversially awarded the home side a penalty after Wayne Rooney was felled inside the box and van Nistelrooy made no mistake from the spot to redeem himself. Rooney then put icing on the cake late on in a counter-attacking move.

Despite the result, the match will forever be remembered as "Pizza-gate", where a scuffle in the tunnel after full time resulted in Sir Alex Ferguson (in)famously leaving the stadium with a pizza-blotched suit.
2. Manchester United 8-2 Arsenal
August 28, 2011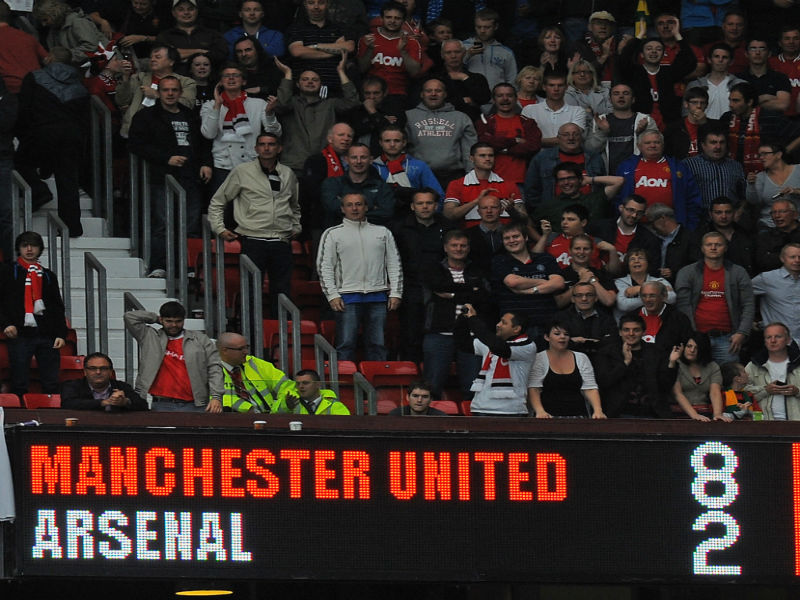 Having just sold their two star players in Cesc Fabregas and Samir Nasri to Barcelona and Manchester City respectively, Arsenal were not in the best of shape coming into the tie against United in August 2011.

But few would have expected such a massacre as United amazingly scored eight goals against a team that had a fearsome quartet of Laurent Koscielny, Johan Djourou, Armand Traore and Carl Jenkinson in defense.

Wayne Rooney helped himself to a hat-trick and Ashley Young scored a brace, while Danny Welbeck, Nani and Park Ji-Sung all got on the score sheet. Robin van Persie missed a crucial penalty in the first half and Jenkinson got sent off late in the second period to compound Arsene Wenger's misery.

Granted, Arsenal's squad was dampened with injuries and suspensions, but such was the ruthlessness of the Red Devils that even Sir Alex Ferguson pitied his opponents.

"We could have scored more but you don't want to score more against a weakened team like that," he said after the game.

It was the worst day of Arsene Wenger's managerial career and the worst result in Arsenal's history, and the defeat triggered a knee-jerk reaction as Wenger signed four players on the final day of the transfer window.
1. Manchester United 2-1 Arsenal (a.e.t)
April 14, 1999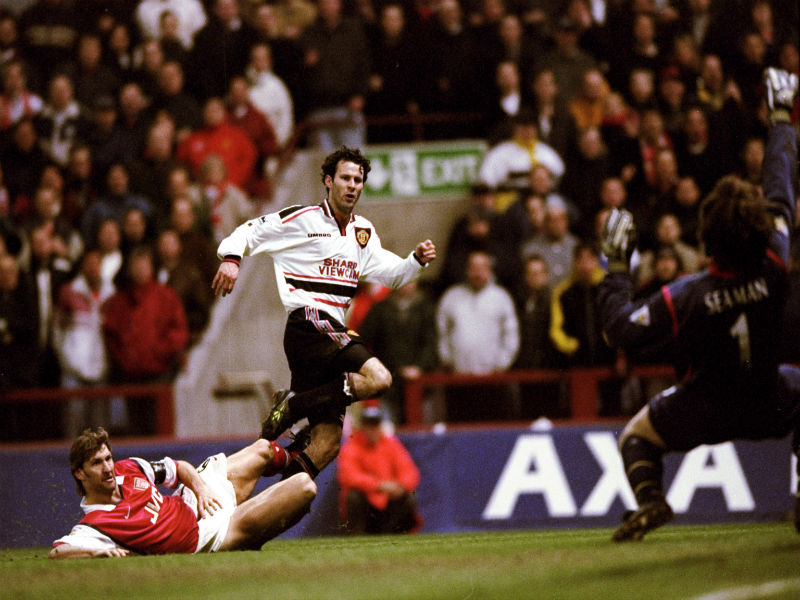 Undoubtedly, the best match-up between the two English juggernauts came in the 1998/99 season when both sides faced each other in a FA Cup semi-final replay at Villa Park.

While the game will forever be remembered for Ryan Giggs's amazing solo winning goal, the match itself was a phenomenal showcase of football drama at its finest.

It was a free-flowing game as golden boy David Beckham opened the scoring for the Red Devils with a brilliant long-range strike. But the Gunners equalised midway through the second half when Denis Bergkamp's deflected shot beat Peter Schmeichel.

Drama then unfolded as Roy Keane was sent off for a second bookable offence. Arsene Wenger then sent on Marc Overmars as Arsenal took charge of the tie. Nicolas Anelka had a goal ruled offside but Arsenal thought they had the game won when Bergkamp was fouled inside the penalty box in injury time.


Amazingly, Schmeichel saved his penalty and forced extra time. Enter Giggs, as the flying winger dribbled the ball from the halfway line, beat the entire Arsenal defense and thumped his shot past David Seaman to score one of the all-time great goals in football.

United went on to beat Newcastle in the final. Oh, they happened to win the Treble that season too.