He may have a Super Eagles century within his grasp, but this writer isn't convinced that the skipper should be welcomed back to the national side
GUEST FEATURE
By Solace Chukwu
Among footballers, there is a sense of fascination with milestones and records.
There is a deep satisfaction in the fact that one has scored, say, the 1,000th goal of the World Cup; or the fastest goal in Champions League history. Records bring with them the prospect of immortality, a surety that when a playing career is long over, one's name will always be remembered and one's feat set as a standard for others to aspire to.
Above all others, the Holy Grail of the international footballer is the celebrated 100th cap. The reason is not hard to understand: there are only a handful of international competitions, coming up at either two or four year intervals, meaning that the likelihood of a tournament-win in national colours is far slimmer than in club football, where there can be as many as three domestic competitions every season.
It is also generally accepted that glory with the national team is often down to collusion between serendipity, or fortune, (i.e. the advent of a "golden generation" of players, a favourable tournament draw, etc.) and assiduous long-term planning. Therefore, longevity is the next best measure of quality service.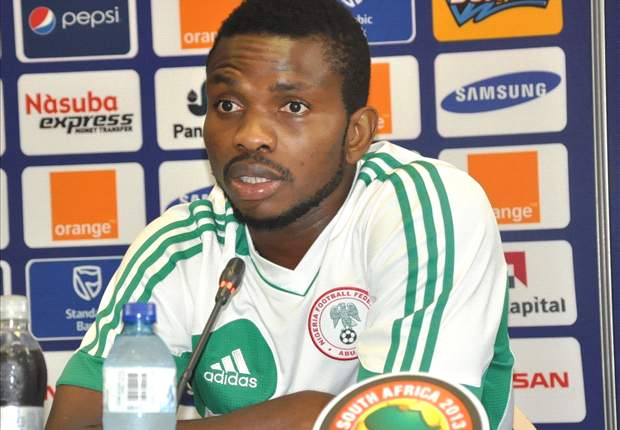 Yobo | Targetting the mythical 100th cap
The closest Nigerian footballer to this milestone is team captain Joseph Yobo, who has amassed 95 caps in an international career spanning 13 years to date. Naturally, he has made plain his desire to earn five more caps and be the first to reach the 100 cap milestone. Where do I stand on this issue? I'm going to vote no.
My view is based, not on sentiment, but on hard logic. Joseph Yobo is now 33 and no longer plays regular football, having lost his place at Turkish giants Fenerbahce. This is not the only (or major) reason however.
Modern football places peculiar demands on the central defender. There is a growing need for defenders who are comfortable with the ball at their feet, and who are mobile enough to play in a high block-pressing system. With teams increasingly seeking to play on the front foot, the midfield zone of yesteryear has become the new defensive zone.
In many ways, Yobo himself is the biggest advocate against his own case. He is quite comfortable with the ball at his feet; in his early days in the Super Eagles he played at right back (who can forget his teasing cross for Julius Aghahowa's goal against Sweden at the 2002 World Cup?), but he no longer has mobility. This is not surprising, given his age. What is most disappointing, however, is that he has failed to adapt his game to compensate for his limitations.
Yobo has always relied on his reactions as a defender.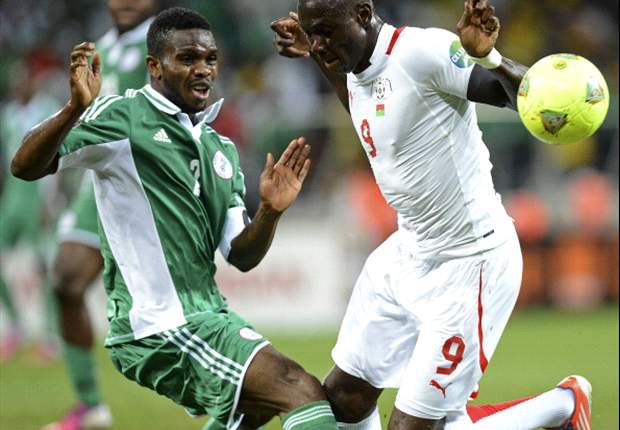 AFCON 2013 | Evidence of reduced reactions
His anticipation and reading of the play ahead of him was never top notch, he has relied primarily on physical prowess throughout his entire career. He is a fine man marker, and was reasonably quick at his peak, however, the mental side of his game has never developed. This is precisely one of the reasons he was cast aside by Everton, not his age (Sylvain Distin, for example, is still going strong there at the ripe old age of 36), but his reactionary style of defending.
As time goes on, the first thing a player loses are his legs and his ability to respond to the mounting danger. He sees what's happening (or about to happen), but his legs no longer respond quickly enough. For a footballer, that signals the onset of the inevitable decline. For a footballer whose game is all about his quick reactions, this signals catastrophe.
The sight of Joseph Yobo stretching to get across before a shot is taken, but not quite getting there quickly enough has been a frequent one for about five years now. The most recent? His last start for the Super Eagles, at the Nations Cup in January 2013, where his despairing stretch to prevent an injury time cutback to Alain Traore proved futile.
To bring back Joseph Yobo to the national side would be ill-advised and counterproductive. He may offer experience, but what is the point of experience when one's presence no longer assures calm? His service and commitment to the Super Eagles will be remembered with fondness, but any more appearances may in fact be a disservice to his own legacy and to the team.
In the age of composed, front-foot defenders and with the emphasis now firmly on intercepting the ball due to ever tightening rules against tackling, our aspiring centurion Joseph Yobo is a relic; a living, breathing dinosaur. He should not be brought back into contention.
Editor's Note: The views expressed in guest articles are not that of Goal. For any rejoinders, please send your comments of between 500 and 700 words to nigeriadesk@goal.com and we will consider it for publishing.