All eyes were fixed on
Manchester United
's Carrington training complex as David Moyes eagerly awaited the arrival of
Juan Mata
, via helicopter no less, for his medical ahead of a club record £37.1m switch.
His current team-mates, including the likes of Rio Ferdinand and Robin van Persie, were giddy with delight at the prospect of playing with the sultry Spaniard while some of his former colleagues wished him the best of luck in his Old Trafford career.
So, without any further ado, here is our Juan Mata special of
Word on the Tweet
!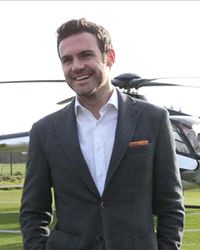 "Welcome to my amigo @juanmata10 ! Hoping you enjoy ya time here and help continue the success at this club #mufc
"
Rio Ferdinand
is already brushing up on his Spanish lingo and hopes the new arrival can turn around the Red Devils' fortunes on the pitch. I can't imagine it'd be long before Rio tries to flog Mata some #5 gear.
"
Welcome to my brother @juanmata10 just one thing....Not the best clothes!!"
David De Gea
welcomes his Spain international team-mate but is quick to thow in a dig at Mata's clobber. That's Mata arriving at Carrington today (right). I'm sorry David, but you are wrong.
"Welcome Juan Mata... see you all tuesday"
Robin van Persie
was first in with the welcome tweet. The Dutchman also suggests he will, suddenly, be fit for action in midweek...
" Welcome Juan Mata to mufc"

Phil Neville
keeps it short and simple. I wonder how the Manchester United assistant manager will help Mata develop his game.
"Good luck with your move my friend,I'm sure you will be great as you have been at Chelsea!! #JM#NUMBERONE"
Former Chelsea pal,
Yossi Benayoun
wishes Mata the best with his move. I can't help but think he's missed a trick by not implementing #NUMBERJUAN into that tweet. Come on, Yossi.
" Mata is an excellent buy. Marvellous player. Excellent pro. In his prime. Big lift for the club. Great coup for MUFC to prise Mata away from CFC. The Spaniard must have put real pressure on Chelsea to secure deal."

Gary Lineker
in true twitter punditry fashion offers a series of tweets. Short. Sharp. Analysis. The way forward.
"J.Mata... JUGOOOOOOOONNNNN!!!!?"
And as far as Swansea forward
Michu
goes, I have not got a clue what he is saying here. Jog on, maybe?