COMMENT
By Dez Corkhill

Foreign strikers made the difference in week one of the Malaysia Super League. The debate about whether this is good or bad for Malaysian football is an article for a different time and place, but for excitement and quality on match day one, it was certainly the imported players both new and old who made the headlines.
Mamadou "Hadi" Barry was one of the least heralded new boys to Malaysia. The 31-year-old Guinea forward is used to Southeast Asia having played in Indonesia for five seasons, and he was signed from Hong Kong's South China. He's a giant of a man at 6'3 and made a giant-sized impression with a stunning two-goal debut for the Turtles as they came from behind to defeat PKNS FC 2-1.
In Johor, while all eyes were on Pablo Aimar's debut, it was his fellow Argentine Luciano Figueroa who impressed more. He scored a late "insurance" goal (from a stunning Safiq Rahim pass) to finally see off stubborn Perak resistance, but more than that showed a willingness to be a real team player with a good work ethic up front, and was often seen encouraging his team-mates when things didn't go too well.
Aimar showed some flashes of brilliance including one gem of a 60-yard pass that switched play to Mahali Jasuli who forced a decent save out of Nor Haziq in Perak's goal. But it was Figueroa who looked the more comfortable of the two Argentines.
As an aside, there were also solid displays by JDT's two Singaporean imports. Baihakki Khaizan stepped up as the senior man in his partnership with Aidil Zafuan and after some early scares when the hard working Bosnian Zelimir Terkes found space behind Bai, he was generally tight on his man and made a very strong impression, although he did pick up a yellow card late in the game. Hariss Harun's late introduction as a substitute for Aimar enabled JDT to hold onto possession in the last 10 minutes, and to ensure that Perak didn't produce an almighty upset.
So much for the "new" imports. The foreign strikers more familiar to Malaysian fans and viewers on Astro Arena also played their part.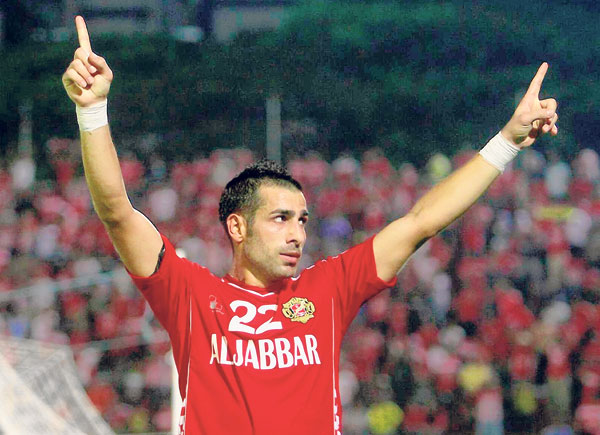 Ghaddar made an instant impact on his return to Kelantan.
In the North East, Mohammed Ghaddar's return to Kota Bahru was a sweet one. The Lebanese was another who grabbed a couple of goals on debut (second time around) and looked lively when paired up with Liberia's Francis Forkey Doe. Manager Steve Darby may need to employ heroic man management skills to keep both Doe and Ghaddar content during a long season, but so far, so good. Sime Darby worked hard to cause an upset, but the finishing and calmness from the penalty spot of Ghaddar was the difference.
It will be a test for Kelantan this weekend as they head to Kuching in Astro Arena's Saturday live match (coverage starts at 8pm). But Ghaddar is one of those players who seems to rise to the bigger occasion.
Brazilian Paolo Rangel was the star turn as Selangor finally broke down the stubborn resistance of Terengganu T-Team, and overcame the poor pitch condition at the MBPJ stadium in Petaling Jaya. The 28 year old Rangel served notice in his time with Perak that he has the quality to shine in the Super League, and the composed manner of his two finishes will certainly add to that feeling.
At the other end of the pitch, assured debuts by international keeper Farizal Marlias and Aussie import Steve Pantelidis meant that this was a solid start for the Red Giants. They go to the relaid Jalan Besar artificial turf to take on Singapore's importless LionsXII on Saturday in good heart.
For the Selangor club PKNS another import, Indonesia's Hamka Hamzah, scored to give them the lead before Barry got to work. With their win, Terengganu have immediately set down a marker to the rest of the League that visitors to the North East will find it a tough place to pick up points.
For good measure, the ageless Marlon James reminded us that he's been the foreign player most effective in Malaysia for the best part of a decade (give or take a year or two break). The St. Vincent & Grenadines born striker scored - again - as ATM's campaign got off to an excellent start with victory over a dangerous Sarawak.
Now ATM are out of the Cup, expect James to be even more focused on goals in the league, starting Friday when the James - Arostegui combination comes face to face with PKNS FC's deadly duo of Patrick Wleh and Karlo Primorac. What's not to like when imported players of that quality are in opposition?
And Matias Conti already knows what it feels like to be a hero to the passionate Pahang followers. The Argentine, who's header won the Malaysia Cup for Pahang in November, scored the only goal in the Charity Shield / league opener against the Lions. And it was his birthday as well.
Conti's scoring start atoned for a less successful move for debutant Dickson Nwakaeme who suffered a hamstring problem and had to be replaced by Conti after just 15 minutes. A good week for Pahang's foreign contingent saw Damion Stewart grab the equaliser in the Malaysia FA Cup win at Perak on Tuesday.
Barry, Figueroa, Ghaddar, Rangel, James and Conti. Six strikers brought from far away to score the goals that make their team title contenders. Week one, job done. Now they have to do it again, and again, and again, and again.
Dez Corkhill is the managing Editor of Astro Arena - the Malay-language sports Channel that broadcasts Malaysian Domestic football. He is also an English language commentator on the Malaysian League for Astro Arena and Starhub in Singapore, and has commentated on Asian Football Leagues from Singapore to India via Indonesia and Malaysia for the past decade.