FEATURE
By Sammie Frimpong

Football commentators do provide vital services and certainly hold a special place in the African game.
On a continent where many have limited or no access at all to electricity, while football games also get occasionally dreary, commentators work hard to transmit every detail of soccer action via television sets/battery-operated radio devices and put some spice into otherwise unexciting matches.
Goal profiles some of these golden voices, past and present.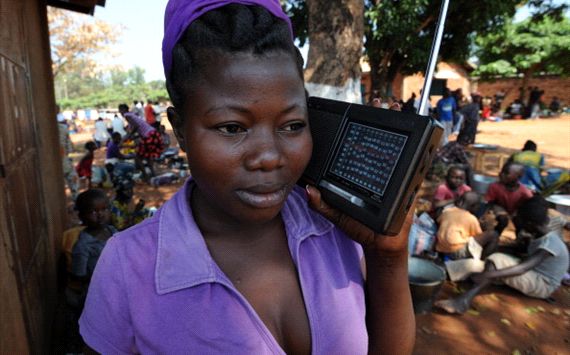 JOE LARTEY - Ghana
Over a considerably extensive period, Joe Lartey, along with regular commentary partner Harry Thompson, ruled the airwaves when covering national events for state broadcaster GBC (Ghana Broadcasting Corporation). And while Lartey excelled at commentating on most political and social functions, football was arguably his forte. In the days before private media houses sprang throughout Ghana, Lartey and his colleagues enjoyed a monopoly they dignified with some fine work. The phrase 'Over to you, Joe Lartey', coined by Thompson and mentioned on air whenever Lartey was scheduled to take over microphone duties from his partner in the course of a game, has since entered daily Ghanaian lingua. Erudite and eloquent Lartey became the first president of the Sports Writers Association of Ghana (SWAG), an institution of which he is currently a patron. Even in his pension, Lartey continues to inspire an entire generation of commentators raised listening and looking up to him, possibly including the next on this list.
KWABENA YEBOAH – Ghana
As animated and passionate commentators come, Kwabena Yeboah is among Africa's finest. During commentary, Yeboah, bearer of one of the oldest surviving identities in Ghanaian media, cheers every goal with a trademark shout of 'Oluwaaa', occasionally followed by the equally intriguing 'Wunderbar' (German for 'wonderful'). A respected opinion on Ghanaian sport, Yeboah is also a prolific writer - notably as founding editor of the Africa Sports newspaper - and the long-standing host of the Monday night Sports Highlights show on Ghana Television. Like good wine, Yeboah continues to defy age even as fresher and younger competition continue to emerge.
ERNEST OKONKWO - Nigeria
Around the time Joe Lartey ruled supreme in Ghana, Nigerian Ernest Okonkwo was also calling the shots in his own homeland. Okonkwo, deceased, is generally regarded as the doyen of Nigerian football commentary. For someone whose specialty lay in generously doling out interesting nicknames to the football players of his time, though, being tagged 'doyen' is hardly undeserved. 'Mathematical', 'Block Buster', 'Chairman', 'Man Mountain' and 'Chief Justice' are just a few of the flattering monikers Okonkwo gave to the Nigerian national stars of that era, namely, Segun Odegbami, Aloysius Atuegbu, Christian Chukwu, Emmanuel Okala, and Adokie Amasimeka respectively. To his credit, Okonkwo was never one to consider his job a perfunctory duty. On occasion he would voice his blunt opinions on poor performances and on-pitch behaviour he deemed unprofessional. Only last year, the decision was made by Babatunde Fashola, governor of Nigeria's Lagos State, to name the Press Gallery of the Teslim Balogun Stadium after Okonkwo [and Ishola Folorusho, another ace Nigerian commentator]. A fitting tribute, indeed.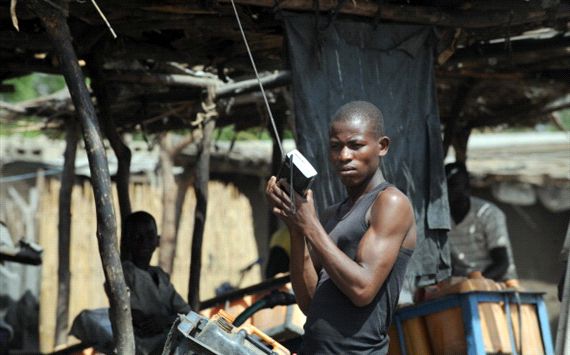 DENNIS LIWEWE – Zambia
What Okonkwo and Lartey were to Nigeria and Ghana respectively, Liwewe was to his native Zambia. In the glory days of the 'KK 11' (as Zambia's national team was then famously referred to), Liwewe's career bloomed as strongly as his voice boomed. In the build-up to a goal, Liwewe would rattle words hurriedly in his own inimitable style and cap it with a thundering hurrah or a terribly morose climax, depending on whether Zambia went in front or behind as a consequence. Possessing an extensive range of emotions while running commentary, objectivity, to Liwewe - as to several other African commentators of that period - was less of a priority relative to the fact that he actually considered it part of his patriotic responsibility to support his country's team versus opponents from elsewhere. Liwewe, now aged over 70 and long retired, remains outspoken on the Zambian national team's fortunes, and was admitted to hospital in late 2013 for poor health but is said to be recuperating well at present.
ZAMA MASONDO – South Africa
In terms of indigenous African commentary, South Africa's Zama Masondo easily tops the bunch; an icon who has contributed significantly to the popularity of the sport in his country. Masondo, a trained schoolteacher, stood out in the gantry as much for his deeply rich yet slightly nasal voice as for his sheer ingenuity. When he felt he had had enough of the rather monotonous chants of 'Goal!' by his peers, Masondo invented an innovative synonym, 'Laduma', a term that has stuck since and is now an established part of South African football parlance. Like Okonkwo, Masondo could also think up exciting custom-made nicknames for the players who impressed him most, among them 'Baboon Shepherd', 'Who's Fooling Who', 'Legs of Thunder', and 'Jazzy Queen'. A man of many parts, Masondo currently runs a catering school in Johannesburg where he trains personnel for the country's large tourist industry and also recently starred in a popular soap opera broadcasted on SABC, South Africa's state channel. Masondo sums up the role his colleague commentators and himself play thus: "We are there to paint pictures with words, to inform and to educate, but we are also praise-singers, and we come from a culture with a long tradition of that."
Apt.


Goal Ghana has its own

and

account, so for all the latest news and features on Ghana football follow us by clicking on the above links