The striker who scored Nigeria's lone goal in their debut loss to Mali on Saturday has forced a reassessment of his poor public perception
SPECIAL | By Lolade Adewuyi & Shina Oludare
It took just four minutes for Gbolahan Salami to put his name on the score sheet in Saturday's opening African Nations Championship game for Nigeria.
Even though the Super Eagles lost 2-1 to Mali, the Shooting Stars striker made a case for a starting spot in the squad.
Long perceived as a bad boy, Salami's talent and promise have so far been rewarded with a less than glittering career that has seen him move from club to club like a nomad in search of a defining pasture.
After failing to make a big impression at the U20 World Cup in Egypt in 2009 where he was sent off after coming on as a substitute in the 2-0 defeat to Spain, the 22-year-old has not been able to make it big since.
While many of his team mates from the U20 squad have since moved to Europe, Salami's troubles have ensured he's had to make do with playing in the local scene.
A move to Enyimba and a couple of goals from inspiring performances in 2012 were cut short with him returning to 3SC midway.
His call up to the CHAN squad by Stephen Keshi, thought by many to be due to his promising talent than to his recent performances, looks to have been a good one.
After a lacklustre first half performance by much of the squad on Saturday, Salami's entry sparked the attack to life and he made it count by nodding home a goal on 55 minutes to give a respectable look to the score line.
Ahead of the team's departure to South Africa, Salami told Goal in an interview that his plan was to use the tournament to reinvent himself.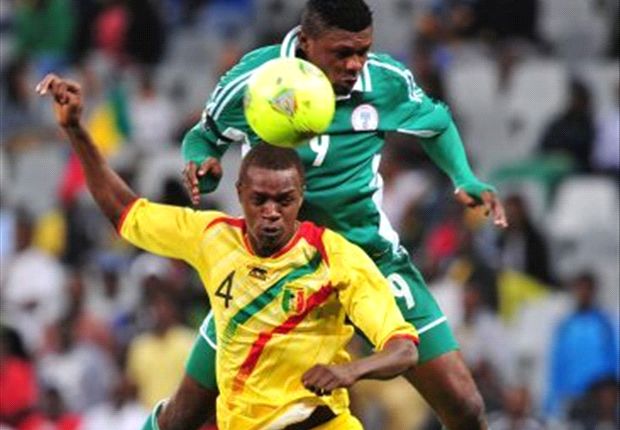 Gbolahan Salami | Aiming for redefinition with CHAN
"This will be an opportunity to make myself happy and also show Nigerians my worth. Most of my countrymen don't know my true personality. All they call me is 'Nigerian Balotelli' which is not good enough. CHAN will afford me to prove to the world that I'm not a bad boy," Salami told Goal.
"I hope this tournament also opens doors for me to achieve my dream of playing in Europe. Aside from this, the ultimate is playing at the 2014 Fifa World Cup in Brazil which I think will be accomplished by God's grace," he said.
Not everyone thinks that Salami is as bad as the media paints him. Sharks FC coach Gbenga Ogunbote told the website how misunderstood the player is.
"Salami is not as bad as people tag him. To be honest with you, he only needs to outgrow his attitude and the earlier he realizes he is no longer a kid, the better for him," said Ogunbote.
"I guess he hasn't been properly managed because I once coached [him] and he never misbehaved. If properly managed by his coaches, you will definitely see the best in him."
His teammate at Shooting Stars, goalkeeper John Dosu also spoke to Goal about the striker's personality.
"Salami is a very nice guy who is most times misunderstood. If you can take your time to study him, you will understand that he is a gentleman to the core. We played together in Sunshine Stars and 3SC and I can boldly tell you he is a very nice person to be with. He has all it takes to succeed in football because he is such a talented lad," Dosu said.
With Nigeria needing to win their remaining group matches against Mozambique and South Africa if they are to make it into the quarter finals, Salami's goals could be what the Super Eagles require.
Perhaps the striker could finally achieve his immense potentials and open up an entirely new horizon for himself. Who knows where he could be spending the summer.