FEATURE
BY Eric Boakye Antwi

Centuries have passed since Genghis Khan and his band of marauding bandits terrorised travelers on the Silk Road until a sea route to Asia was discovered around the southern tip of Africa but sport, particularly soccer, has opened up a new modern-day invisible route from the Occident to the Orient in recent years.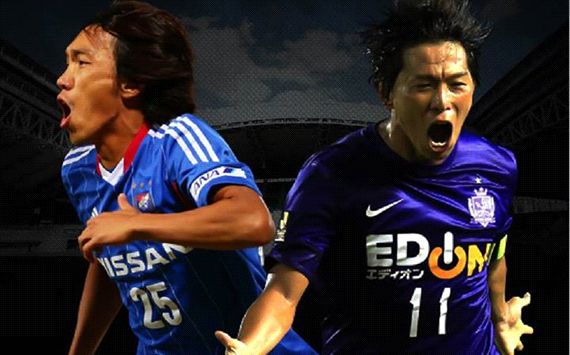 Shunsuke Nakamura and Hisato Sato
When Shunsuke Nakamura signed for Celtic Athletic from Italian side Reggina in July 2005 for a fee of around £2.75 million, there was talk of "opening up Asian markets" in the British press; the parody of the clichéd phrase used by business reporters to introduce news of the day's trading on Asian stock markets was in reference to the unlikelihood of the Far East producing a great soccer player than, say, the probability of being struck by a meteorite on a sidewalk in Tokyo.
Nakamura's move to Catalonia from Caledonia later in his career was also widely covered in the press yet mocked as well. Little did the world know, though, that the attacking midfielder would spend four highly eventful seasons at Celtic Park where he became the most decorated oriental in the European game, an honour Korean compatriot Park Ji Sung would claim a share of.
GINSENG
Nakamura blazed a trail that Park was to tread later, becoming, in September 2006, the first ever Japanese professional to score in the Uefa Champions League and soon followed that feat with a stunning freekick against Manchester United to propel Celtic into the Champions League's knockout stages for the first time in a very long while.
The team sheet for that victory for the Bhoys against the Red Devils featured another Asian upstart then enjoying his second season in British football. Park Ji-Sung - already mentioned - had signed for Alex Ferguson's side in July 2005 in a deal worth £4 million, making him the second East Asian in history to sign for the club after Dong Fangzhuo, a 15-year-old Chinese ginseng of a prodigy who somehow failed to live up to the hype that surrounded his capture for the princely sum of £500,000, a figure that could even have risen to £3.5 million had he made a specified number of appearances for the record English champions.
The current resident high-profile Asian footballer in Britain is Shinji Kagawa, also with United, whose limited first team opportunities since joining the club has certainly been frustrating.
SAMURAI
Oh, and then there was Hidetoshi Nakata, perhaps the greatest of them of all the 'Samurai'. After the 1998 World Cup in France, Nakata was signed by A.C. Perugia in Italy's Serie A for $4m, by virtue of which he became only the second Japanese footballer to appear in the Italian elite division after Kazu Miura had done same for Genoa four years earlier. After a season-and-a-half, Nakata moved up to a bigger Italian club, signing for AS Roma in a deal worth €21.691 million, making him the most expensive Asian player of all-time.
A brief period of great success ensued during which his decisive goals and intelligent play helped Roma to the Scudetto, after which Nakata joined Parma. Nakata went on to play for Bologna, Fiorentina, and Bolton before hanging up his boots, and remains arguably the most loved of all the sportsmen his country has produced.
Oh–No!
On to Shinji Ono now, one of Japan's finest. He is described by one authoritative source as "one of the biggest stars in Asian football, known for his vision, technique and superb passing".
Ono has distinguished himself playing for some of Europe's finest clubs including Eredivisie giants Feyenoord Rotterdam and modest Bundesliga side Vfl Bochum. Pronounced East Asian presence in Western football has not come without a price, though. Prejudice against footballers form the Far East is as integral a negative part of the European game as racism against dark-skinned footballers is. The most disgraceful illustration of this involved South Korean international Ahn Jung-Hwan, then with Perugia and whose extra-time header eliminated European giants Italy from the 2002 World Cup. In a move described as childish by then South Korea manager Gus Hiddink, Perugia owner Luciano Gaucci fired the player promptly.
"I have no intention of paying a salary to someone who has ruined Italian football," Gaucci said in defense of his much-maligned deed. Jung-Hwan went on to play in France's Ligue 1 and also in the Bundesliga but his career never quite resurrected after the shocking actions of Perugia.
'IRANIUM' ENRICHMENT
Enter Ali Daei, the Iranian 'Maradona'. After being handpicked for a career in Bavaria by erstwhile Bayern Munich president Franz 'Der Kaiser' Beckenbauer while playing for Arminia Bielefeld, Daei went on to become the first Asian player to feature in a Uefa Champions League match.
These days the European game is being outsourced to the Far East as well, the traffic hardly taking a one-way route anymore. Players like Didier Drogba and Nicholas Anelka moved to China to play in that country's Super League recently, baited by fat wages that sadly lost their allure before long.
On the evidence above, it is fair to assume, then, that Khan and his band of marauding
warriors would probably have allowed anyone passage via the Silk Road were it for sporting reasons at least.

Goal Ghana has its own

and

account, so for all the latest news and features on Ghana football follow us by clicking on the above links