Holy water? Check. Rosary beads? Check. Acqua Santa? Check.
During the recent European Championship and Confederations Cup tournaments, Italy coach Cesare Prandelli and members of his backroom staff would make night-time pilgrimages to local churches and monasteries, often making their way on foot from the
Azzurri
training camp. One of Prandelli's predecessors, Giovanni Trapattoni, would doubtless approve. Il Trap used to liberally splash holy water on the pitch before kick-off and then take up his position on the bench, anxiously clutching rosary beads and occasionally reaching in his pocket for his vial of acqua santa.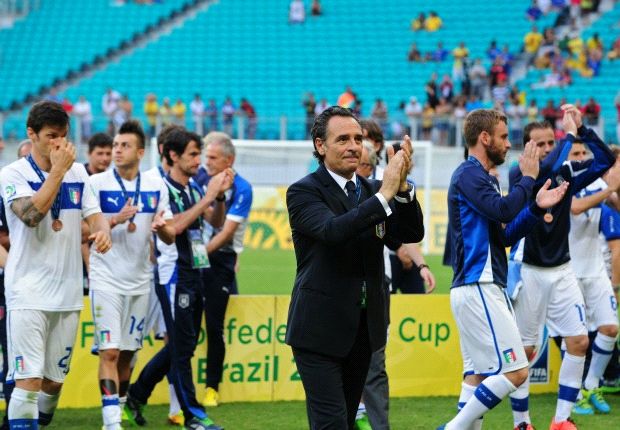 Test of Faith | Prandelli's methods failed to deliver Confederations Cup glory
The former Republic of Ireland boss, whose sister is a nun, took charge of Vatican City for a one-off game against the Guardia di Finanza (the Italian Financial Police), coached by Roberto Donadoni, in October 2010. Despite a disappointing 1-0 defeat, Trapattoni has said in the past that he would genuinely be interested in taking on a similar role in the tiny city state on a full-time basis.
The hand of God (is pulling the strings)
While some players think they're God's gift, Brazilian striker Dada Maravilha took this confidence one step further in the lead-up to the 1970 World Cup. Shortly before his selection for the squad was confirmed, he announced: "God controls my movements on the pitch, and he talks to me. He tells me to score goals. I listen to him." Dada also informed supporters that a cosmic power was on his side. Brazil's displays in the finals were out of this world, but Dada remained benched throughout.
Florence and the singing machine
Pre-match tunes have long been a favoured way of inspiring a team ahead of kick-off. However, while today's players get pumped to bass-heavy chest-thumpers, in late-1960s Florence things were a little more sedate. Fiorentina coach Bruno Pesaola would insist on playing songs by Neapolitan balladeer Peppino Gagliardi in the changing room before away games. Arriving in Genoa one weekend, a panicked Pesaola realised he'd forgotten his lucky Gagliardi record and hired a car to take him on a 500km round trip at high speed so he could motivate his squad with another dose of Europop. It worked. Fiorentina went on to win the 1968-69 title, the second and last time the Viola claimed the scudetto.
Join the conversation about unbelievable stories of believing at #startbelieving or for more information about PUMA visit: https://www.puma.com/footballclub