Goal highlights the similarities between two strikers claiming top goalscoring honours in the Ghanaian and English elite divisions respectively
FEATURE
By Owusu Ansah Doe

Reigning Ghana league champions Asante Kotoko sit comfortably atop the top flight log at the end of the first half of the season.
The second- and third-placed sides on the table trail the Porcupine Warriors by as many as seven points largely due to the contributions of players like Seidu Bancey to Kotoko's cause.
BANCEY'S SEASON THUS FAR
Bancey is a striker who few thought would not have come this far, given his wasteful and abysmal displays in recent seasons. However, though still not the dearest member in the Reds' fraternity, he has established himself as the lynchpin of the side this term.
Bancey opened his goalscoring activity in the current campaign with a double in the Super Cup match against Medeama. The former Dwarfs forward scored in the season's two opening games, including a thunderous strike against archrivals Hearts of Oak. His free-scoring streak was brought to a halt due to an injury which sidelined him for months. All this seems to have placed Bancey in the same bracket as another striker also earning much acclaim elsewhere on the planet.
BANCEY AND SUAREZ: THE PARALLELS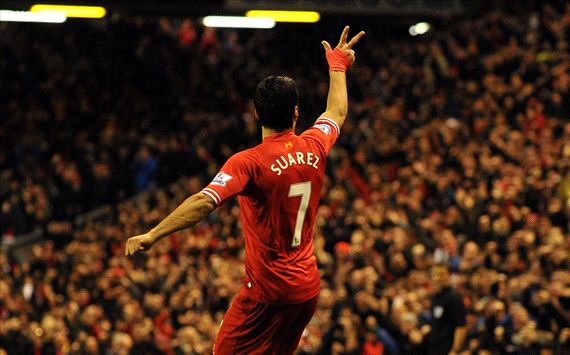 GOAL MERCHANT | Suarez scores for fun
The Ghanaian striker watched close to half of the action that has already ensued this term from the fringes, just like Liverpool forward Luis Suarez who also observed a fraction of the ongoing
English Premier League season from the stands due to a period of suspension carried over from 2012-13.
Suarez's story has had a happy 'ending', though, with the buck-toothed star scoring 20 goals since his return.
As with Suarez, few anticipated that Bancey, a striker of misfiring status for some time now, could see his good form last the season's entire duration, with most predicting his post-injury
performance would only confirm what he has long been suspected of being: an inconsistent striker.
Seemingly, though, all this criticism only gingered Bancey to conjure the sort of scoring rate not exactly expected from a striker of his calibre: five goals in his last six games, adding up to a total of seven in eight, which sees him lead the scoring charts in the league.
Bancey, like the Uruguayan, is a workaholic and brims with exuberance. Another trait the two goal merchants share in common is the ability to provide opportunities for team-mates to score.
Bancey has provided no less than three assists, a feat not too dissimilar to Suarez's, although they have both featured far less than they would have wished. Again, the pair boast some fine footwork that improves their respective games no end.
SEIDU 'SUAREZ' BANCEY
Inasmuch as these two nimble-footed attackers have proven pivotal in this year's campaign for their respective employers, it would be outrageous to compare the two, given that they play in leagues of varying standards, and also that Suarez has more than enough national team experience with Uruguay under his belt, whereas Bancey is yet to earn a call-up bar to the Black Stars proper.
It is, however, quite fair to say Bancey is clearly mimicking Suarez's performance, consciously or otherwise, and thus has earned the right to the moniker, at least by this writer, Seidu 'Suarez' Bancey for the fun of the game and the beauty of its culture.
Many accolades have emanated over the years from the Kotoko family for some of the club's better players, but expect Bancey to soar higher, all things being equal, to even more Suarez-esque levels.


Goal Ghana has its own

and

account, so for all the latest news and features on Ghana football follow us by clicking on the above links