After infuriating Cardiff City FC fans by changing their colour from blue to red, and sacking their chief scout for an unknown 20 year old, Malaysian owner Vincent Tan recently sparked another controversy with the Bluebirds' fans by threatening to sack manager Malky Mackay. The current reactions of a lot of international and local football fans range from bemusement at Tan's latest eccentricity, to outright fury at his disregard towards a manager who has taken them to the Premiership and the 2012 League Cup final.
I came across a very insightful comment while trawling through the Internet for responses on this matter. The comment explained that Tan as a Malaysian businessman, is simply running the Welsh club as most Malaysian businessmen run their respective businesses, by micro-managing it. Whereas international CEOs and directors would hire their middle management and then entrust most of the day-to-day running of each department to the middle management's expertise and idea, to their Malaysian counterparts', their middle management are simply people who make sure that things are run according to how their bosses want it to be run. They also tend to be a lot more dispensable, as they are not hired for their ideas, but to simply perform supervisorial duties. The ideas come from the top, to be put in place by the lower branches. And according to the comment, this is how Vincent is running Cardiff City, just as he had always run his other businesses. Mackay is just there to supervise Tan's ideas of how his football team should play.
I agree with the comment, especially with the sentiment on Malaysian businessmen. I've worked for businesses whose owner would occasionally swoop in, fire one directive after another for each department in a meeting, and leave, without asking for his managers' ideas or thoughts.
However, the same mentality also takes place in Malaysian football, to much worse outcome. Of course our clubs are not really owned by business people, but there are roles in our set up that are almost similar to that of a club owner's. I've witnessed first-hand several instances of team officials overruling the decisions made by their head coaches. And it is through these instances that I realised, Vincent Tan is very much a Malaysian head of football.
Selangor's 'Misi 33' campaign is almost a joke by now, due to the Red Giants' yearly inability to capture their 33rd Malaysia Cup title. But when it was first launched at the start of the 2011 Malaysia Cup campaign, the Selangor FA Secretary-General at the time, Datuk Hamidin Amin (current FAM Sec-Gen) asked for Selangor fans to submit designs for fan shirt that would be sold to fans. When several fans submitted their designs, he very briefly went through the designs, but what struck me was the casually dismissive way he opined on a more contemporary design which I think would have been favoured by the younger fans; "niapani?" (what the hell is this?), as if it was an abomination. He put it away, swiftly chose a design he liked, and that was the end of that. He did not ask for the opinion and justification for each design of the fanspresent, and made the decision himself. The chosen design isn't ugly in any way, but I do think the dismissed design would have appealed more to younger fans, something that Selangor has been missing in recent years. And it had been designed by a very sought-after visual artist, mind you. Not by some 15-year old with a pirated copy of Adobe Photoshop.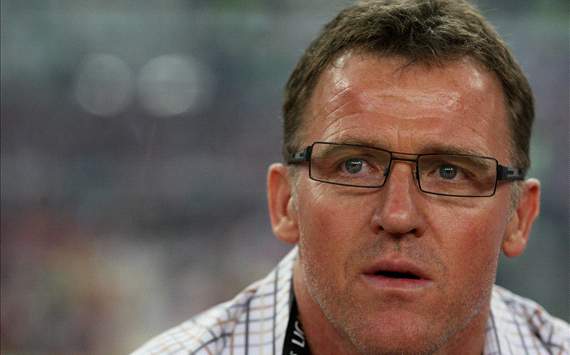 Peter Butler's tenure with Kelantan ended abruptly in 2012
In 2012, immediately after the Super League match between Kelantan and Terengganu in Kota Bharu, I interviewed Peter Butler who was at the time, the Red Warriors' head coach. I asked him on the future of their striker at the time; Lebanese forward Muhammad Ghaddar. He replied that he was unsure, as the decision on foreign players' signings was not in his hand, it was done by KAFA. Which I found to be weird, as shouldn't a head coach or manager have a say in the players that he is going to have to field? I duly noted down what he said, and published a report. A few days after that, Butler was sacked by KAFA, with me losing sleep for a few nights afterwards, thinking that I had caused a man to lose his job.
May this year, I was covering a Super League match at Paroi. I was engrossed in the match, but a friend who was sitting next to me pointed out a team official who kept going to and from one of the two teams' benches and the VIP section, where the team president was sitting.
"You know what he's doing?" my friend asked. I shook my head.
"He's taking team instructions from the president to the head coach." He replied with a wry smile.
Indeed, the team official kept doing that until the final whistle (poor man looked even more tired than the players on the pitch), and I kept my eyes on the coach, who rarely even got up from the bench throughout the match.His team would end up losing the match, and the head coach later parted ways with the team at the end of the 2013 season.
Now why does this keep happening? Why do head coaches keep getting undermined in Malaysia? Shouldn't they know about the tactics, and their own players? That's why as a football writer, I rarely criticise coaches and managers, because I haven't had experience playing (except as an unused reserve on my school team, and it was a very lousy team) and I haven't managed or coached before, not even my brother's U16 Sunday team. So what makes the team officials, presidents and owners think they are just as, if not more, competent as the managers and coaches that they have hired, when they have not played and managed professionally before?
As it is happening now, Malaysian coaches are sometimes just names on start lists, the holders of the required coaching licenses, and a puppet on the bench, through which their pay masters can play the real life version of football management video games.
What makes this worse is the presidents' inability to understand that head coaches need time to develop their teams, and players need time to play well together. When things do not go their way with a new head coach, they are immediately threatened with sacking and suspension, when they have not been sufficient control of the team. In that case, why don't the officials/owners/presidents resign from their positions themselves, since they make most of the final decisions?
In Vincent Tan's case, he should realise that he's not dealing with just another Malaysian public university fresh graduate middle management material. Mackay is a successful manager who has cut his teeth on one of the most cutthroat footballing systems in the world, whereas Tan has not had any experience in professional football prior to this, as a player nor manager. No wonder the fans have been vocal in their support for their manager, and in their backlash against Tan.