It's been a phenomenal 2013 for the outspoken Swede where he won over his critics, caught up with Messi and left every other forward except Ronaldo behind.
---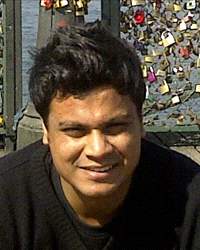 BY ADITYA BAJAJ
|

Follow
@adityabajaj
---
When Zlatan Ibrahimovic scored that supernatural goal against England last year, he had hoped that the media would finally treat him with the same respect that's reserved for Lionel Messi. Ever since his unceremonious and much publicized (mostly by himself) exit from Barcelona in 2010, comparisons have been galore between the two and often the Argentine has come out on top without an iota of doubt.
In the space of three years, Messi has had to his name four Ballon d'Or titles, a Champions League and numerous other domestic honors while Zlatan has gone about doing what he's been famous for since the turn of the previous decade, winning a league title each at Milan and then at PSG.
But while both are on course for more, the step up in class has been immense.
Now while Ibrahimovic may have still missed the cut to be nominated as one of the top three contenders for next year's Ballon d'Or and expectedly, this year he has finally managed to overtake Messi, atleast when it comes to numbers.
"Is Zlatan better than Messi and Ronaldo? Right now, I'd say he is. At 32, you know how to get the best from your talent."

- Arsene Wenger

It's no hidden secret that going by his standards, 2013 wasn't really Messi's year. Bogged down by sporadic spells of injury, the Barcelona star couldn't repeat the remarkable feat of 2012 where he scored an unimaginable 86 goals (91 if you count the friendlies with his club), in 68 appearances for both for club and country. Yet, he still managed to make 46 appearances this year, collecting an impressive 45 for both Barcelona and Argentina with 18 assists to his name enough to be giving Ronaldo and Franck Ribery a run for their money when the Ballon d'Or winner is announced in a month's time.
Ibrahimovic on the other hand has continued the rich vein of form he's shown in the past couple of years and showing great improvement year on year, has made 55 appearances in the same time period notching a goal more than the Argentine, adding a further 19 assists for both club and country. With Cristiano Ronaldo having raced ahead to an untouchable distance from the two with 68 goals in 59 appearances, barring a catastrophe the Swede will definitely finish the year second only the to the Portuguese with Messi on third.
It would tempting to think that Ibrahimovic has covered ground with the Argentine because he plays in the Ligue 1 in France but infact it's in that very league that he has lost much ground in the race to be the best in the scoring business. Messi has scored 29 goals in 26 league games this year while Ibra on the other hand has 'only' 25 league goals in 36 appearances.
Much of that can be attributed to his low key start to the current season in France when Laurent Blanc was still trying to find a way to play both him and new signing Edinson Cavani in the same line up. Ibrahimovic notched up only a couple of goals in 8 games before bouncing back with another 11 in the next eight.
But in Europe's top most competition, both Messi and the Swede have 9 goals to their credit in 8 appearances with Zlatan adding a further two assists to his name. For Sweden and Argentina, they have 9 goals in 10 and 6 goals in 7 respectively. More importantly for the outspoken PSG striker, his performances for the national team almost single-handedly dragged his country to the World Cup in Brazil next year, only to be stopped by a similar outstanding effort by a certain Cristiano Ronaldo who ultimately came out on top in one of the most talked about individual rivalries in international football this year.
What's scary and at the same time incredible however, is the fact that he's doing it all at the age of 32.
That's the age when you expect a player to slow down and try to stay at the top of his game while the next generation and the younger breed of players start to take over. Instead with Zlatan, it's been the opposite. Age seems to be just a number, and he's only getting better with time.
| | |
| --- | --- |
| | Stats - Ibrahimovic and other prominent forwards in 2013 |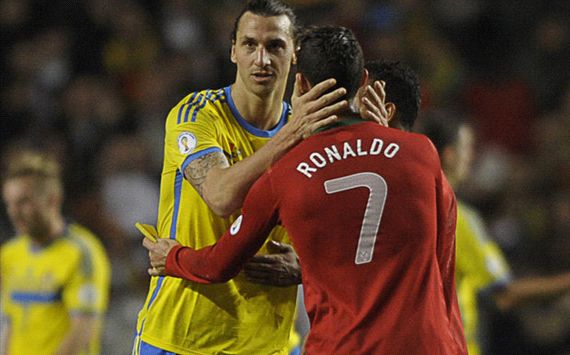 Player
Games

Goals
Assists
Age

Cristiano Ronaldo
59
68
17
28

Zlatan Ibrahimovic
56
46
19
32
Lionel Messi
46
45
18
26
Robert Lewandowski
59
39
14
25
Edinson Cavani
59
39
7
26
Luis Suarez
45
37
18
26
Robin Van Persie
52
34
13
30
Radamel Falcao
51
28
2
27
Yes, things would have been different altogether had Messi been fit enough this season but the others in their mid and late twenties have been left behind too. Wayne Rooney (28), Radamel Falcao (27), Luiz Suarez (26), Robert Lewandowski (25) and Cavani (26) - his own team mate who was expected to usurp the throne in Paris - lag behind when it comes to performance and that's proof to his longevity, consistency and persistence in aligning with and leaving behind some of the world's best despite being considerably older.
With the loss of a spot at what could have been his last ever World Cup for Sweden next summer, the motivation to finally just win the Champions league seems to be there more than ever before. His 8 goals in the group stages of this year's competition was ultimately bettered by Ronaldo – a player enjoying his best year to date as well – but it nevertheless makes PSG a strong contender to lift the La Orejona (or the "big ears" as the trophy is referred to) in Lisbon next May.
After all it's that 'one' title that has alluded him for so long and an important reason why there is reluctance by a section of football fans to truly call him a legend. He is the only player to have played 100 Champions League games or more and to have never won it.
He may have missed out on the top three for the Ballon d'Or once again this year, but 2013 has been a solid and important one for Ibrahimovic simply for the fact that he has managed to overturn opinions about him and his so called 'absence' in the big games. For some reason, it finally seems that people in general have started to accept his upfront and outspoken attitude in return for his brilliant performances on the pitch which at the end of the day is and should be the only barometer to judge a player.
Be it then the sulking comment that the World Cup would not be worth watching without him or the one where he once again reiterated that he does not need a popular award like the Ballon d'Or to prove that he is the best. They seem insignificant anymore, as people get more and more used to those out of the world goals he has scored in the past year or so. Besides, he has always all throughout his more than a decade long career been like this - caring little about what people have talked or written about his attitude. He has after all a solid resume to back himself.
But whatever the case at the end of the day, when it comes to Zlatan there are only two ways of looking at it. Either he is a 'quote machine' with lots of arrogance or a 'goal machine' with tons of confidence.
On current form, the latter easily outweighs the former.
How do you stay up with football when on the move? With http://m.goal.com –your best source for mobile coverage of the beautiful game.