As cliched as it may sound, nobody could have illustrated the epitome of accountability better than Jeff Daniels did in the political series Newsroom. We all like it when people are held accountable to something that transcends beyond the society and we extremely love it when accountability exists as an excuse for a problem.
Now this correlates to the departure of Datuk K. Rajagopal as the Malaysian national team head coach as well. Five years does seem like a long time but if you'd take a journey down the memory lane, Malaysia's glory in the 2009 Southeast Asian (SEA) Games would remind you of King Raja's prime years. Or perhaps even the AFF Suzuki Cup triumph a year later in 2010.
But think about the 2012 Suzuki Cup and frustration lingers deep within the mind. We all knew that at some point, we would go up against Thailand and be defeated and when we actually did, insults, criticisms and even abuses were hurdled towards the small-framed man that consistently stood with hope on the touchline. Hope that his trust towards the players and tinkering of the squad would bear fruits.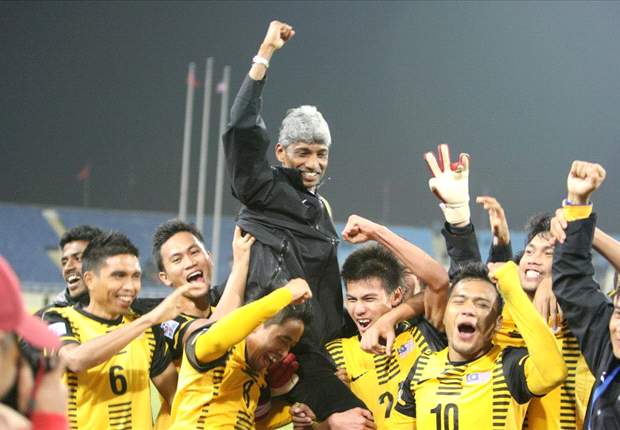 Malaysia beat Indonesia to win the 2010 AFF Suzuki Cup.
So even when we suffered defeats to Bahrain and Qatar recently, it was almost as if a venerable record player of customary abuse was nonchalantly being played all over the nation. And to a certain extent, the criticisms made perfect sense. Favouritism in player selection, defensive tactics, and the famous 'experiment' - all of which are theoritical justifications as to why Rajagopal should be accountable for the national team's failures in recent times.
But what many fail to comprehend is that favouritism in player selection could be rephrased as 'usage of trusted adversaries'. Defensive tactics could be rephrased as being realistic. While the famous experiment, as hypocritical as it may sound, could have been derived from an overused word that was blown out of proportion. I'm definitely not creating an euphamism of innocence for King Raja, but these are valid questions.
Per contra, obviously results speak more than anything and on that basis, I would probably find it easier to justify King Raja's departure. His promise to the nation was qualification into the 2015 Asian Cup by merit, and when the promise was not delivered, there is every right for him to be reprimanded.
That leads to the question of whether sacking King Raja solves the core problem? In 1999, the Football Association of Malaysia (FAM) announced their aspirations of qualifying for the 2014 World Cup, but as of now, we are still struggling get out of the Southeast Asia cocoon. After winning the Suzuki Cup in 2010, we aspired to break into the Asian region, and then we go on to struggle within the Asean sector again.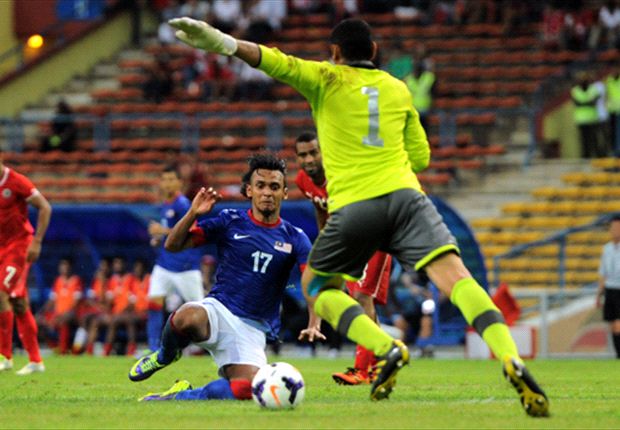 Against Bahrain, the Malayan Tigers could only muster a 1-1 draw.
Many look at our defeat against Thailand last December and cite it as a backward step. But the fact is that we lost to a group of players who consistently tested themselves against Asia's best in the Asian Champions League, while we play around in a Gred D league and struggle to make it past the quarterfinals of the AFC Cup.
Indeed, the Japanese came over to Malaysia in the early 90s to pick vital tools of the trade in terms of establishing a football league and since it's inception in 1993, the J-League has scaled impeccable heights. It started out as a 10-team league, and that essentially expanded over time. Privatisation of football clubs was made compulsary while incredible amount of planning and foundation was given to it as well.
At the same time, community engagement topped the priority list, which explains the vast support J-League receives on a consistent basis today. And this particular strong bond between club and community has visibly aided the growth of their league. This development took place over the course of the last two decade; ironically during which we replaced 12 different head coaches for the Malaysian national team.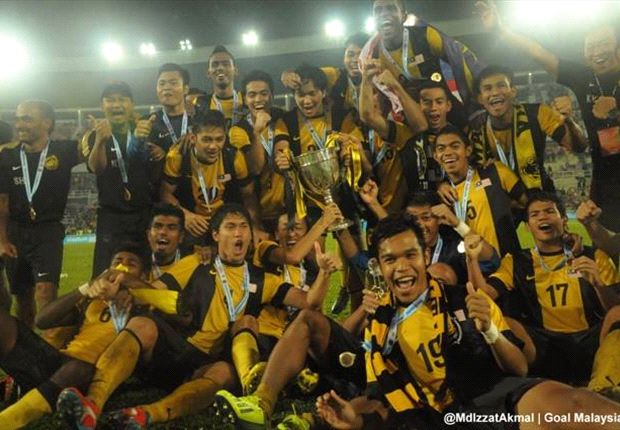 The Malaysia Under-23 side is the most successful of the Harimau Muda set up.
Do we make it compulsary for clubs to have academies with extensive coaching expertise? Besides the President's Cup and the Harimau Muda initiative, what other avenues have we created to develop youth talent? We're not talking about sporadic numbers of private academies here, we are talking about systematic efforts from the nation's footballing body. Maybe a good way to start would be to tighten the rules on pitch condition throughout the league.
The aforementioned reasons does indicate a problem-solution mismatch - so severe that it almost seems intended. Because while the time may have been right for King Raja to leave, the question that should continue to dominate headlines is; Why are we not convening on the core issue at hand?
Follow Keeshaanan Sundaresan on