Brendon Netto


COMMENT | Premier League

Follow on
When Tottenham Hotspur spent upwards of £100 million this summer, largely on attacking players, few would've expected the resultant team assembled to be quite as disjointed and insipid as they have been. Despite being only five points adrift of league leaders Arsenal, there are five teams separating them from their north London rivals and for the first time in years, the home support at White Hart Lane has been subjected to mundane, uninspired and downright dull football.
Is that being a tad too harsh on Andre Villas-Boas and his troops? Decidedly not, particularly because of the six wins they've chalked up in the Premier League this term, three were against the newly promoted sides while the others were against relatively modest opposition as well in Swansea City, Norwich City and Aston Villa.
Furthermore, Spurs could only muster slender 1-0 victories in four of those six results. In fact, they are the joint-third lowest scoring team in the league with just 9 goals in 11 games, a distinction they share with Hull City, Cardiff City Norwich and West Ham United.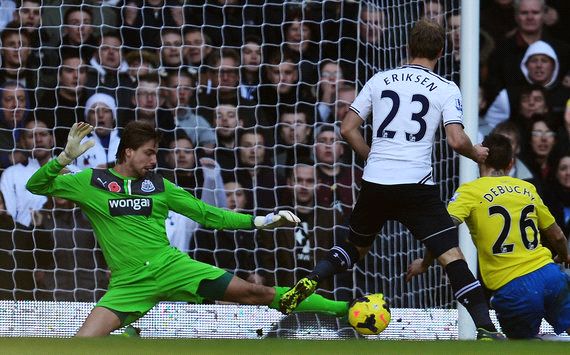 Spurs have struggled to score
Amazingly, Manchester City are one place below them in 8th spot despite scoring a whopping 19 goals more, go figure. In truth, this isn't too dissimilar to their form last season where the only difference was the excellence of Gareth Bale.
So why have they struggled to hit the back of the net in spite of spending over £37 million on a quality striker in Roberto Soldado and the classy Christian Eriksen to play in the hole while promoting a tricky winger in Andros Townsend? There's no doubting the quality of their personnel but the system in which they operate has been suspect and it may be time for Villas-Boas to shake things up a bit.
The glaring problem Spurs suffer from at the moment is that their players operate too far apart from each other. Although that may have its advantages like the ability to stretch teams, it doesn't apply to the 4-2-3-1 system they use. The prerogative in this formation should be to get numbers in and dominate the final third with quick short passes and interchanging positions fluidly.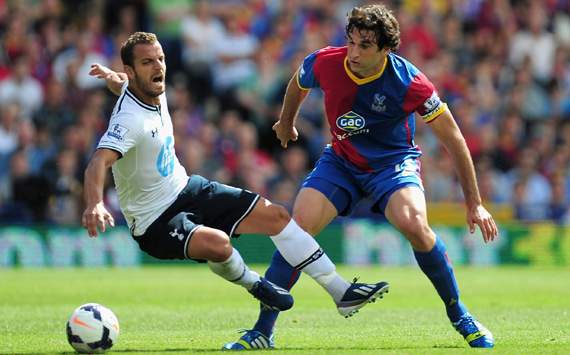 Soldado has been isolated
If you look at the teams that utilize this system best like Arsenal and Borussia Dortmund for example, their intricate play is a feature of their game and that's not possible if the players rigidly stick to their positions instead of playing closer together, swapping roles and showing for the ball.
Tottenham's games this season have followed a familiar pattern. They start brightly, full of energy and running but despite a few good flashes of play that get them in or around the opposition's box, there's nowhere to go from there and most of their attacks fizzle out. They then resort to crossing the ball which brings up another couple of issues.
Firstly, if you're going to send in crosses, you need to have bodies in the box, that's just common sense. Unfortunately, Spurs only have Soldado waiting to get on the end of a delivery and is largely crowded out by the two center-backs. Paulinho does burst into the area on occasion but not enough and defenders still manage to outnumber the Spurs attackers.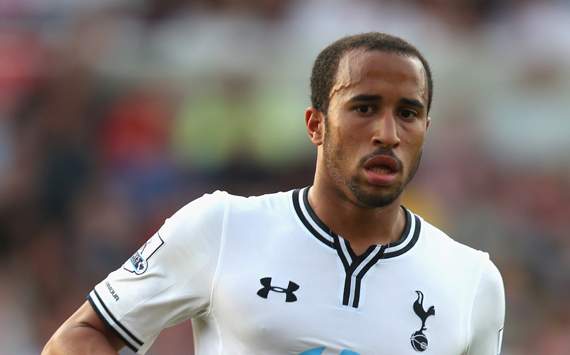 They have the personnel to rely on width
Secondly, Villas-Boas deploys inverted wingers with the left-footed Townsend patrolling the right flank while either Aaron Lennon or Gylfi Sigurdsson normally operates down the left. Yes, they have the advantage of cutting inside and having a pop at goal but quite often run into traffic. When they try to deliver a cross, they have to cut back onto their stronger side and that's where it can go wrong.
While in-swinging crosses can be dangerous, the time it takes to pull the ball back and deliver allows the defenders a second or two to gather their bearings and get bodies back. The striker has to halt his run in order to stay onside and hence has to compete for the ball from a standing position rather than having a run-up to aid him. Those kinds of crosses work best when players arrive late and attack the ball but Tottenham aren't doing that and as a result, they're making it too easy for their opponents to defend.
Despite their embarrassment of riches in midfield, perhaps it's time for Villas-Boas to consider playing two strikers. There's not too much wrong with the deliveries and they'd find a teammate more often if there were two strikers on the pitch.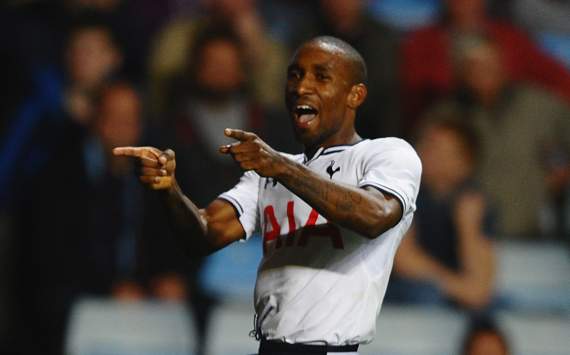 Time to call on Defoe?
Soldado would only benefit from having the buzzing Jermaine Defoe playing around him rather than being isolated for most of the game, something that's seen him score just one goal from open play in the league.
Perhaps the cohesiveness in midfield will take time but until then, strong wing-play is always a reliable route to goal and Tottenham have the personnel to pull it off. They have two prolific center-forwards who can sniff out a goal and two pacey wingers in Lennon and Townsend who can beat a man and deliver a cross.
What's more is that they must take advantage of the two fantastic box-to-box midfielders they have in Moussa Dembele and Paulinho. With players like that, you can afford to use only two central midfielders and they also have the likes of Sandro and Etienne Capoue waiting in the wings.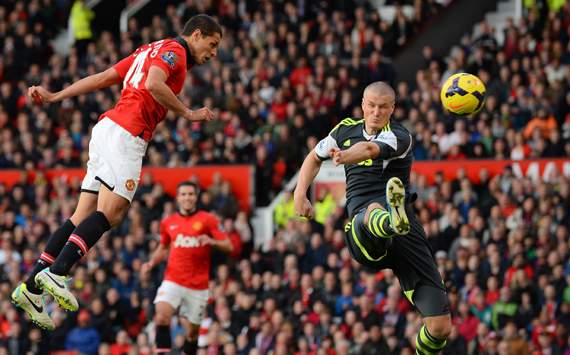 Width has rescued United over the past couple of seasons
Meanwhile, the two overlapping full-backs in Jan Vertonghen and Kyle Walker ensures that they have everything they need to be successful when employing width as your chief threat. The fact is that they're resorting to crosses anyway so they might as well alter their formation and get it right.
That would mean sacrificing the creative player in the hole, a position Europe has grown obsessed with. In that case, Lewis Holtby and Christian Eriksen are bound to miss out for now but desperate times call for desperate measures.
They only need to look at Manchester United to appreciate the efficiency of crossing the ball well and having good strikers in the middle to attack it. The Red Devils have lacked creativity through the middle but still managed to win the league last season and notch up 18 goals in a stuttering start to this campaign thanks to the amount of goals they score from crosses.
Tottenham play Manchester City on Sunday, the highest scoring team in the league with 28 goals, and one that boasts the advantage of having two formidable midfielders in a 4-4-2 formation. Spurs may find that taking the example of the different aspects of play used by the two Manchester clubs in an attacking sense is in their best interests if they want to improve their goal scoring and get results.


Should Villas-Boas change his system? Send in your thoughts in the comments below or discuss with the writer on Twitter @BrendonNetto.
How do you stay up with football when on the move? With http://m.goal.com –your best source for mobile coverage of the beautiful game.