Goal brings you part two of the interview we had with football journalist Christopher Opoku who seems to have 'stepped' on a few toes in the corridors of power
EXCLUSIVE
By Sammie Frimpong
Christopher Opoku's career in television commentary, for which he is probably best known, has seen him work with a host of co-commentators, of whom he singles out two for special praise: dreadlocked coach-turned-journalist Nana Agyemang whose astute tactical and technical knowledge our interviewee acknowledges to have benefitted greatly from, and GBC prospect Benjamin Willie Graham who Opoku describes as "potentially one of Ghana's best commentators one day without a doubt."
There are a few other journalists who Opoku regards in a similarly elevated light but in slightly different capacities: veterans Moses Foh Amoaning and Karl Tufuor as good friends and mentors; the likes of Gary Al-Smith, Jerry Ayensu, Godfred Akoto Boafo, Nathan Quao, Albert Ababio and Sammy Bartels as "talented individuals who he feels privileged to have worked with and all of whom have gone on to great things" and England's Martin Tyler as the one commentator in the world he'd be absolutely delighted to team up with in the press box.
"RABBLEROUSER"
Over the years, Opoku has moulded a characteristic style for himself; an occasionally abrasive, say-it-as-it-is approach that hardly pleases everyone and has seemingly earned him more abuse than plaudits. Little wonder, though: his current Facebook profile describes him, among other things, as an "official rabble-rouser" and the 38-year-old regularly strives to live up to that tag, much to the displeasure of some. Opoku couldn't care less, though.
"I deem it a part of the job," he says with much pride. "And I wouldn't change for anything, because I have retained respect from even those who would attack me verbally in public. So, sorry critics - I'm not changing anytime soon in that regard."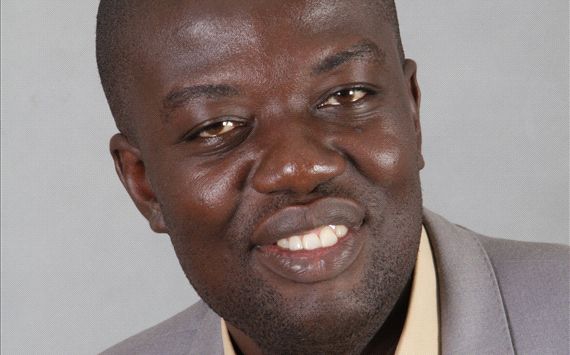 OFFICIAL RABBLE-ROUSER | Opoku says it as it is

Opoku's style appears especially daring, even commendable, in an era when Ghanaian journalists face considerable challenges with respect to free speech and access to credible information, as he himself explains in some detail.
"There is a lot of intimidation from the powers-that-be when you are a journalist who tries to be objective. Sometimes you face threats and temptation. Some will try to buy your silence and others will simply refuse to speak with you. I just think as journalists we should not bow to the whims and caprices of such people for that is the only way a good reputation can be built."
Rather than feel victimized, however, Opoku considers his work fairly appreciated, if the awards he won as Best Football Commentator and Best Football Journalist (PLB) in 2008 and 2009 respectively are anything to go by.
CANCER

Almost a year ago, Opoku suffered what might well be considered the worst episode in his life, probably even worse than being bereaved of his mother several years prior. Just when he appeared to be savouring the joys of his chosen profession and enjoying life as a family man, a diagnosis of rectal cancer - of the malignant sort - hit him hard almost out of nowhere, and at a time his wife was heavy with the couple's third child. Cancer, after all, hasn't ever been the easiest foe for anyone to contend with. It has taken down many, and Opoku, fully conscious of that fact, quite reasonably feared the worst.
"My whole world was shattered," Opoku says, with the visible chill with which he originally received the news. "Eventually I did the CT scans and my sister flew down to Accra so she could accompany me to see the surgical consultant. Before then, we wanted a second opinion and so I went to Kumasi to have a second colonoscopy. We later went to see a consultant in Accra who confirmed our worst fears, and recommended an urgent surgery to rectify the condition."
And so it happened that, on September 24, 2012, Opoku went under the knife at the Komfo Anokye Teaching Hospital, but not without a great deal of hesitance for obvious reasons. The surgery did prove successful, though, but Opoku still had to endure several months of post-surgery therapy until he attained full recuperation sometime this year.
Partially to aid his recovery, Opoku had to make the tough decision of resigning from then employers Optimum Media Prime (OMP) and, just when he felt he might have to endure the life of a jobless man/family head for a while, broadcast houses MultiTV and [later] GTV came asking. Opoku, ever the religious man, attributes those timely employment opportunities to "the hand of God."
| | |
| --- | --- |
| I wouldn't change for anything, because I have retained respect from even those who would attack me verbally in public. So, sorry critics - I'm not changing anytime soon in that regard | |
Opoku, of course, is wholly hale and healthy now and going about life as before, yet he would be the first to admit he wouldn't have been able to make it through the hard times his illness ushered all on his own. And so he draws a long list of people to whom he believes he owes considerable degrees of appreciation, a few of whom get a mention here:
Vivian, his long-suffering spouse who stuck with him even while she endured labour pains herself; Dr. Joseph Yorke (KATH), who operated on him; his sister, herself a medical doctor; Michael Katahena, a colleague journalist; editors William Selasi Adjagogo and Theophilus Yartey of the Business and Financial Times; the staff manning the sports departments of Happy FM, MultiTV and GTV, among others.
For all his sickness-induced troubled experiences, though, Opoku believes he has only emerged stronger, determined to soldier on for all the reasons for which he is alive today.
MUSIC
Football aside, Opoku's other lifelong passion is music - of the gospel genre, to be precise - a gift he believes was sub-consciously bequeathed to him by his deceased mum. Sometime ago he launched a nine-track album, entitled 'Oye Mame'.
It didn't exactly disappoint, did it?
"Not really," he opines. "I'm yet unsure just how successful it [the album] was but, whatever the case, that is another part of my life people don't really know about. As I mentioned earlier, my late mum - a singer - was an influence on me and so I naturally love to sing. I was a member of the KNUST Mass Choir during my time on campus and I have directed a few choirs in my time. If there is anything I love doing apart from football journalism, it certainly is music in church."
GHALCA
Barely two months ago, Opoku picked up an appointment as Administrative Secretary of the Ghana League Clubs Association (Ghalca), and has busily been at it since. As he willingly concedes, though, operating in that capacity throws him right into Ghana football's corridors of power, of which, as has already been explained, Opoku has been a committed yet constructive up braider of. Surely, he cannot anymore be as outspokenly critical of the system as he once was, can he?
"Well, honestly, I wouldn't to some extent. I have already been told that it means I do not have a personal opinion anymore but I vehemently disagree with that. What it simply means is that I can no longer be publicly critical of Ghalca, since I am running the office now, but I will have to turn things around there. But that is it really. I will continue to be as objective as possible because at the end of the day, it is my reputation that means so much to me. So other issues that are non-Ghalca issues will be stuff that I will continue to comment on."
Well, then, it seems the 'rabblerouser' hasn't yet been robbed of his bite yet?
ALLEGIANCES
At this point, Goal asks which local football club is Opoku's favourite, but he wisely steers clear of that subject, citing "personal reasons." Like most Ghanaian journalists worth their salt, that -the identity of his preferred domestic outfit- is perhaps Opoku's best-kept secret, and for good reasons.
He has no objections disclosing where his allegiance lie, however, with respect to European football. His choice, when he reveals it, is quite unambiguous: England's Liverpool.
For those who follow Opoku's sports-related tweets and posts on social media, though, that isn't much of a surprise. As it turns out, Opoku's love for the Reds springs from that day in 1984 when he watched them play AS Roma live in the European Cup final. He recounts the occasion with some nostalgia:
"I was almost 10 at the time. That is when I fell in love with the club and I remain a full supporter of the team, through the good and bad times."
FINAL WORDS
To round up our interview, Goal inquires from Opoku just how he would like to be remembered when he finally departs the scene of Ghanaian football press.
"Well," he replies, "if I can be recalled as someone who not only made a positive impact on our football, but helped bring others up as well, there could be no satisfaction greater."
On the face of it all, one could only wonder if that desired legacy isn't already starting to fall in place.

READ PART ONE OF HIS INTERVIEW HERE

Follow Nana Frimpong on

Goal Ghana has its own

and

account, so for all the latest news and features on Ghana football follow us by clicking on the above links