Yes, Arsenal were deemed favourites going into the game against Manchester United. Though Wojciech Szczesny had warned, there were others like Mesut Ozil who claimed to 'go and have fun'.
In the end it was United who were the biggest winners of the weekend with the likes of Manchester City, Tottenham and Arsenal losing while Chelsea and Everton also dropped points.
The pressure was undoubtedly on the hosts. The transition to life under David Moyes to that of being under the tutelage of Sir Alex Ferguson hasn't been the smoothest, with quite a few bumps on the road. Old Trafford wasn't really a fortress, it was given that they had already lost and drawn twice each with just one win to their name.
In their previous big games this season, bar the Capital One Cup tie against Liverpool, United suffered at the hands of Manchester City and Liverpool and didn't manage to bother Chelsea in a bore goal-less draw in the league.
Coming into the game, Arsenal's confidence was at an all-time high. They seemed like an unstoppable force who had dominated games, even against the likes of Napoli in Europe and Liverpool in the league. Yes, they defeated only those sides this season whom they had downed last term too. While one may claim that they have been beneficiaries of an easy fixture list, Arsene Wenger's team continued to defy skeptics with their performances, as was illustrated in the 1-0 win over Borussia Dortmund in midweek.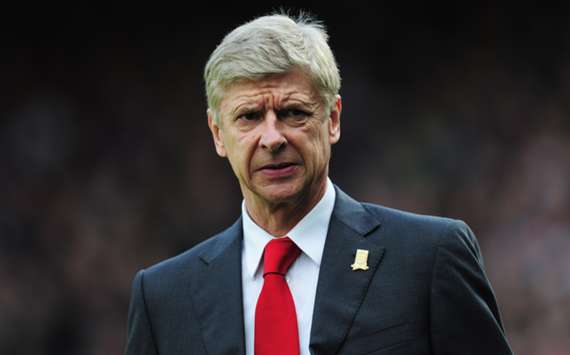 Barring the absence of Per Mertesacker and Tomas Rosicky, Wenger fielded his best eleven which included two players assigned to do the defensive duties in Mikel Arteta and Mathieu Flamini. Moyes chose a workman-like midfield comprising of Phil Jones, Michael Carrick, Antonio Valencia and Shinji Kagawa.
Critics deemed it a defensive approach as Moyes dropped arguably their most creative player in Adnan Januzaj – who could have dribbled his way into the box, won fouls and created mayhem in the opposition defense.
However, his selections came good as Jones intercepted regularly, Carrick with his silken touch, Valencia with his doggedness and direct running while Kagawa choosing to drift inward or on the outside put in a decent shift. With Ozil not tracking back to help Bacary Sagna, the sight of Evra moving forward to cross was a regular feature in the first half.
Arsenal couldn't get into their rhythm when it came to their passing in midfield as the regular quick one-twos were replaced with slow and toothless passes.
Jones in particular was the best of the lot as he hurled himself every time to stop the opposition launching an attack. On one occasion, he got himself between Olivier Giroud and the ball and won a foul with the Frenchman being annoyed with a lack of service and when the ball was at his feet, he had the likes of Nemanja Vidic for company.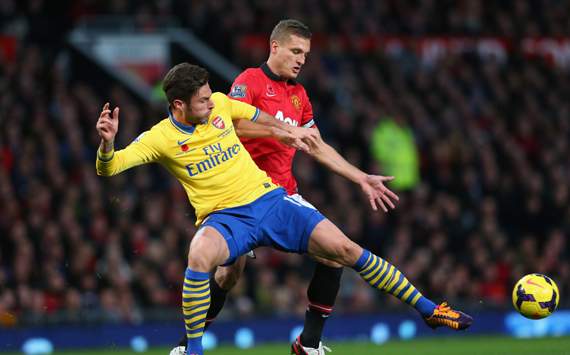 Wayne Rooney didn't test Szczesny in goal but his work rate was second to none as he was a constant thorn for the Arsenal defenders to deal with. He would pop up on the right, left, move further forward or track back to win the ball – once again playing a pivotal role in putting a stop to Arsenal's nine game unbeaten run after having scored the winner for Everton by ending their unbeaten streak of 30 matches over a decade ago.
Rooney explained how United had practiced on set-pieces which proved decisive given that Arsenal do not have tall players in their ranks, with the tallest among them missing the tie. Arsenal resorted to zonal marking and left United's four players, all of them above six feet, on their own.
Aaron Ramsey moved ahead of the near post and Giroud couldn't deal with Rooney's delivery as Van Persie headed home beating Szczesny and two defenders on the line in the process. The former 'Arsenal man' came back to haunt the club and made the most of the chinks in their armour.
Credit must surely go to Moyes for identifying Arsenal's Achilles Heel at a time when most teams are struggling to break them down. It was also a game where Arsenal had failed to score for the first time in the league this term which highlights the defensive discipline Moyes imbibed in his team – something which wasn't evident earlier in the season. And this feat was achieved in the absence of Rio Ferdinand and Vidic, who only featured for the first 45 minutes.
Chris Smalling was a colossus at the back as he stormed forward and tracked back to keep Kieran Gibbs from sending crosses in. He made a last ditch tackle on Giroud at the death which more or less compensated for his glaring miss at the other end from a Van Persie free-kick.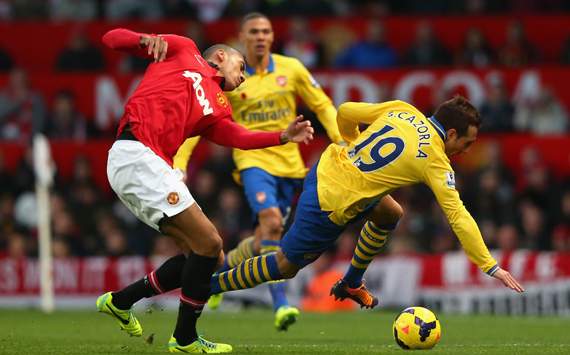 Moyes' tactical nous came to the fore on Sunday as the win will allow him to feel more accepted amongst the United faithful. It would do enough to lift the spirits of their squad though there were signs of their improvement already.
Ahead of the game, Vidic had said, "They play a good passing game, short-distance passes. Their full-backs give them width and they have a target man, Giroud, who is good on crosses, which gives them something different. "
Moyes and company ensured that none of the above came to fruition; though they did enjoy the greater share of possession – as stated earlier – there was no penetration except for the two quality crosses sent in by Sagna.
At the end of the game, all the cameras focused on Moyes and Van Persie and the duo had a big smile on their faces. Understandably so for Van Persie who was being taunted for having joined a team which was eight points adrift of his former side before kick-off, and Moyes whose strategy worked well against a manager who would have hoped to overturn their poor run of form against Manchester United with a wily old Scot now in director's box.