FEATURE
By Sammie Frimpong

Roy Essandoh.
The name above ring bells with few football fans, and for good reason. The bearer of it, a professional soccer player, has enjoyed a career that has seen him play on the farthest fringes of European football, moving clubs no less than 19 times over an 18-year period.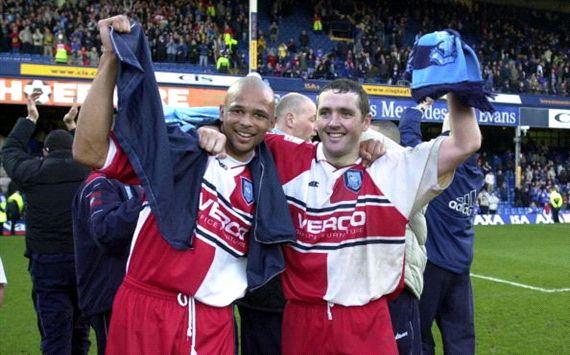 VICTORY | Roy Essandoh and Paul McCarthy of Wycombe celebrate
However, it was during one of his shorter stints at one of those clubs that made an unlikely hero out of a truly average footballer, at least for fans of English lower league side Wycombe Wanderers.
Exactly who, though, is Roy Essandoh?
Essandoh was born in 1976 to a Ghanaian dad and a Northern Irish mother in Belfast. While yet seven months old, his family emigrated to Ghana where he was raised till another re-location saw him living in Europe shortly after his eighth birthday.
Teenaged Roy took to football and launched a career soon enough, moving into neighbouring Scotland where he spent four years playing for Motherwell and East Fife.

Not long after, Roy was on the move again, this time heading to Scandinavia where he scored a meagre nine goals over two years for Finnish side VPS Vaasa. His adventures abroad over, Essandoh returned to the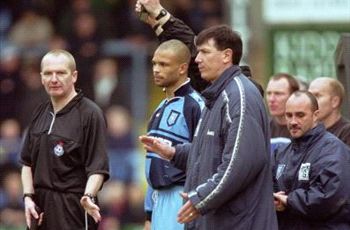 "I thought 'I don't believe this - it's awesome'. I'm still thinking about this goal. Crazy, isn't it?"
British Isles and, after an unceremonious two-month flirt with now defunct outfit Rushden & Diamonds on pro bono terms, his single major career highlight happened, almost by chance, and in the oddest of ways.
Clubless and clueless, Roy received a phone call from his agent one day in March 2001. The news from the other end almost made him jump with excitement and hope.
Apparently, Lawrie Sanchez, coach of League Two's Wycombe Wanderers, was in dire need of a fit, non-cup-tied centre-forward heading into a crunch FA Cup quarter-final match away to then Premier League side Leicester City, as almost all his striking options were unavailable for some reasons.
A journalist from BBC's television text service Ceefax was alerted to the vacancy and published a story about Wycombe's pressing need, to the delighted notice of Essandoh's agent who duly notified the club of his client's availability for a two-week contract.
Deal wrapped up, Roy headed for the Chairboys', destined for a future that would probably last no more than a couple of games and a few hours of training.
On match day, Wycombe arrived at Leicester's Filbert Street grounds hoping for a major yet doubtful 'Cup-set', with Essandoh slated to start from the bench. Tied at 1-1 in the second half, the manager threw in the Ghanaian extraction and team-mate Stewart Castledine in what seemed one last throw of the dice. Soon afterwards, Sanchez himself was sent off and down the tunnel for remonstrating at a disallowed penalty call. Little did he know at the time that he was going to miss a live repeat of a feat he had pulled off some 13 years prior - when he fired in a winner for Wimbledon's 'Crazy Gang' against Liverpool in one of the most high-profile FA Cup 'anomalies' ever - by his countryman and the last figure on his team he would have thought capable of.
Cue Roy of the Wanderers.

Deep into injury time, a cross came soaring into Leicester's penalty box from Dannie Bulman. The ball was flicked on by Jamie Bates to Essandoh, who powerfully headed it in for the clincher, earning Wycombe a last-four date with mighty Liverpool and prompting pure ecstasy.
That magical moment was captured severally in text and graphic form, yet none more aptly than by the words of that day's match commentator, the incomparable Martin Tyler. "This is an incredible story, even by the standards of the FA Cup!" Tyler waxed aloud.
It was a goal that took Wycombe the farthest they had/have ever reached in FA Cup history (the semi-final at Villa Park was lost albeit valiantly), a dream that had been made possible by a man whose presence would otherwise have passed unnoticed by most fans of the club. It was voted the 76th best FA Cup moment ever in Andy Gray's FA Cup Madness, and perhaps rightly so.
The hero of the day himself described it as such in the aftermath of the game: "I thought 'I don't believe this - it's awesome'. I'm still thinking about this goal. Crazy, isn't it?"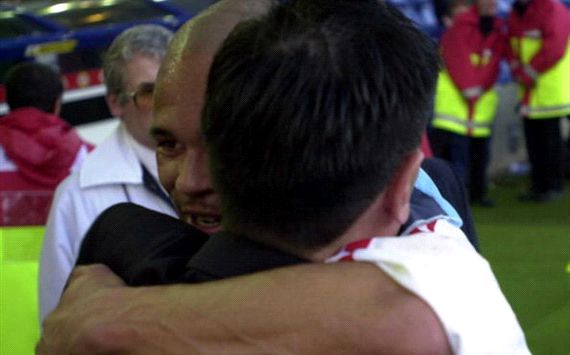 DREAM COME TRUE | Roy Essandoh and Laurie Sanchez after the game
Sure, Roy...
Crazy as hell.
Any dreams Essandoh had of that goal providing his career the spark it badly required were quite far-fetched, however. His time at Adams Park soon ran out, and so did any chances of him making it big-time.
Turning out for a host of unglamorous British clubs in stark obscurity in the decade or so that has followed, Essandoh's most recent contract saw him play for non-league outfit Bury Town, and even that ended last year.
In view of his almost non-existent record of international level football with the Northern Ireland national team, one wonders why Essandoh never considered playing for Ghana.
To find out, you would have to ask him, although he might prefer to relate to you over and again his greatest moment as a footballer.
You wouldn't have enough of it.
Goal Ghana has its own

and

account, so for all the latest news and features on Ghana football follow us by clicking on the above links