SPECIAL
By Nana Frimpong
There has been much debate among Ghanaian soccer fans ever since Richard 'Olele' Kingson received his latest Ghana call-up after a lengthy exile, an opportunity to extend against Egypt on Tuesday his record tally of 90 international appearances.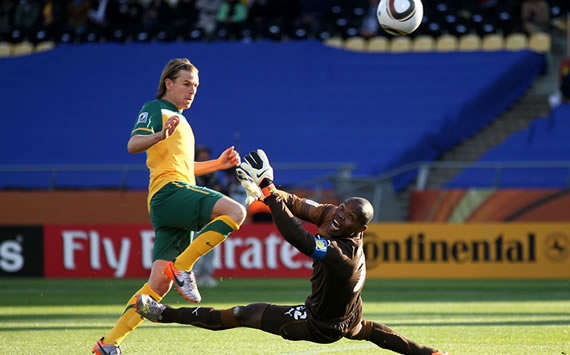 Interestingly, it has been Kingson's age instead of his form and match-readiness that has become a subject of intense nationwide speculation, and nowhere has the banter been indulged in as on Ghanaian social media. On Twitter and Facebook, at least, a cult-like following has evolved around the issue of exactly how old the shot-stopper might be and talk on these fora has been characterized by light-hearted one-liners ironically themed #OleleFacts.
The trend has been to concoct slightly over-exaggerated 'facts' that portray 'Olele' as probably being as old as any who has ever lived. While some have decried this development as disrespectful, most insist it is nothing more than good, satirical fun that spices the build-up to Tuesday's play-off first leg.
Goal presents five of the best and most creative of these thus far:
A few weeks ago,
Goal
did a story on
Ghana's fictional 100-1 loss to India
. At the time, though, we were yet uncertain of the identity of Ghana's hapless goalkeeper on the day, but not anymore. As it turns out, it had been our own Olele all along! Just how we never realized this till now remains a mystery, but it never hurts to pick up a bit of history that remained lost for so long, does it?
This one got us cracking so hard that we simply couldn't omit it. Whatsapp, the popular internet-based messaging application, always keeps record of and displays the most recent time and/or date when a user last accessed the service. According to this particular #OleleFact, Kingson's reads: "Last seen, 45BC." Now that's a good one.
This third 'fact' actually compresses some of Ghana's pre-colonial and colonial history into a few lines of brutal sarcasm. Apparently, Olele represented the Ga chiefs at the signing of the Bond of 1844, a document consented to by the country's southern chiefs which marked the beginning of a 113-year period of colonial rule of the then Gold Coast. He later dated Yaa Asantewaa (valiant and celebrated female military general of the Ashanti) briefly, and it was through this relationship that Asantewaa was inspired to lead the Ashanti into a great war against the British where Olele again served as chief military strategist. Bet your history tutor never told you this, eh?
A close study of one of Ghana's most iconic images, that which features the likes of Komla Gbedemah, N.A Welbeck, Kojo Botsio, and Kwame Nkrumah on a podium during the declaration of independence at the Old Polo Grounds on the eve of March 6, 1957 reveals a fifth somewhat anonymous person (actually believed to be one Casely-Hayford) lurking in the shadows whose figure can be barely traced in the dark. Well, finally we have been able to put a name to the image. You know who, right?
Aha, exactly.
On his way to his sacrificial death at Golgotha, Jesus Christ was relieved of the weight of his torture stake by a man forced into service by the Roman soldiers and whom the Bible identifies precisely as Simon of Cyrene. If one of the most comical parodies that have been spawned by the #OleleFacts trend is to be believed, though, that man could easily be referred to as 'Olele of Accra'. Of course, though, you know which version to believe.
Do share with us in the 'Comments' section below other amusing #Olelefacts we might have left out.
Follow Nana Frimpong on

Goal Ghana has its own

and

account, so for all the latest news and features on Ghana football follow us by clicking on the above links