The Singapore women's national team is currently on a tour of Thailand as they prepare for the AFF Championships in 2014 as well as the SEA Games in 2015. A young side, the team features a number of players who were trained by Yeong Sheau Shyan, a women's football coach who has been involved in the scene for over a decade.
Currently a full-time coach having left her job as a Physical Education (PE) teacher with the Ministry of Education, Yeong is the head coach of Bowen Secondary School's girls football team, and co-manages Arion Football Academy, overseeing coaching of children from the ages of 3 to 14.
"As a PE teacher I decided to take up coaching while I was still learning to play the game, and my passion for coaching became so strong I had to go into it full time," explained the petite 35-year-old. "I gave up my teaching career so that I can do what I love most."
Initially introduced to football while studying to be a PE teacher at NTU-NIE, the then-20-year-old fell in love with the game and eventually played for the Singapore Armed Forces FC Women's Team (now Warriors FC) until the women's chapter was disbanded.
Yeong is also a former Singapore international having featured in regional competitions including the SEA Games, Olympic Qualifiers and AFF Championships. First called up to the Singapore squad in 2002, she hung up her boots for the national team five years ago, but not before starting Singapore's first independent women's football team, Arion FC, a club she still plays for.
It was also with Arion that she met her current coach Li Jing, also a former Singapore international, from whom she was able to further develop as a player.
"It was only after Arion was formed, that I had the chance to learn the basics from Li Jing, our coach then," said Yeong.
"Also thanks to my football-crazy team-mates, we trained every opportunity we could, under street lamps at parks and fitness corners under MRT tracks.
"When I first started with the national squad, I was still very new to football and did not have the skills required to perform at the level expected of me. Everyday after work, I had to drag myself to national team training, knowing that it was going to be a torture, both physically and emotionally. Every training I struggled to do the basic things right. I couldn't dribble, pass or kick the ball like my team-mates. All I did was to chase the ball around."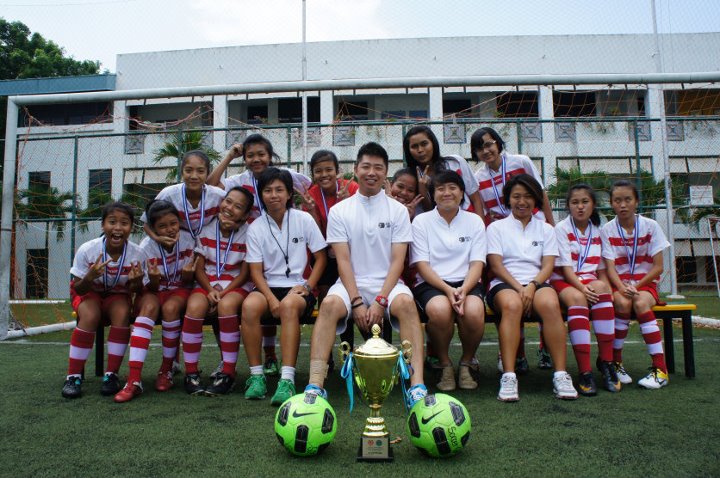 Yeong (front row, fourth from left) with her Bowen Secondary School charges
Her passion for the game did not go unnoticed, as soon she was brought on as a youth coach to train the National U14 girls by Julie Teo, then Head of Women's Department at Football Association of Singapore (FAS), and currently
AFC Technical Division's Head of Women's Development. However, Yeong found herself surplus to needs following Teo's departure soon after.
"Within a year, her position was filled by two managers who didn't stay very long in FAS," she said as she explained how the opportunity for her to reach the next level of her career almost destroyed her self-confidence when the women's team and youth development programme was dissolved.
"I was promptly removed as head coach. We had big plans and vision of what the programme would do for women's football in Singapore, and I had hopes of leading a team to the SEA Games in the future. Unfortunately, my dream was short lived.
"The surviving members of that squad are now in the senior team. On a personal level, that incident made a huge dent in my confidence and the regret of not being able to follow through the plan still haunts me today."
But Yeong, better known as Shyan amongst her friends, had the good fortune of relying on family and friends for support to help her along her difficult times, which she admits were few on her personal front given her dedication to football.
"Ask anyone who knows me well enough, they will say I've no life outside football," she confessed.
"It's true! My life revolves around football. It's my livelihood, my hobby, my dream."
But having devoted her time and life to football, Yeong also admitted that she had never had the time to find a significant other, something that she was fully aware of thanks to those close to her.
"Friends keep reminding me I'm getting old and that I should try new things, meet new people but I just can't find the motivation to do so!" she explained. "Playing, coaching and thinking about football is all I can manage for now."
Yeong has set her sights on taking the AFC 'A' License course next year and start a youth wing for her Arion team, but added that there were few avenues to pursue coaching as a career at a higher level.
Nevertheless, she still aims to promote women's football, and plans to expand her Arion Football Academy venture to raise the funds needed to support her dreams.
A chance entrant to the football scene in Singapore, the tenacious lady has no intention of leaving her football life behind anytime soon.
"I'm not sure why I got involved in football," she reflected on her long and storied career.
"I didn't have the talent for it, and it definitely wasn't for fame and glory. I thought my interest would burn out quickly because of all the difficult times but somehow, it still excites me and I can't imagine ever stopping."