ANALYSIS
By Ed Dove
For anyone content to rest on their laurels, or to bask in the status quo, football all too often provides sharp reason for change and reassessment. No sooner have the building blocks of one story arc been put in place and the thread of one narrative pulled taut than the shifting sands of assumption and the swirling waters of the unpredictable and the unlikely turn up a revised paradigm and a refreshed focus.
Anzhi Makhachkala were meant to have been Russia's great footballing superpower. Their model replicated—albeit with some complications—the extravagant approach of the owners of Manchester City, Paris Saint Germain and Malaga and the anticipation was that they could alter Europe's footballing dynamic and provide a new centre of gravity for the continent's favourite game.
Alas, the margins—both of victory on the pitch and of profit on the balance sheet, weren't quite as the owner Suleyman Kerimov had envisaged and the Dagestani owner decided to re-examine and scale down his ambitions of expansion.
Thus, a curt fire-sale and wholesale cull fell upon the Anzhi squad. Many of the talented squad, acquired at great expense over the previous seasons, were offloaded without a second thought. Chris Samba, Vladimir Gabulov and Lassana Diarra have all been shown the door.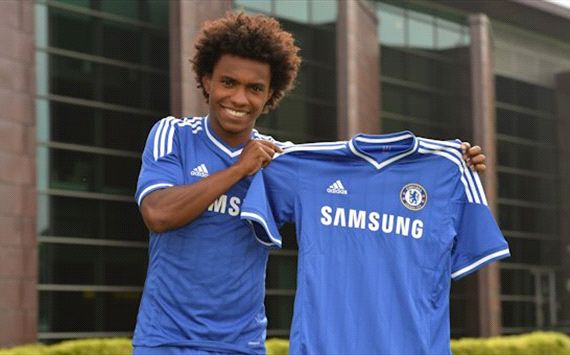 Willian: Leading the way for Eto'o?
The great expectation or the extravagant experiment—call it what you will—was over before it had truly began to take hold of European fooball. The sport's gods of fate and fancy had turned their backs again, and it is Anzhi that falls by the wayside.
One of the exodus's prominent players, the Brazilian Willian, has already been introduced to Chelsea fans, while another, Africa's greatest footballer, Samuel Eto'o, is sure to make a major impact in West London.
And thus, the fall-out of shifting expectations and modified commitment in Dagestan—a barren wasteland of South-Western Russia—is brought to bear upon Stamford Bridge, where one young Nigerian looks likely to be hit harder than most.
Victor Moses provides us with a second example of how football's overarching storylines and narratives possess more twists than a fool at a blackjack table.
A year ago, the youngster was a new acquisition to Chelsea's Champions League-winning squad, a rapid, direct, versatile attacker who had the potential to be a perfect counterpoint to the creative magicians already populating the squad.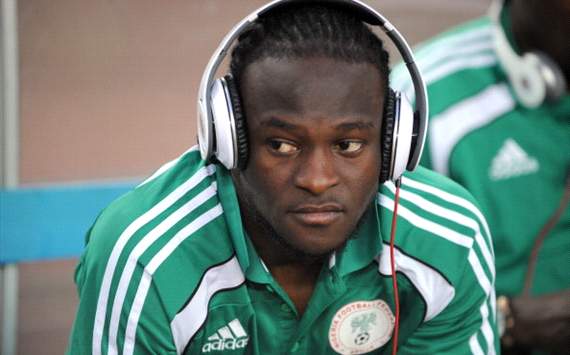 Victor Moses: Nigerian's year of achievement may count for nothing at Chelsea
Wigan boss Dave Whelan may have grumbled that the move was coming too soon for the player and expressed apocalyptic doom when forecasting Moses's stagnation amidst the elite surroundings of the European champions.
Many of us may have shared his concerns. I even wrote an article giving a platform for Whelan's fears and speculating whether Moses wouldn't have been better served seeing out another year of his development in the North West.
I had a very different tone in the Autumn, when young Victor scored a late winner against Shakhtar Donetsk in the Champions League and delivered a man-of-the-match display against Manchester United in the League Cup.
My previous concerns then appeared absurd during the Cup of Nations, when the speedy forward delivered performances of such devastation, such influence, and such composure, that he was championed as Africa's brightest young thing and the future of Stephen Keshi's national side.
During the latter stages of Chelsea's triumphant Europa League campaign, he made contributions that changed the course of contests, proving that he could compete and make an impact at the top end of the sport.
Heading into the summer, it was fair to say that Moses had had an excellent year, and that Chelsea (and Nigeria) fans could look ahead with anticipation and genuine excitement, at the promise and prospects that lay in wait.
Jose Mourinho, it seems, didn't share the optimism.
Over the last few months it has, at times, felt as though the returning Special One has taken all steps possible to ensure that Moses is rendered superfluous to the Chelsea forward line.
André Schurrle was brought in before Mourinho, but clearly has the approval of the boss, as was evidenced by his starting berth in the crunch clash with Manchester United. Romelu Lukaku and Kevin De Bruyne have returned from loan looking to play a part in the first team, while Fernando Torres and Demba Ba have been retained despite their underwhelming seasons.
Considering the presence of Juan Mata, Oscar and Eden Hazard, as well as the newly-acquired Willian, it's near impossible to see Moses stamping his name upon one of four potential attacking berths.
One could argue that he currently stands behind all of the aforementioned players. Tenth choice…it's hardly something to write home about now, is it?
And things could get worse now that Eto'o has put pen to paper. Victor would surely learn first-hand of the harsh realities and unpredictable consequences of football's shifting sands.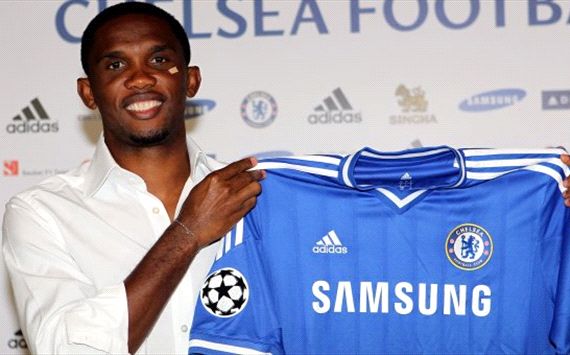 Eto'o: Africa's Finest arrives in the Premier League
The Cameroonian forward is a favourite of Mourinho and, on big wages and able to compete in a number of attacking roles, he would surely command an important place in the squad. The former Barcelona man may be 32, but he is still an elite performer and a player capable of having an impact in the highest echelons of the sport.
The appeal is not hard to recognise, and doubtless, the addition of Eto'o, Africa's finest, finally heading to the Premier League, and to Chelsea, no less, would make headlines and create clamour across two continents.
While I, for one, will be excited to see a legend of the World—let alone the African—game plying his trade in the EPL, I fear that Africa's past is being honoured at the expense of its future.
Now that Eto'o has arrived, Moses should take a moment, shake the great man's hand, embrace him as an icon and an idol for millions, and then head to Mourinho's office to talk of seeking pastures new.