COMMENT
Babajide Alaka | Deputy Editor
Nosa Igiebor first came to national attention as a player in the U-23 squad coached by Austin Eguavoen – he shone so brightly that people started asking that he move up a grade and join the Super Eagles – a wish that was granted.
Then he scored that goal against Venezuela and everybody sat up and took notice. That was after he had transferred to Real Betis from Hapoel Tel Aviv of Israel and football analysts said it would be good for him and the national team and the beginning of greater things.
Then he set off for the Nations Cup in South Africa and within three weeks, all the hype came crashing down. Nobody, at least not the coaching team, had any explanation for the player being dropped subsequently from all matches after the opening 1-1 draw with Burkina Faso.
After the Nations Cup, he could not return on time to his club and was declared AWOL for over five weeks with the reason being that he had lost his passport and had to procure a new one. Finally, he got back to Spain and in one of the fiercest derbies in La Liga, against Sevilla, he came on as a substitute, scored the equalizer with a bullet header and then soiled the celebration with a middle finger gesture.
Immediately afterwards, stories from Betis indicated that the club were willing to cut their losses on a player they had great plans for but they then sold Benat to Athletic Bilbao, which meant that Igiebor had the chance to make himself a starter in the team.
SO NOW TO A BETTER FUTURE
That chance is one he has grabbed with both hands – impressing in pre-season matches and on the opening day against Real Madrid at the Bernebeu, he gave a sterling performance that almost culminated in him scoring a goal.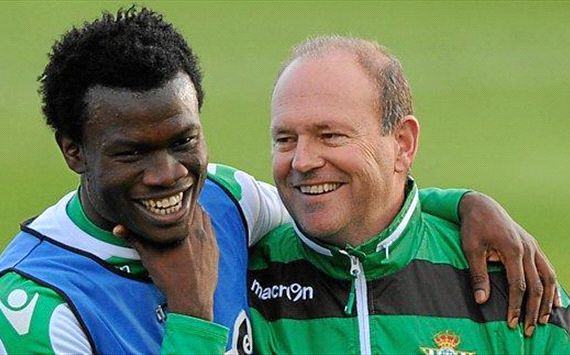 IGIEBOR SEEMS TO BE ENJOYING HAPPIER TIMES AT BETIS

So from the 2012/13 season in which he played mostly as a substitute in the league and totaled just 569 minutes from 16 matches, the player, just recalled to the Super Eagles since February, has already played the full match in Betis' two competitive games – one in the league and the other in the Europa League.
So the stage is set for a full-circle redemption. Almost everyone is agreed on the fact that he is very talented and is the modern midfielder, able to defend as well as create, what has been lacking is a calm head.
He also looks to have patched up his relationship with Pepe Mel, the Real Betis coach, but the most important thing for him to do will be to completely exorcise the demons that made him irresponsible.
And as coach Stephen Keshi said last month concerning Igiebor, the most important element he has to work on is his attitude. If he does that, in the next 12 months the Super Eagles might be able to boast of another world-class player in their team. That is how good he can become.