COMMENT
By Jide Ayegbusi

Even though Chelsea coach Jose Mourinho recently rubbished the claim that he was playing mind games with David Moyes over his interest in Wayne Rooney, there is no doubt that the former physical education teacher's psychological nous is exceptional when it comes to the game of football.
The psychosomatic 'mouth-running' of the Blues' coach, who recently tattooed his family members' names on his wrist, dates back to his days at Porto. A notable example was his remark about Sir Alex Ferguson in 2004 after Porto whitewashed Manchester United en route to the Champions League trophy.
After the match, the exasperated Ferguson ran away from Mourinho and declined shaking hands. Mourinho later taunted Fergie by saying "I understand why he is a bit emotional. He has some top players in the world and they should be doing a lot better than that... You would be sad if your team gets as clearly dominated by opponents who have been built on 10 per cent of the budget."
The gargantuan effects of that statement on the psychology of the then United manager and his players no doubt was something to reckon with. Recall that Mourinho later went to Chelsea the following year and took away the Premier League title from the previously all conquering United. You think that conclusion isn't enough to justify my claim? Read on.
In March 2004, before the Barcelona vs. Celtic match for the UEFA Cup, Mourinho disparagingly condemned Celtic coach Martin O'Neill and his team for playing non-attractive football. Mourinho psychology also worked this time; O'Neill responded harshly. "Mourinho's comments are just unbelievable. I just treat them with the response they deserve. He's still to get over the embarrassment of Vitor Baia lying out on the turf for three or four days," O'Neill said. Undoubtedly, O'Neill was upset.
At Chelsea, the media was increasingly profiting each week from Mourinho's 'mouth-running' tactic. The negative effects of his maiming bombshells on his victims couldn't be overemphasized. Of course the bombshells were meant to either distract or de-motivate his innocent victims.
One of these bombs was released when Arsenal manager, Arsene Wenger complained about the conduct of the Chelsea side. Mourinho retorted by calling him a "voyeur". He described the Frenchman as somebody who spies on other teams for the thrill of it. "Wenger has a real problem with us and I think he is what you call in England a voyeur," he said, adding "He is someone who likes to watch other people. There are some guys who, when they are at home, have this big telescope to look into the homes of other people and see what is happening. Wenger must be one of them and it is a sickness." Only Mourinho himself could substantiate the candour of his assertion.
The acme of the issue is that Mourinho's psychology not only works on players, coaches, fans, but also finds its way into the mind of innocent match officials.
Following a Champions League fixture between Chelsea and Barcelona in March 2005, Mourinho accused the referee, Anders Frisk and Barcelona coach Frank Rijkaard of breaking FIFA rules by having a meeting at half–time. Mourinho maintained that this made the referee biased and caused him to show Chelsea striker Didier Drogba red in the second half. "When I saw Frank Rijkaard entering the referee's dressing room I couldn't believe it. When Didier Drogba was sent off I wasn't surprised," the Portuguese said.
Frisk admitted that Rijkaard had tried to speak to him but insisted that he had sent him away. The situation heaped on when Frisk began to receive death threats from incensed fans, causing the referee to impulsively retire. UEFA referee chief, Volker Roth labelled Mourinho an "enemy of football", though UEFA distanced themselves from the comment. After an investigation of the unpleasant incident, Mourinho was given a two-match touchline ban for his behaviour and both Chelsea and the manager were fined by UEFA, though the body confirmed that it did not hold Mourinho personally accountable for Frisk's retirement.
Time would inevitably fail me if I continue to cite instances of how Mourinho used this effective tool of his to distract and demoralise his victims. Incredibly successful in Portugal, England, Italy and partially in Spain - no wonder he left dissatisfied.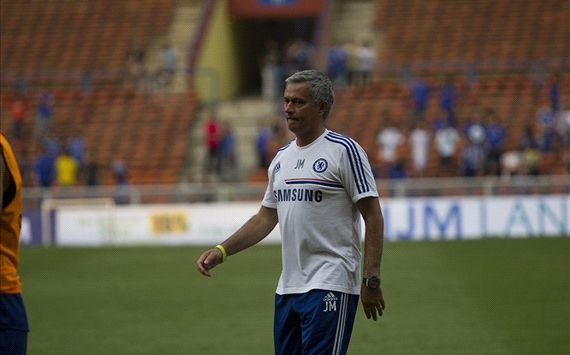 Pertinently, let me tell you, sports intelligentsias, that mind game is really effective and as you can see, Mourinho has mastered this tool to his advantage.
According to Psychologist, verbal abuse is a way to gain power and control in a relationship. Why do people engage in verbal and physical abuse? Abuse occurs when relationship partners use power and control to feel good about themselves, to get their needs met or to get their way. The use of physical, sexual or psychological abuse violates the self-determination, well-being, competence, dignity and freedom of their partner. This of course is applicable in the game of soccer where psychology plays a pivotal role.
As a man of ego, Mourinho uses mind game/verbal abuse/accusation to compensate for perceived threats to his status as a very successful coach in the anals of history. Research has shown that individuals who use verbal abuse often time have feelings of inadequacy, believe strongly that there is a "right" way for all to act; feel their happiness and support are dependent on their victims' failures; fear rejection and abandonment; are jealous or overly possessive; feel that personal wants, needs and desires come first; voice strong opinions or judgments and back them up by a short temper.
The abuser tries to take over the thinking of the victim; gives criticism and humiliation on traditional victim skills; makes attacks on appearances that undermine self-confidence and self-esteem; gives verbal abuse such as put-downs, name-calling, blame, sarcasm and public humiliation; uses threats to create feelings of fear and danger; disregards or neglects the opinions or needs of the partner. Could all these be ascribed to Mourinho? I leave you to answer the question.
On the other hand, abuse victims describe an insidious process that, at the time, is not recognized as abuse. Emotional abuse conditions them to feel helpless and powerless to leave and makes them vulnerable to subsequent possible defeat to the abuser. Verbal attack makes victims feel unloved, unwanted, inferior, inadequate and cut off from support. Victims feel shame, guilt and worthlessness. They are confused and angry. Are these applicable to Mourinho's victims? We need no historian to tell us yes!
Now you can see why football stakeholders in the EPL, FA Cup, Champions League and every tourney Chelsea FC would be participating in should stand on their toes and be wary of Mourinho's powerful psychology tactics.
The master of mind games is back where he loves to be.
- Ayegbusi is a Psychologist. He can be reached via: +2348036566809, informjiday@yahoo.com. Follow him on