COMMENT
By Ben Hayward at Camp Nou
Should he stay or should he go? The future of Cesc Fabregas at Barcelona is one which will not go away as Manchester United prepare to launch a third bid of around £35 million for the former Arsenal captain this summer. And Barca boss Gerardo Martino admitted on Friday that the ultimate decision will lie with the player himself.
After watching his side stroll to an easy 8-0 win over Santos in the Gamper Trophy in his first match in charge, 'Tata' was asked about the midfielder's situation and, much like at his presentation exactly a week earlier, was emphatic in his view of the 26-year-old's Camp Nou future. "We had a talk," he explained. "Actually, I was the only one who spoke! I told him what I thought and him leaving has never crossed my mind. He is one of the best players in this squad and I want him here."
Fabregas, however, has grown frustrated at life on the bench at Camp Nou since his summer switch in 2011 from Arsenal. And on Friday he was back on the bench once more - just as he had been under Pep Guardiola and Tito Vilanova for much of the time over the last two seasons.
NEYMAR MAKES POSITIVE START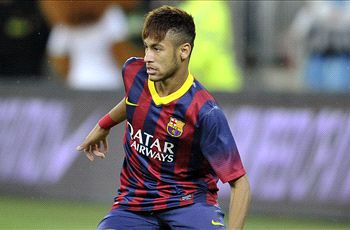 Neymar had to wait for his home debut and when the moment finally arrived, as a second-half substitute, he was forced to wait while security struggled but finally intercepted an impostor heading his way after running more than halfway across the pitch in his direction.

Neymar began on the left and showed his quality with a series of dribbles and stepovers, one outrageous dummy in the area and an impressive assist for Cesc's second goal. He also could have won a penalty against his former team-mates in what was an impressive debut.

"Neymar is a fantastic player," Martino said after the game. "He was a protagonist with Santos and I think he will be able to adapt perfectly at Barcelona. He is a little behind in terms of fitness but he offers something different and he will be important here."
"It's up to him," Martino mused. "But I want him to stay and he knows how I feel."
A week earlier, both 'Tata' and Barca vice-president Josep Maria Bartomeu had all but guaranteed that Fabregas would be at Camp Nou next season and the new coach backed up those claims on Friday. "I would say he will be here next season," Martino ventured.
Privately, however, chief suitors United have been given some hope by the player's advisers. Cesc's commitment to Barca means he is unlikely to leave, but he has been both flattered and intrigued by the interest from the English champions and knows he would be an undisputed starter for the Old Trafford outfit. And Barca, although publicly dimissing talk of a sale, have let it be known privately to United that their midfielder may be up for sale this summer, hence the persistent interest from manager David Moyes.
With Xavi reaching the final years of his career and Thiago recently sold to Bayern Munich, Barca do genuinely hope to keep hold of Fabregas, but the board would consider a big-money offer for the 26-year-old - especially if he decides he wants to move on this summer.
Since reiterating his happiness and dedication to the Barca cause last month, Cesc has kept quiet, but the Spain star is expected to call a press conference to clarify his future on the club's forthcoming pre-season tour in Asia.
In the meantime, he will likely seek assurances from Martino over the part he has to play over the next nine months and beyond.
Booed by his own fans against Bayern Munich in the second leg of the 7-0 (aggregate) semi-final rout last season and frustrated at being on the bench again on Friday, Fabregas will hope to be heavily involved in Barca's forthcoming fixtures.
Should he find himself back on the bench, a late move to United cannot be completely ruled out (despite his Arsenal links), with girlfriend Daniella Semaan keen on a return to England and the offer from Manchester an exciting distraction for the 26-year-old.
For the moment, however, a Premier League return remains unlikely. But Martino would do well to hand his midfielder plenty of playing time as Barca face Atletico Madrid twice in the Spanish Supercopa this month and meet both Levante and Malaga in La Liga before the transfer deadline slams shut at the end of August. Just in case.
Follow Ben Hayward on