Eagle-eye vision, precise passing and a high work-rate are the main of attributes of former Bafana Bafana and current Everton midfielder Steven Pienaar. Pienaar has become a household name at the club based in Liverpool, displaying his acumen in the final third. However, one of South Africa's finest exports struggled to maintain his strong start to the 2012/2013 season, as his energy levels dissipated and Everton's dream of a fourth place finish fell away.
This casts doubt over whether he could still be considered as a member of Goal's 50 most influential players on the planet. Pienaar, 31, may bear the tag of a dwindling force, a player who can still turn matches, but not as consistently as before. His fatigue levels have grown steadily over the years, while his impact at Everton has remained solid; he was forced to call time on his international career in order to keep up with the pace in the Premier League.
Even though Pienaar started consistently in the English top-flight last season and scored seven goals which almost inspired his side to Champions League football, his decision to leave Bafana Bafana may count against him when the Goal 50 is named.
Pienaar also showed signs of being jaded towards the end of the 2012/2013 season, much like the rest of his team, as he struggled to maintain his usually impeccable performance levels. Subsequently, Everton did not finish in the Champions League quartet.
In 2010, Steven Pienaar entered the World Cup as South Africa's most potent player. He was the creative force, perhaps even regarded as the saviour which the national team could count on.
However, Pienaar did not perform to his potential; the potential we saw for his club side Everton during a rollicking 2009/2010 campaign in the Premier League. Already the cracks were beginning to show in his resolve, in his ability to perform at both club and international level.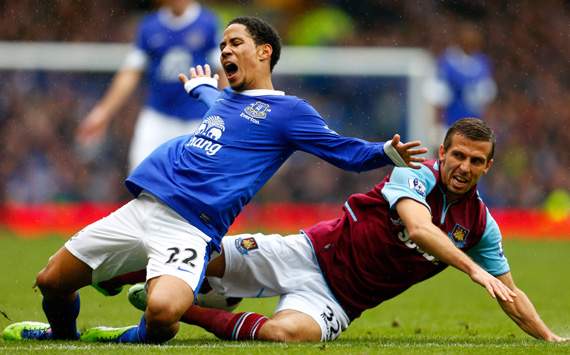 He returned to England following the World Cup as a Tottenham Hotspur player, but did not make the kind of impression people expected at Spurs, derailing the majority of his 2010/2011 season. His decision to return to Everton on loan proved masterful, as he displayed his ability with four goals from 14 matches, and a host of assists.
However, his performances at international level were waning, and so too was his passion for the rigours of the international game. A family man, who wanted to focus on spending time with his young daughter, Pienaar was on the verge of retirement. Gordon Igesund tried to keep his star midfielder in the team by naming him Bafana Bafana captain, but it was too late. His decision to retire left a gaping hole in South African football, with Pienaar's technique and ability to pick a pass dwarfing the majority of South African midfield talent.
| | |
| --- | --- |
| | STEVEN PIENAAR | ALL-TIME EVERTON STATS |

MORE ON
STEVEN PIENAAR


| | | | | | |
| --- | --- | --- | --- | --- | --- |
| Season | Games | Goals | Assists | Booked | Sent off |
| 2008-2009 | 37 | 2 | 8 | 8 | 0 |
| 2009-2010 | 44 | 7 | 5 | 12 | 1 |
| 2011-2012 | 19 | 5 | 7 | 7 | 0 |
| 2012-2013 | 42 | 7 | 7 | 5 | 2 |
| Total | 142 | 21 | 27 | 32 | 3 |
His decision has allowed South Africa to concentrate on a new era, but it showed that Pienaar was worried about his fitness and his influence in the Premier League. Often hit by injuries and fatigued by long-distance travel, Pienaar had to consider a way to re-ignite his career.
The 2012/2013 season would be an indication that his decision was vindicated, as Everton's creative spark exuded confidence while his partnership with full-back Leighton Baines continued to blossom. Despite tiring legs, Pienaar was able to play consistently and start the most games in a season since 2009/2010. Statistically it was also one of his finest seasons at Goodison Park.
Pienaar's storming start to the season almost culminated in the Toffees reaching uncharted territory, the Champions League. However, he faded away and could not sustain his performance levels at the bitter end. Everton finished in fifth; so close yet so far from their ultimate goal. As the club moves into a new era without David Moyes at the helm, his experience and skills should carry the Toffees forward. However, Pienaar is not the electrifying player we witnessed in 2009, is not an everlasting force which turned him into hot property in the Premier League.
His decision to quit international football may have added more years onto his club career, but could negatively impact on his chances to be named as a part of Goal 50. Undoubtedly still South Africa's best midfield talent and one of the country's most successful exports, Pienaar will need to focus on maintaining his form during the next arduous season, in order to be named as one of the best midfielders in the world again.