The LionsXII secured the Malaysian Super League (MSL) title in only their second season with a 4-0 thumping of Felda United on Tuesday night. That drew comparisons with the 1994 Double-winning side, which had the likes of Fandi Ahmad and Abbas Saad.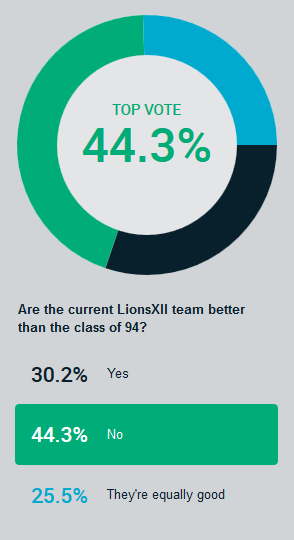 Our poll which drew over 300 votes ended in a close result, with 44.3% of readers saying the 94 side were better, although 30.2% said otherwise.
Goal Singapore
asked fans who they thought was the better side on our
Facebook
page
, and here are some of their responses below.
One of them,
El Kun
, believes that there is no point in making comparisons.
"Can't compare [with the] 1994 class of legend[s]. LionsXII 2013 is class on the rise. Yeah some said lady luck [smiled] on LionsXII with 95% home win, with [an] away record [that is] not that great with mostly draw matches and 2 win[s].
" Remember [that the] 90s era is different... to me, LionsXII [is a] young squad [that] should not stop here; keep boosting for future-wise especially for Nation[al] Team squad."
Apez Chucky
had the same sentiments.
"You can't compare current LionsXII squad with 1994 squad [because] it's two different teams. Before, [the '94 team] was made up with NT [national team] players, now [it] is a mixture of young talented players and a few of experienced players. I can say that the current squad is better, well done!"
There were also those who thought the LionsXII are the better side, like
Fangwee
Wee.
"Currently [the] team are make [sic] up of most U23 players, this team do not have [a] fix[ed] scorer, but everyone can score, I think this is what every coach want.
"Also this team is young, so they have speed, the skill for everyone about the same with few very skillful boy. Physically size for currently team also look better, past NT team we don't really see much tall guy. So in term of skill, size and passion to win, this team look[s] better than [the] 1994 team."
However, some also questioned the current standards of the MSL, claiming that the level of competition was higher in the past.
"The other MSL teams are underperforming this season,"
Jerseyman Sal
pointed out.
"Even JDT and Selangor have been suffering shock draws and defeats against relegation bound teams.
"Felda [were] looking like they have given up in the league and resigned to relegation, even with internationals Amar Rohiddan and Azmi Muslim in the team. Looks like the FAM will make another radical move to save their league from oblivion, just like 1994, after the infamous kelong scandals, which FAM pointed that Singapore is to be blamed."
"[It] is not that this team is better than the 1994 team, [it] is Malaysia state team[s] [that are] getting worse," Rocking Goodtime scathingly said.
"Even a team make up of U23 can become champion, and we are celebrating as if we won the World Cup.
"Please celebrate when our local league become a world-class league."