When Roman Abramovich, a rich Russian Oil magnate took over Chelsea FC ten years ago, most believed that he wouldn't be in it for a long run. Yet the relationship has managed to survive past the several tumultuous moments (read manager changes and lack of European glory) and like any long lasting union, has only grown for the better over the past 10 years.
Never before had a single investor managed to pump in his money into a football club playing in the top echeleons of football in England, the mecca of the beautiful game. He transformed a fledgling mid-table club whose only source of success were the occasional cup glories into a team challenging for every title consistently year on without fail.
Leave alone Roman's billions, a self made man, Roman Abramovich had started off penniless selling imported rubber ducks from his apartment in Moscow and it was through persistence and sheer hard work that he made himself into one of the richest men in the world. It was this belief and desire to always progress that synced in perfectly well with the philosophy and ethos surrounding the London club. But of course the billions of rubles did help out!

The obsession that was or is?
A far cry from the other owners in world football, for Roman, Chelsea is not one of his mistresses who would remain appeased with occasional endowments of riches but Roman's commitment to the Blues is absolute and not just any other investment where the prime goal is to make a profit. Former Blues' midfielder,
Deco sounded negative when he described Roman like a 'fan' running 'Chelsea'
but that's how it sets him apart from the throng of millionaire owners.
COACHES IN THE ROMAN ERA

Sep 2000 - May '04
Claudio Ranieri
Jun 2004 - Sep '07
Jose Mourinho
Sep 2007 - May '08
Avram Grant
Jul 2008 - Feb '09
Luiz Felipe Scolari
Feb 2009 - May '09
Guus Hiddink
Jun 2009 - May '11
Carlo Ancelotti
Jun 2011 - Mar '12
Andre Villas-Boas
Mar 2012 - Nov '12
Roberto Di Matteo
Nov 2012 - May '13
Rafael Benitez
However besides escalating the status of Chelsea from just another London club to 'THE' London club, Roman Abramovich has willingly or unwillingly terraformed the entire landscape surrounding football as a whole. The scenario has seen a sea change with foreign investors owning majority stakes in top European clubs and basically running the show themselves.
While it started off in England, the trend has now continued to go around in mainland Europe with billionaire exotic owners especially from the uber rich Middle East owning clubs in France, Spain and Italy to name a few. Most have also tried to follow the Roman blueprint to success and more often than not, it has worked as Manchester City with their maiden Premier League win and PSG with their capturing the Ligue 1 crown can stand testament to.
While critics might slam these 'moneybags' as they have no clue as to how to run a football club and are mostly interested in making monetary gains, as Venky's tumultous tenure with Blackburn Rovers well stands out, but Roman has shown that his primary interest is always the improvement of Chelsea Football Club. If that means swapping managers like wantaway clothes, then so be it.
For whatever its worth, it was Andre Villas-Boas' firing and the appointment of Roberto Di Matteo in the interim that brought Chelsea Champions League glory, no matter the circumstances. And often ignored due to the myriad high profile signings, Roman has instilled a highly functional youth policy at the club with massive infrastructure and top class development at the facilities at Cobham. Yes they do buy or bring in young players from several clubs but then so does the fabled La Masia, and an entry to the Next Gen Cup Final as well as the FA Youth Cup finals are well testament to how far the club has come in producing their own quality talent. The managerial merry go round might have prevented these players from breaking into the first team but Roman's feeder clubs policy has seen as many as 22 players on loan at clubs around the world to gain experience.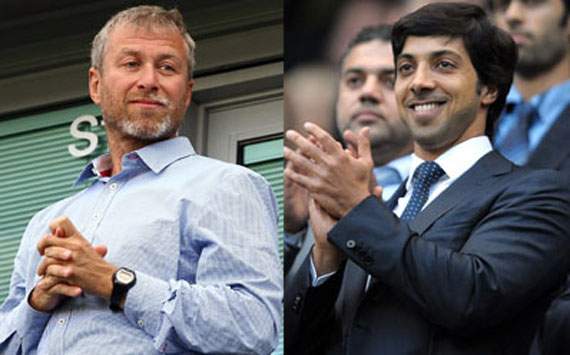 Partners in crime these two?
Sheikh Mansour, closer to home has followed in the footsteps of the friendly neighbourhood billionaire as he has made Manchester City a premier youth destination by unveiling a
£100m plan to improve the facilities. The likes of John Guidetti, Karim Rekik and Denis Suarez among the youth ranks are certainly a step in the right direction especially with the talented Swede, Guidetti having a fantastic season at Feyenoord on loan.


Thus in spite of the common complain that money has taken loyalty out of football, one cannot squarely place the crosshair on Roman alone and the trend he has set. Loyalty is not something that can be bought with the lure of money and it is basically the changing perceptions of football and the lifestyle that are to be blamed for the need to chase money rather than excellence.
On another note, it has in fact made football a much more competitive affair breaking through the traditional hegemony of the big clubs in Europe where a vicious cycle of success begets success was the rule, and it was an ardous journey for any outsiders to break in.
Roman was to have none of it and he broke through the feudal system by bringing about a true Rennaisance in football, shattering the traditional power bases and allowing supporters of every club to dream and dream big!
DO you think Roman Abramovich's entrance to football has changed the game for the better? Or You disagree with Kaustav? LET Us KNOW...