Akarsh Sharma


COMMENT | Confederations Cup

Follow on
There could hardly be a grander preview to next year's showpiece event than what lies ahead of us on Sunday. To call such an occasion a mere 'prelude' - which the Confederations Cup is traditionally said to be - is an insult to the parties involved. It is, instead, a spoiler of sorts.
In ending with a final of such magnitude, this tournament has outdone itself; so much so, in fact, that if the World Cup is bereft of this particular contest an year down the line, then it may leave us with a sense of incompleteness.
Brazil versus Spain is the clash of the 21st century, not least because it will be staged at the iconic Maracana Stadium. It is a clash of two dynasties - the ever-fading Joga Bonito against the ever-rising Tiki-Taka - and of two heavyweights - the five-time world champions against the current world champions.
Both nations have come a long way from their last meeting in a goalless friendly in 1999. That was back when the Spanish - ranked four at the time - were 'chokers' and Brazil - ranked one at the time - always served up a feast of football with results to go along.
Today, the Spanish are record-breaking world-beaters while the Brazilians are sandwiched between Ghana and Mali as the 22nd best side in the world, though admittedly the ranking has as much to do with the deteriorating quality of the side as it has to do with a lack of competitive fixtures played by the Seleção over the last couple of years.


Though they will be playing on their own turf, Brazil will tread into the unfamiliar territory of going into a match against a team known as the most successful international side in football history - an accolade usually reserved for the Seleção.
Such has been the incredible domination of this Spanish outfit over the last five years that they have managed to reduce Brazil - a country that has dominated the sport for longer than your memory cares to remember - into playing the role of underdogs on their own patch. They have even invited comparisons with the famous Brazilian outfit of 1970, which was led by current technical director Carlos Alberto Parreira and featured the likes of Pele, Jairzinho and Rivelino.
One way or another, this fixture will go down among the classics in football history. Perhaps, it'll be remembered for how the host nation, amid heavy turbulence in the country but driven by an inspiring sense of nationalism, ended the World Champions' long-standing run of 29 competitive matches without a defeat. "It is now the time to end the era of Spain," declared Parreira ahead of the final, sounding a battle cry.
On the other hand, it may be remembered for how the Spanish juggernaut rolled over a nation which staggeringly hasn't lost a competitive fixture at home since 1975, on its way to winning a trophy that is yet to be added to its glittering collection. "We know that the only thing left for us to do is beat Brazil," noted midfielder Cesc Fabregas, indicating a hunger and motivation reserved specially for their final opponents.
The stakes are strikingly high and considering how international teams from different continents see so little of each other over decades, who knows if these set of players would ever get another opportunity to lock horns?
The voices coming out of each camp are unsurprisingly in-tune with the successful traditions of the respective nations. Del Bosque, not entirely dissimilar to the way his side plays, has taken a considered and thoughtful approach. "Brazil are the favourites," he said after the win over Italy, possibly in an attempt to take the pressure off his team. He then went on to list the contents of the home nation's trophy cabinet and focused on the need for his side to recover from an exhausting semi-final.
The Brazilians, in the other camp, are upbeat and cheerful. Superstar striker Neymar can hardly wait to get on the field, while midfielder Luiz Gustavo has daringly claimed to hold no fear of Spain.
Significantly though, Carlos Alberto Parreira has insisted on an approach with little to no consideration towards its opponents. "Brazil has to keep playing its own game because it has worked so far. There is no reason to change that just because it will play Spain," he said looking forward to the final.
But surely, coach Luiz Felipe Scolari will give his strategy a second thought and at least a minor tweak? Spain haven't been beaten in three years and the closest they have come to a defeat has been at the hands of the Italians (twice). On both occasions, Italy took an approach that was specifically crafted to counter the Spaniards.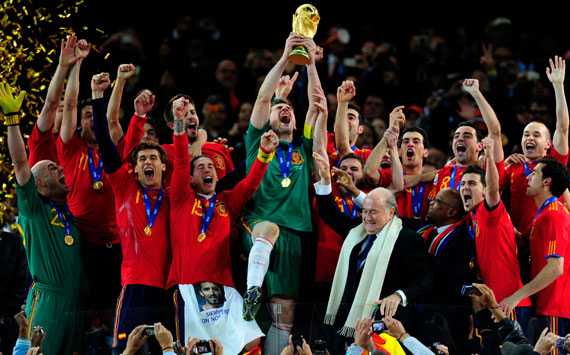 Spain offer a unique challenge compared to any other international team and Scolari must be mindful of the fact. Opponents must be prepared to chase the ball more than usual and thus, fatigue becomes a bigger factor.
Brazil have been racing out of the blocks in the entire tournament and have gradually faded thereafter, though they have also come out strong towards the end with late goals. Optimization of energy in an adrenaline-charged encounter will be a key component for them on Sunday and Neymar, who played in the Santos side that was thoroughly outclassed by Barcelona in the Club World Cup of 2011, would tend to agree.
While Spain's methodology won't change, Scolari's approach to the game will be interesting to see. He seems to have settled on a first eleven, so changing the personnel for the final doesn't make much sense which makes it difficult to significantly alter tactics.
Additionally, the Brazilian public play an important role in the nation's football matters - even more so now when there is a prevailing sense of everything else in the country, apart from football, feeling alien and unjust. They demand a flamboyant style of play and deride a functional one.
Not long ago, they were booing Scolari - a man who has previously led his country to a World Cup triumph - because his team weren't entertaining enough. So, sitting back and giving Spain too much respect is out of the question but going hell-for-leather could also backfire miserably.
Scolari has a huge decision to make. Remember, this is the Brazil that still hasn't completely forgotten the disastrous defeat they suffered at the hands of Uruguay at the Maracana in 1950. That loss has often been labelled "Brazil's Hiroshima" and one that demoralized the entire nation for years. The country simply doesn't accept high-profile defeats quite so easily; to a point when, even one year from the showpiece event, this match could make or break its World Cup campaign.
Football in Brazil isn't simply a sport. It is a national obsession and the only thing that unites the country as a whole. And come Sunday, in the midst of large-scale demonstrations, the Brazilian public will relate to their football team and look for inspiration. Because the footballers, much like other citizens of late, will be out to upset the established hierarchy on a truly special occasion.


How do you stay up with football when on the move? With http://m.goal.com –your best source for mobile coverage of the beautiful game.