Goal takes a closer look at Bayern Munich's new man in-charge, Pep Guardiola...
In this edition of 'The Good Life',
Goal
takes a look at Pep Guardiola, who, after a year away from the game, was appointed as Bayern Munich's new manager.
Josep "Pep" Guardiola i Sala was born in Santpedor, Barcelona. He joined La Masia at the age of 13 and rose through the ranks at the youth academy of Barcelona for six years, making his début in 1990 against Cádiz CF. Guardiola played as a defensive midfielder and spent the majority of his playing career with FC Barcelona. He was part of Johan Cruyff's "Dream Team" that won Barcelona's first European Cup. After 17 successful, the Barcelona captain left his boyhood club, and joined AS Roma in 2001. He further continued his footballing career with Brescia, Al Ahli in Qatar, and Dorados de Sinaloa in Mexico.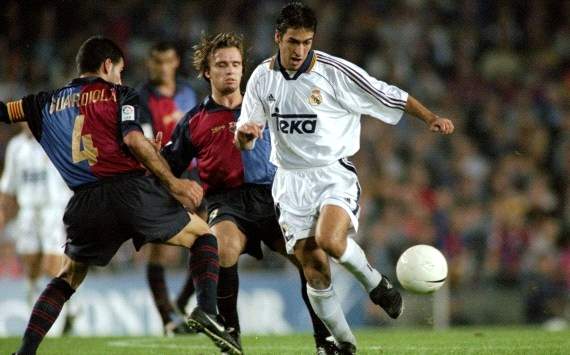 Guardiola playing for FC Barcelona in an El Clasico
Guardiola was born to Dolors Sala and Valenti Guardiola. He has two older sisters, and a younger brother Pere, who is a football agent. He is married Cristina when they were 18. The couple have now spent 24 years together, and have three childern, Maria, Marius and Valentina.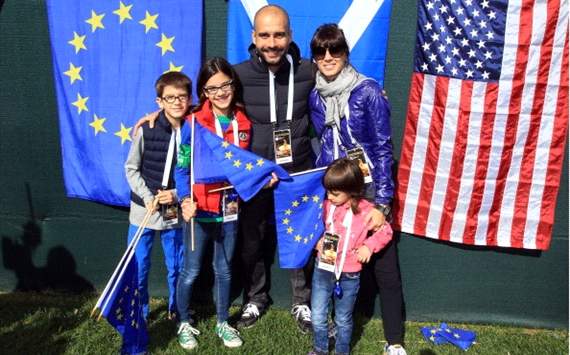 Guardiola with his wife and children in New York

Right from his childhood and as a player as well as a manager, Guardiola has idolised former Barcelona great Johan Cruyff. There is no doubting that his Dutch hero was influential in the success he achieved both as a manager and player. Pep has successfully followed in the footsteps of Johan Cruyff, achieving unprecedented success as manager, so much so, that his glittering playing career is dwarfed in comparison.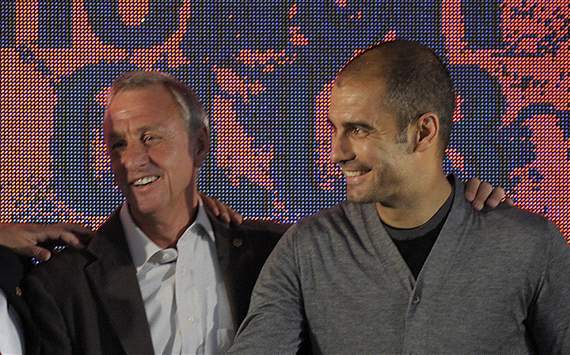 Johan Cruyff : Guardiola's hero

Tiki-taka
is a style of play symbolized by short passing and keeping possession and thereby frustrating the opposition given that they won't get to see much of the ball. Invented by Johan Cruyff during his tenure as a manager, Guardiola garnered the world's attention with this mesmerising style of play at Barcelona. Spanish midfield duo of Xavi and Iniesta are center to all the passing.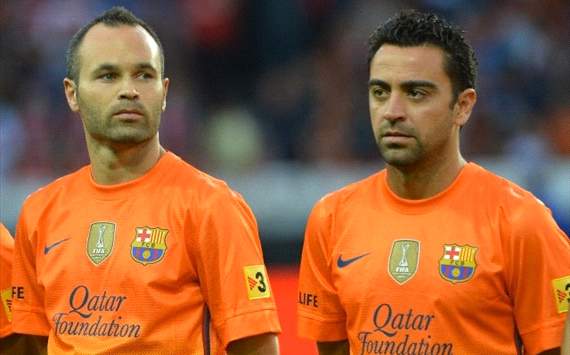 Xavi and Iniesta : Barcelona's key men

An unassailable team : FC Barcelona
Guardiola built an impregnable fort at Camp Nou. Supported by pillars of their rich history, he conquered the world with the Catalans. During his tenure as the club's boss, Guardiola won 14 major trophies that included four
La Liga's
, two
Copa del Rey's
, two
Supercopa de España
, two
Champions League's
, two
Super Cups
and two
Club World Cups.
An unmatched style of play, complemented by a tantalizing team, Guardiola won it all with Barcelona.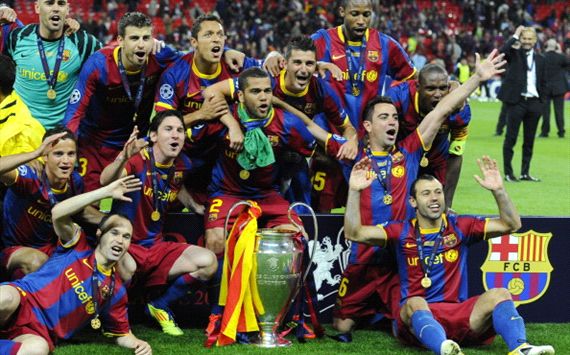 World beaters : Guardiola's Barcelona

Creating a monster : Lionel Messi
Arguably the best player the world has ever seen, Guardiola was the master behind Lionel Messi's success. He got the best out of the
La Masia
youth product. Initially starting his career on the wings, the Argentine was moved to a more central position, a masterstroke that worked wonders for Barcelona and Messi himself, as he turned into a ruthless goal-machine. To do so, Pep made several high profile players like Zlatan Ibrahimovic and David Villa play second fiddle to Messi. The four time Ballon d'Or's has never looked back since then, and has had his reputation increased even more.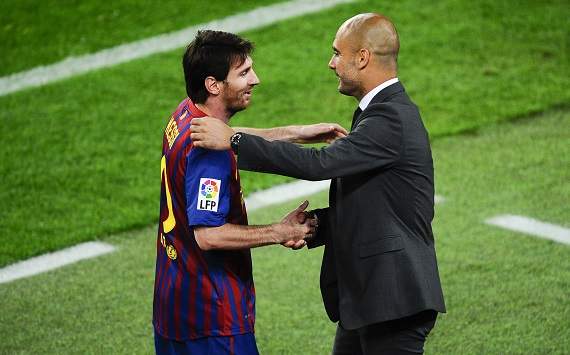 Key man : Guardiola's influence helped Messi to become what he is today

A new challenge : FC Bayern
After leaving Barcelona, Guardiola accepted Bayern Munich's managerial offer. He claimed that the
Bavarians'
rich history and the quality of their current squad were the reasons that lured him. He added, "I decided to join Bayern because of the players and the club's history. They're one of the best teams in the world. I am ready to return to football. This is a new challenge for me. My time at Barcelona was wonderful but I needed a new challenge. Bayern Munich have given me that opportunity."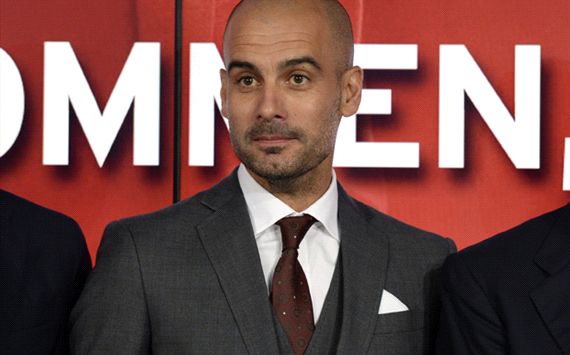 Burden of expectations : Guardiola is expected to have similar success with Bayern Munich

Pep is a fan of British rock band
Coldplay.
His
favourite song is "Viva la vida"
by Coldplay.
He listens to it prior to every game also asks his players to listen to the song to motivate them. The Spaniard also insisted that he will be introducing Coldplay to his new team.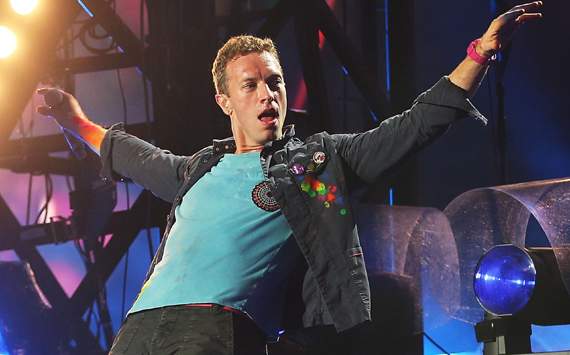 Guardiola is a fan of Chris Martin and Coldplay

During his illustrious career both as a player and a manager, Guardiola has won several accolades. Goal lists them down, below -
Player :
Bravo Award : 1992
Olympics – Spain Best Player : 1992
UEFA Euro Team of the Tournament : 2000
Manager :
Don Balon Award for Best Coach of the Year : 2009, 2010
Miguel Muñoz Trophy : 2008–09, 2009–10.
Onze d'Or Coach of the Year : 2009, 2011, 2012.
World Soccer Magazine World Manager of the Year : 2009, 2011.
IFFHS World's Best Club Coach : 2009, 2011.
UEFA Team of the Year Best Coach : 2008–09, 2010–11.
La Liga Coach of the Year : 2009, 2010, 2011, 2012.
FIFA World Coach of the Year : 2011.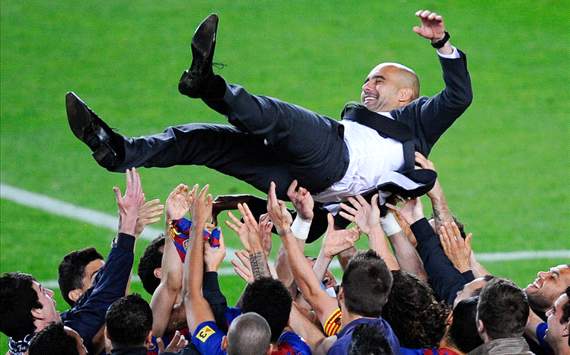 Guardiola has been equally successful as a player and as a manager

Guardiola doesn't dodge any questions fired at him and has his unique way of answering them. Here are some of his famed quotes :
"I can't promise titles but I am convinced that the fans will be proud of us".
- 17-06-08 : Press conference on being presented as the new manager of FC Barcelona.
"There is no doubt that we won't let you down on Wednesday".
(May 27 was the day of the Champions League Final in Rome) - 23-05-09 : Celebration in Camp Nou of Liga and Copa del Rey double.
"After what we have seen in the streets of Barcelona, you can't imagine how beautiful the stadium is. I want to say three things: one, that if we have ever been made to look ridiculous that you forgive us because of what we have done this season; two, thank you to my collaborators; and three, I ask you to applaud the players. And if you'll allow me, 'we've got it here!'' -
28-05-09 : Celebrating the treble with the fans at the Camp Nou.
"We are happy when you win, but also with the way we did it. Now we've got four, and that's a great number".
- 28-05-2011 : On winning the club's fourth Champions League.