With the purchase of German Andre Schurrle and Romelu Lukaku returning from loan from West Brom, Chelsea now have four top-line strikers.
Demba Ba and Fernando Torres are still at the club, but rumours are rife returning manager Jose Mourinho may yet go for another striker.
The likes of Edinson Cavani, Robert Lewandowski, Edin Dzeko are just some of the names rumoured to be on Mourinho's wish list.
With so much attacking quality at his disposal - and with potentially more to come - Torres has been linked with an exit.
It is up to the new manager. Chelsea fans were delighted the 'Special One' had returned to the club.
He did not reach his ultimate goal with Real Madrid, crashing out in the Champions League in the semi-finals in all three seasons he was at the helm.
But, having twice won the Premier League title at the club, Mourinho remained in the hearts of Blues fans, who chanted his name when the club sacked former manager Roberto Di Matteo.
Torres, meanwhile, has struggled to show his worth at Chelsea, seemingly weighed down by his £50 million pricetag.
He once went 900 minutes without finding the net and was memorably sent off while playing Manchester United last season.
Having missed the easiest of goals against United in September 2011, many of the fans had had enough of Torres come the 2012-13 campaign.
With Torres' struggles and Lukaku still on-loan at West Bromwich Albion, Chelsea went to market over the European winter transfer period and brought in Senegalese targetman Demba Ba for the a bargain £7 million.
Formely of West Ham and Hoffenheim, he was lethal at Newcastle and helped them to finish fifth on the table in the 2011-12 campaign.
In 43 appearances at Chelsea, he has scored 19 goals.
That appears far superior that Torres' record of 34 goals in 131 appearances and 34 goals, though the former Atletico Madrid captain did have some success in the Europa League this season.
While at league rivals Liverpool, he scored 81 goals in 142 appearances but found the going far tougher at Chelsea.
He is the one most believe should and will depart if Mourinho believes he has too many strikers in his squad.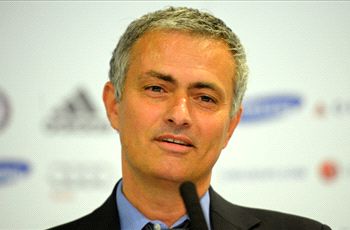 But there are reasons Mourinho should keep Torres over Ba.
The Portuguese [pictured right] has a record of getting the best out of players.
Didier Drogba, Petr Cech, Michael Essien and Ricardo Carvalho all, like Torres, arrived with big pricetags. Under Mourinho, they became star men and contributed greatly to the success of the Blues.
If Mourinho can get Torres' confidence back, the Spaniard could regain the sort of form he showed at Liverpool.
Torres showed not that long ago he was among the world's best strikers, which is perhaps why the likes of Barcelona have been linked with a move to bring him back to Spain.
"It's always nice a club like that is interested," Torres said of Barcelona's interest, before adding "... I want to stay and will talk to Mourinho later."
Torres has pledged his loyalty to Chelsea and is hoping Mourinho will show his support in return: "Mourinho's words are motivation for me," he said.
"I want to stay at Chelsea, I have contract, I want to be the best at my position, and I don't think there is a better place to be."
Mourinho will meet the squad on July 10, so judgement day is coming for Torres.
The high expectations Torres has faced while at the Blues have not been met.
But if Mourinho can work his magic with Torres, perhaps he may yet do so.