The resurgence of the Socceroos over the past two internationals has its roots in the very thing which was perceived as their weakness heading into this crucial period of World Cup qualifying - experience.
With Australia needing a minimum of five points in the three matches against their Group B opponents Japan, Jordan and Iraq to qualify for Brazil in 2014, there was plenty of concern that Holger Osieck's 'Dad's Army' would lack the vigour to get the job done.
But having got most of the way to that achievement in the two games to date, it is apparent that Australia are sewn together by the strengths of three of their most experienced players; Mark Schwarzer, Lucas Neill and Mark Bresciano.
The intelligence of Schwarzer, the passion and charisma of Neill and the technical aptitude of Bresciano come together to form the head, heart and body of the Socceroos leadership strategy - something which has been the foundation of their stoicism against Japan and brilliance against Jordan.
The doubts over whether these remnants of the golden generation could continue to deliver the goods were founded on sound logic.
Schwarzer 40, and Neill, 35, are both without clubs and find themselves at a crossroads at that level. Bresciano, 33, has had to re-establish, and to a certain extent, re-invent himself in a national team which is strong on attacking options but lacks experience and composure at the back of midfield.
But while it may be questionable that their contribution as individuals is as influential as it once was, they bring with them the ability to lead an uncertain army of players onto the pitch.
Between them, that trio form a spine of dependability out from the back - Schwarzer to Neill to Bresciano - to help the remainder of the team trust their attacking instincts and play to their strengths.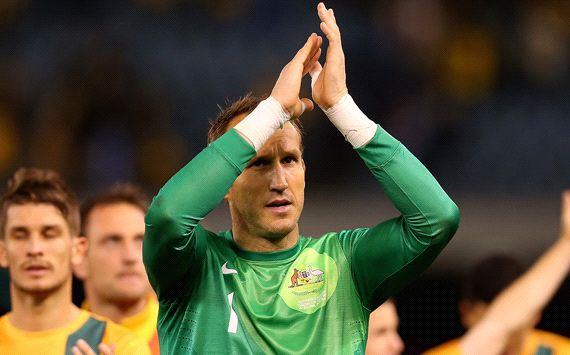 Schwarzer may now be 40 but his influence with the Socceroos had not diminished.
Neill and Schwarzer are the undoubted leaders of the teams, and when it comes to the international stage, they always bring their best game. But more importantly, with an incredible 196 caps between them, they speak with authority in the dressing room.
Within 30 minutes of a thrilling 4-0 thrashing of Jordan, each and every player was on message. 'The job is only halfway done' they said, to a man.
Schwarzer is a compelling speaker and you can understand why players would love to listen to a man who has seen almost everything that can happen on a football pitch out in front of him. In a privileged position at the back, he reads the game and understands it better than any other.
Neill speaks from the heart. On face value, what he says can be a tad trite and he often borders on jingoism when calling on the 'Aussie Spirit'. But having backed it up out on the field for such a long time, you can see why the players believe in him. His speaks to the passion of every footballer in a Socceroos jersey.
Bresciano [pictured below] is a different proposition all together. He does not command attention with his size, or his strength of message. But when the ball is at his feet, his teammates feel strong. Mark Milligan said as much in the aftermath of Tuesday's win over Jordan.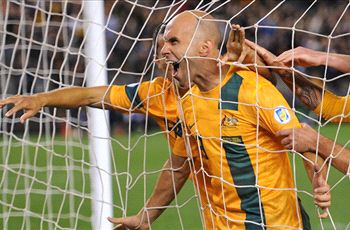 No longer the incisive attacking player of old, he has adapted in a way that many of his contempories failed to do. He uses his nous to get himself perfectly positioned in defence or attack. Above all, he is a technician and he in many ways is the most important player should Australia make the World Cup next year.
To raise these three up is not to diminish the enormous contribution of Tim Cahill. But this has been a renaissance born out of leadership from the back.
Through that leadership, Australia has turned their greatest perceived liability into a crucial asset on the road to Brazil.