AS Roma is known to fans these days by the mere presence of one player, Francesco Totti. The 36-year old attacking midfielder has defied age, expectations and offers from European giants to stay with his boyhood club despite not having the longest list of domestic honours. Every club have their share of home-grown players who form the backbone of the team. Ryan Giggs and Paul Scholes for Manchester United, Steven Gerrard and Jamie Carragher for Liverpool, Phillip Lahm and Bastian Schweinsteiger for Bayern Munich and Carles Puyol along with Xavi and Andres Iniesta for Barcelona are living embodiments of the passion and desire that players who have chanted their club's name from childhood can bring to the team.
Roma are no different in that regard. If they were looking for a successor for Totti, they have the most suitable candidate in midfielder Daniele de Rossi. Nicknamed Capitan Futuro (Future Captain), he is seen by fans as the player to take Totti's legacy forward. But in this modern era of football, the lure of silverware and to be part of a championship winning team is higher than ever. It is uncommon to find players that share the same attitude as Totti who stayed with the Giallorossi even when he had offers from Real Madrid and other European bigwigs.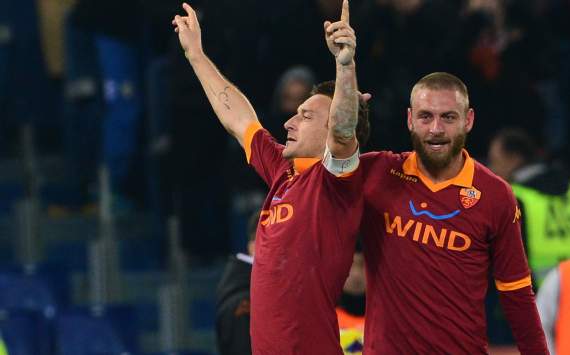 A Roma legend with his successor
The same cannot be said for De Rossi. The Italian midfielder is 29 now, the age where a footballer is at the peak of his powers. He was the subject of interest from Manchester City and now recently Chelsea. But it is Chelsea who seem most interested in landing the midfielder now as they would certainly have use for a player of his abilities.
Over the years, De Rossi has garnered a reputation of being a tough tackling central midfielder who can make late runs into the box and also score a few goals. This in addition to his immaculate passing ability makes him one of the most coveted midfielders in Europe. With Serie A not the dominant force it was before, one might think that a move away from Italy, especially the Premier League would suit De Rossi both tactically and financially.
"I hope that De Rossi remains at Roma, but if he went out he could improve professionally" – Italy coach Cesare Prandelli
Prandelli is not one to pass judgement quickly, but his words reflect the belief he has in the Roma midfielder to up his game to a whole new level. The Italian midfielder's attributes are a perfect match with what is required in England's domestic top flight.
With the Italian league in danger of becoming a one-horse show thanks to the decline of the Milan giants, De Rossi needs to find a club where the winning attitude is fostered. Regardless of whether England does well internationally or not, the Premier League appeals to masses and is easily one of the most competitive in Europe. More importantly the suitors who are interested in the Italian are all going to be competing in the Champions League next season.
De Rossi, having already conquered the world with Italy in 2006 will look to improve his domestic record before he calls it a day. With English clubs being involved in the Premier League, FA Cup, League Cup and the Champions League, the midfielder will not be in any shortage of action if he makes the switch to England.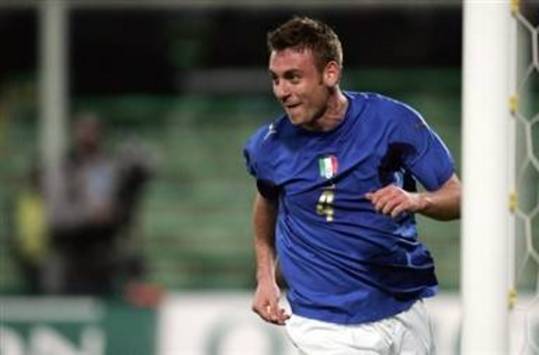 De Rossi has won the World Cup with Italy

While players from France, Germany and Spain have a hard time adjusting to the physical nature and pace of the Premier League, De Rossi would feel right at home as he comes from a league that is known for its excessively tactical nature.
As to how he can answer Chelsea's current crop of problems, it is very simple. They need a defensive midfielder who can initiate attacks and guard the defence. Ever since the departure of Claude Makelele, Chelsea have used numerous substitutes like Jon Obi Mikel, Oriol Romeu, Ramires, David Luiz, Frank Lampard and Michael Essien to slot into the defensive midfielder slot.
Lampard is not very well suited to the midfield pivot role as he tends to make his way forward and has a hard time recovering the yards if the team loses possession. Ramires' workrate is phenomenal but he would be much better used going forward rather than standing back while watching his teammates plough into the opposition penalty area. While Romeu and David Luiz have shown glimpses of being the link between the defence and attack, Mikel has never been a fan's favourite. Criticised for slowing the tempo of the game on more than one occasion he was never the kind of player Chelsea wanted. With Essien's legs giving away slowly over the years, Chelsea cried out for a specialist in the defensive midfield role.
De Rossi would solve that conundrum to a large extent. The Italian was not given his preferred central midfield position under Zdenek Zeman, but if he makes the move to London, he will be assured of a central role where he has access to the ball very frequently.
The midfielder has been part of three-man, four-man and five-man midfield systems which only increases his value in whichever team he ends up joining.
With the Chelsea squad having flair players in surplus, it is very much needed that they have players who possess industry and international experience in the ranks. With Mourinho, an expert in grinding out wins, De Rossi can be the trusted lieutenant he needs to achieve his targets at Stamford Bridge.