It's a case of déjà vu for Arsenal football club as a whole. This time last year the future of Robin van Persie was in doubt as the striker had just come off a brilliant season with the Gunners where he scored 37 goals in all competitions. The Dutchman wanted his manager Arsene Wenger to show that the club really meant to challenge for silverware by signing the right quality of players to do the same. With Wenger's acquisitions not convincing enough for the 29-year old, Van Persie left for greener pastures in the form of Manchester United with whom he won a Premier League title in his first season.
Now with the Gunners having managed to get themselves back into the haloed fourth Champions League spot and the club having a healthy financial statement to their name, it is time Wenger brings in players who are of the 'been there done that' category. But he also has to ponder over how to keep his squad from breaking apart.
Centre-back Laurent Koscielny arrived from France from Lorient in the summer of 2010, it was yet another case of Wenger poaching a talent from his homeland and grooming him into a finished product. But with this development comes the trade-off of not being able to challenge for trophies, which has been the case for the last 8 seasons at Arsenal. This has seen a host of quality players who have left the Emirates to clubs who have offered them silverware. Samir Nasri and Gael Clichy won the Premier League in their first season with Manchester City, Cesc Fabregas got his hands on a trophy almost immediately after he rejoined his boyhood club Barcelona, Alex Song has won his first La Liga title with the Catalans this season.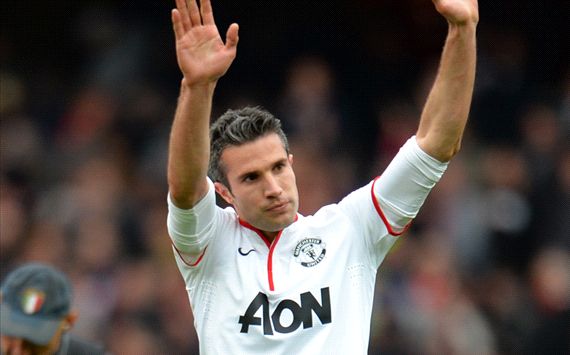 Van Persie won a title in his debut season with United
Koscielny recently expressed his frustration of being in a club that has equated Champions League qualification to winning a trophy, an attitude which is not exactly the best motivator for players in the Arsenal roster. With Pep Guardiola taking charge at Bayern Munich from next season and changes set to be made, the former Barcelona boss has reportedly identified Koscielny to be his central defensive lynchpin at Bavaria.
"It is hard to not win titles year after year. We are competitors, professionals, we want to win. I want to add to my list of achievements. If Arsenal cannot allow me that, I'll seek a move elsewhere." - Laurent Koscielny.
In addition to Paris St-Germain too being linked with the former Lorient man, the Frenchman has two title-winning suitors fighting for his signature, something which was not possible three seasons ago. Now aged 27, he is in that stage of his career where a footballer is at the peak of his powers and he would of course consider it vital to be at a club who are in the midst of the competition for trophies, something Arsenal set out to do each season but ultimately fail at thanks to the inefficiency of their squad.
One can quote terms like loyalty and not being greedy, but in this age of football, a player will look out for what is best for his career.
Fernando Torres made the move from Liverpool to Chelsea and won a Champions League, FA Cup and Europa League. Although he could not replicate his devastating Liverpool form, the intent to win was there on the part of the Spaniard who too is in the prime of his career.
The likes of Francesco Totti, who shunned offers from bigger clubs, to stay at his boyhood club Roma, cannot be made again. It would be unfair to compare want away players to people like Totti. Considering the competition that is present to get into the national teams, players would like to move to surroundings that foster winning attitudes.
'Arsenal are a great club but after eight years sometimes you feel that you need a new challenge. If you look at the last couple of months it explains it all. I'm seeing things again that I didn't see for a long time. All these guys here know how to win and become champions.
'When I came to Arsenal years ago, I saw things from Dennis Bergkamp and Thierry Henry I'd never seen before. Now I'm seeing those things again and that makes me really happy. It's like a kid in a sweet shop. It's like, "This is good, this is having fun, this is enjoying yourself'. - Robin Van Persie after he joined Manchester United

Van Persie's statements would have riled up an Arsenal fan, but it is in every way the bitter truth. These players would be termed as mercenaries, traitors and other such colourful names, but players make these decisions only so as to be satisfied that they have achieved something the day they hang up their boots for good.
With Wenger's reluctance to buy big despite having a sizeable transfer kitty, the club are in a vicious cycle of buying unknown talent, grooming them and selling to bigger clubs. If the manager does not do something to stem the flow of outgoing talent, the North Londoners will be condemned to being perennial underachievers for a long time to come.
Do you think Koscielny is right in wanting a move away? Leave your comments below or discuss with the writer on Twitter @Mohan_Srini.