It's truly the end of an era. Sir Alex Ferguson marched out for the last time as Manchester United manager, barely 24 hours after one of his most successful and well known proteges did the same as a professional footballer.
I can't say I was much of a fan of the former England captain. Even that captaincy seemed to be a dubious honour coming at a time when the winger was just 25 and surrounded by far more senior players like David Seaman, Gareth Southgate, Nicky Butt and even Martin Keown.
A natural right winger who built his career on well-honed set pieces and pin-point deliveries, it is in itself an achievement that a player with a limited set of abilities lasted this long and made this great an impact. Ferocious down the flanks despite having no bag of skills or considerable pace to beat full-backs, his worst times on the field were in his misguided attempt to play in centre midfield, to ape what he referred to as the 'quarterback role'. Unproductive and lacking in vision England suffered too during his spell as a central player.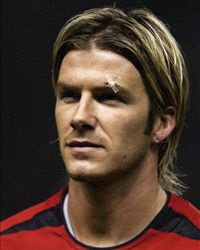 But having said that Beckham has my respect for his sheer hard work and determination. There's not a person alive who has come in contact with him who has not said otherwise of his professionalism and dedication.
This is the man who had the unfortunate displeasure of getting stuck in the middle of a feud between the prissy lady from the Spice Girls and the hissiest manager in the history of football, and still managed to come away looking rugged with a cut on his eyebrow.
At the end of Beckham's days at Real Madrid when his contract was allowed to run out, the player was utterly disregarded and publicly humiliated by then manager Fabio Capello, forcing him out of the first team and even running him out to train on his own.
Even in that scenario Beckham prevailed as a champion. Real capitulated in his absence and the England international was apologetically reinstated to the first team. The outcome? An impressive run of contribution that led to the Los Blancos winning their 30th La Liga title on head-to-head results with runners-up Barcelona.
The Real honchos tried desperately to undo his sealed deal with LA Galaxy on the back of his incredible turnaround but Beckham the professional held firm (as did the Americans who were not going to let go of their cashcow at any price).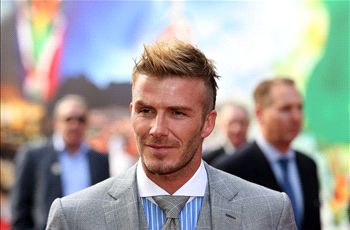 His American legacy ended with silverware and one last hurrah in Paris also made him a record-breaker, being the first Englishman to win domestic titles in four different nations.
Speaking to
Goal Singapore
,
Nigel Winterburn expressed surprise at Beckham's retirement
given that the player was still obviously at the top of his game. In fact he even managed to provide an assist in his final game against Brest on Saturday night.
But the reasons for calling it quits now I believe can be summarised in three points.
1. The England non-call-up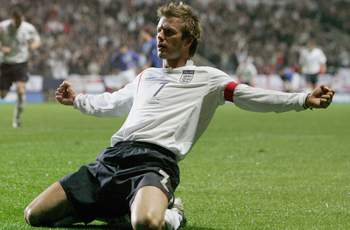 Beckham loves England. More than anything playing for his nation was easily the proudest moment of his career. When at Galaxy, he made his way back to Europe during the MLS break to train and play with AC Milan just so he could remain in contention for an England place. A gruelling task mind you, when you're over 30 and playing throughout the calendar year with no real break. Beckham swore never to retire from international football and to make himself available whenever he was needed.
So it really is no coincidence that the announcement came at a time when the latest England squad was announced. Obviously no longer in contention and with a new generation of players coming through, it was crystal clear that it was time to step aside when your beloved country no longer needed you.
2. Sir Alex Ferguson's retirement.
Despite the acrimonious fallout and departure, Beckham always referred to Ferguson as a second father and the relationship between the two was one of mutual respect and adoration. Seeing his mentor call time on a career that at times looked very likely to only end with the Scotsman keeling over in his hotseat, probably helped Becks make up his mind as well. What better time to quit when the man who mentored you also does the same.
3. Going out at the top.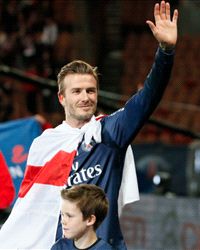 Winterburn made the point that Beckham could still play on and contribute at the highest level. But for how long more? Who's to say he won't succumb to an injury next season or suffer a dip in form and find himself relegated to a supporting role or worse, being forced into retirement.
With any player who has played at the highest level, the desire always seems to be the same - Leave while the crowd still chants for you. It's in part a fuel to the pride and ego of anyone who has built their career on the adoration of millions, to maintain that legacy and register yourself in the memory of all as an immortal figure because no one bore witness to your decline. There's no wrong in this of course. For the man who has almost done it all, it was very likely that there was downhill just ahead of the nearing horizon. He knew it and kudos to him for realising that.
So Monsieur Beckham, thank you for the years. It will be a long time before we see another who could come close to matching your stardom. Meanwhile we have you in our memories.