EXCLUSIVE
By Chung Mi Hyun
Having already spoken about the difference between the K.League and the S.League in an earlier part of the interview, which can be read here, Home United's Korean duo of coach Lee Lim Saeng and midfielder Lee Kwan-Woo talk about the locals and their experiences so far.
Throughout the interview, questions about the personal side of both were asked about as well. When probed on why he appeared to be quite emotional and passionate at times after matches - regardless of the result - which is somewhat different from other coaches, Coach Lee Lim Saeng's answer proved he was very team-oriented.
"As a foreign coach, I think I should contribute more to S League," he explained.
"Normally journalists ask me about decisions, such as starting members, and that's when I show my emotions and passion.
"I always think of the team first, and then of the S.League, and that's how I make my decisions. I am very strict about deception or cheating. It's my philosophy in football - in sports, you have to be fair. I value honesty the most. There is nothing personal [against players]."
He then again showed how much he cared about the team when he revealed his personal goal in Singapore.
"I have not yet experienced winning the league yet," he said. "So I [will] try to gain a trophy in the league, and that's my primary goal. I want to set my other goals after achieving the first one."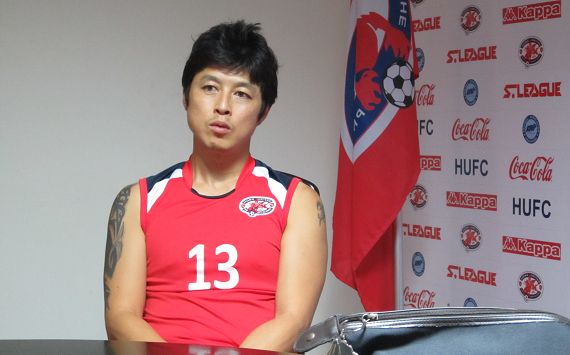 Both Coach Lee and Kwan-Woo also shared that they liked Singapore, with the latter adding that he was a fan of the food as well – in particular, a thorny fruit.
"I love it!" Kwan-Woo declared of Singapore. "This is the safest country in the world, where a woman can travel by herself. Also, I really like local food here!"
"I love durian. I heard durian has the smell of hell but taste of heaven. I love the taste of it. And once you get used to it, you even get to like the smell."
"People are very kind here," Coach Lee added, as Kwan-Woo nodded his head in agreement.
"In addition, since Singapore is in Asia just like Korea, I don't feel like I am an alien. But since the weather is very hot and humid, players sometimes have a hard time when training."
As Coach Lee had no problem answering in English and also translated what Kwan-Woo said in Korean for Teng Kiat and Farah (the interview was conducted in Korean), I asked him how he became so fluent in the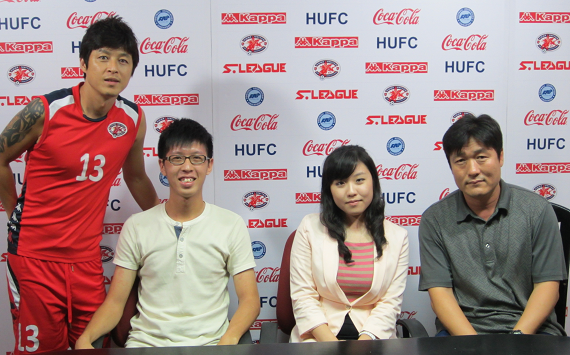 language.
"I majored in psychology in a graduate school after retirement and to graduate, I must [had to] pass the English exam," he explained.
"Also, there was a foreign coach when I was a coach of Suwon Samsung Bluewings. To communicate as a coach, I should have tried harder [to speak English]."
Coach Lee actually graduated as a scholar, and was known for his ardour for studies while he was in Korea, which has been revealed by his teammates in Korea before.
Kwan-Woo also said he has no problem with speaking in English while playing the game on the pitch, although Coach Lee jokingly mentioned that he must have problems off the pitch in terms of speaking it!
During the 1998 World Cup, in a match against Belgium, Coach Lee got injured and tore his forehead while playing for his country. But as Korea had used up all three substitutes, he played on despite the bleeding, which made him very famous in his homeland, where he is still regarded as a national hero.
I asked Coach Lee what the 1998 World Cup meant to him.
"I really wanted to protect the pride of Korean football," he said.
"We had been defeated utterly in the last two games. It was hard for us to go back to Korea if we lost again. Everyone was desperate. We were determined not to disappoint Koreans again."
Kwan-Woo was then asked on his creative play, which he has been renowned for.
"As I got injured, I started to pass a lot," he explained.
"I did not like passing before. I liked scoring a lot more! Because I kept getting injured, I changed my style."
He then joked that he still continued to get injured despite altering his style of play.
"I think passing is fun for me, and I love it when I make chances for my teammates," he said.
At the end of the interview, Coach Lee asked their fans back home to support Korean players in the S.League as they were all trying their best with their sense of duty as Koreans.