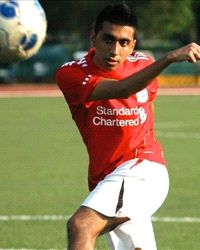 Jivan Tulsani
, a Liverpool fan of 14 years.
The Premier League is watched by millions of people worldwide and many of them are kids and youths growing up. A significant percentage of these kids and youths are involved in sports. In sports, there is a lot of room for reaction and emotions. These young athletes need to know how to deal with these problems that occur regularly in sports.
Many fans, in particular Liverpool fans, take Suarez as a hero considering his contributions. Are they going to copy his actions? I think so. Because subconsciously or not, they look up to these players and model themselves after them.
The FA is coming out and saying: "Hey, this is an act of violence that cannot be tolerated." He needs to be punished. This sends out a statement of intent to the millions of viewers out there that it is wrong and must never be done on a football pitch.
Yet, Liverpool fans are complaining about the weight of the ban but in contrary, the blame should lie on the player. This is not a Sunday league game. This is the Premier League, viewed by millions of people. So a certain degree of ownership and responsibility must be assumed by these players who earn much more than the average wage of the country.

Charles Ong
, Liverpool fan who interviewed Ian Rush last year.
In Suarez's two bans in English football, a bite is apparently more severe than racism by the English's FA standards. I wonder where is the consistency from the FA here? Whilst I feel a three game ban is clearly insufficient, a ten game ban is overdoing it and sends out the wrong signal. That said, I do think that it's not entirely the fault of the FA, as they had to take into consideration the ban meted out when he bit the PSV player, Otman Bakkal, while playing for Ajax in the Dutch league. It was seven games and for a repeat offender, you'll expect to punish someone more severely because it means he hasn't learnt from his lesson.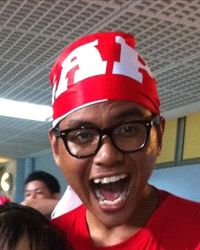 Noor Hisyam
, captain of ESPZEN side, Bella Calcio, Liverpool and LionsXII fan.
I feel that it is unfair as there are players who have done similar acts and gotten away for less. Why have acts like Aguero stomping on David Luiz gone unnoticed by the FA? Furthermore Patrice Evra should also be discplined for his celebration after his team's victory over Aston Villa where he sunk his teeth onto a fake arm.
I think the FA might be biased against Suarez due to some reason. He has always been the subject of controversy since his handball in the 2010 World Cup. Despite all that, Suarez has done well to be in the upper echelons of the top-scoring chart this season and the last. Having said that, Suarez revels in the light of controversy and will bounce back stronger after his suspension.
Ng Yulyn
, Liverpool fan and member of Temasek Polytechnic's women's football team, TP Gazelles.
What he did was stupid and was deserving of a punishment. A 10-match ban, though is too harsh, considering the other punishments that the FA has issued. Jermain Defoe recorded a similar offence but he got off only on a yellow card!
However, since the FA has already issued this ban, they have to be more strict on similar incidents in the future or they would appear to be biased against Suarez.
As Liverpool manager, Brendan Rodgers said: "The punishment is against the man, rather than the incident."