COMMENT
By Dez Corkhill
The Beatles got it wrong. Johor Darul Takzim, the big-spenders of the Malaysian Super League (MSL), prove that money CAN buy you love.
The pre-season spending splurge embarked by the royalty-backed Darul Takzim (an incarnation of the Johor FA, but previously known as Johor FC) has re-ignited massive interest in football in the southern state. A combination of big name, big money signings, and - despite the odd hiccup - a team producing results on the pitch with a six-match unbeaten run, means that the full-house signs at the spruced up Larkin Stadium are now a regular occurrence.
No game has been more eagerly anticipated in Johor than Tuesday night's televised Causeway derby against Singapore's Lions XII. While the Lions aren't officially "Singapore" when they play in the MSL, to most fans in Malaysia, they are. And the resurrection as an event of the cross-causeway derby will see another "sold-out" sign posted, and an atmosphere as charged as any we will see in Malaysia this year. The rivalry has an extra special element in that the man who is leading the charge as Manager of Darul Takzim is Singapore's most revered footballing product, Fandi Ahmad.
Johor has been waiting, and waiting, and waiting, for a chance to get themselves back onto Malaysian football's top table. The vast majority of state footballing success was provided by the Johor FA team of the late 80's and early 1990's, culminating in the double triumph of 1991. Credible challengers again under Steve Darby in the late 90's, a Milan Blagejovic goal won Johor FA their last major trophy - the 1998 FA Cup. Since then, it has been club teams who have been most prominent in the state, without ever igniting the passion that a state team can generate. But every so often, the fans would sniff a glimmer of success and turn out to support Johor FC, only to find that the well-run club team simply didn't have the resources to make the transition into a big team. It's very difficult for a club to achieve success - or a fan base - in Malaysia without oodles of money.
And that's where, and why, the Tunku Makhota of Johor stepped in. Already known to be a big sports fan - football in particular - the TMJ (Tunku Ismail Idris of the Johor Ruling family) decided in ealry 2012 that it was time for Johor to become a footballing "name" again. There's a massive economic regeneration of the state of Johor being undertaken at the moment, and - as many around the world have recognised - one way to get your region into the public eye, is to have a successful football team. It is an even more obvious road to take when you have a public desperate to support a winning team, and eager to push back against some of the negative publicity that has surrounded the state over the previous decade.
The footballing work started in 2012 when Fandi slowly, but surely, got his Johor FA squad into an intense promotion battle in the Malaysia Premier League. Last season, there were four very strong outfits in the Premier League. ATM and Pahang - who won promotion, Sime Darby - who made it to the FA Cup Final, and Johor FA. There was too much of gap to make up after Johor FA's slow start to the 2012 season, so Fandi's team didn't achieve the desired promotion. Undeterred - and without dwelling too long on the technicalities of the matter - Johor FA then took over the management and ownership of Johor FC, and effectively parachuted a team into the MSL. A place at the top tier assured, a change of name to Johor Darul Takzim FC took place, followed by a headline grabbing spending spree.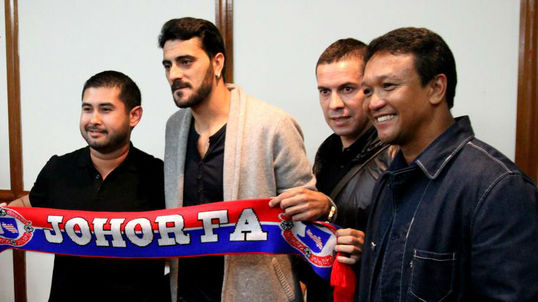 Dani Guiza signing for Johor, Malaysia.
Most startling was the loan acquisition of former Spanish international Daniel Guiza from Getafe. The 32-year-old had a rich footballing CV mainly with Mallorca and Getafe, but also a very successful spell in the white hot atmosphere of Istanbul's Fenerbahce. With 31 caps to his name, Guiza is a genuine marquee player. And the headlines kept on rolling in. Simone Del Nero, a former Italian under-21 international, joined the Johor revolution from Lazio; Safiq Rahim - Malaysia's national team captain - moved from Selangor; the "twins", internationals Aidil Zafuan and Zaquan Adha were signed from ATM, as was international left-back Azmi Muslim; Another full international, Muslim Ahmad, was lured from Terengganu.
But the transfers down South weren't all welcomed. Kelantan lost two key players from their treble winning team. Nurul Azwan Roya was an astute acquisition, but his signing was overshadowed by a much-publicised pursuit of last year's MSL MVP Norshahrul Idlan Talaha which ended with "Mat-Yo" moving South on a nice monthly wage. Kelantan were left spluttering in frustration at the deal. Even then the headlines weren't over as Safee Sali was rescued from his Indonesia club's problems by being given a place on Fandi's All-Star roster.
The season didn't start too brilliantly. Johor FC (remember them), beat the re-branded Darul Takzim FC in a pre-season Tournament. And in the 2012 MSL opener, a 2-0 lead at Pahang was squandered when the home state put on an electrifying display to come back and win 3-2. Concerns were expressed that the big buys were too arrogant, and that the players elevated from last years Premier League team weren't good enough. The much-needed first win of the season came against a Perak team who were reduced to ninemen before half-time. It needed an Aidil Zafuan header to secure a nervy three points.
Two excellent games of football followed in front of packed stadia. Both were drawn (1-1 at Kelantan, and 2-2 at home to ATM), but the headlines were mainly around the football and not the circus that was threatening to follow Johor around the country. And since then, Darul Takzim have improved steadily without ever reaching great heights. A win at Shah Alam against PKNS, followed by solid - if dour - 1-0 wins in the FA Cup and MSL against Perak and T-Team respectively, have eased Darul Takzim to within 2-points of the summit of the league table.
Of the big signings, Guiza oozes quality. His goals against Kelantan, ATM and T-Team were all different, yet all three were goals that make you go "oooh"; Norshahrul continues to work as an effective link man. Of the others, Nurul Azwan is arguably the pick of the new boys. His mazy run and assist for Saturday's winner against T-Team was excellent. More importantly, one suspects for Fandi, are that the Premier League players who were re-designated/signed from Johor FA to Darul Takzim look more comfortable in their new environment. Tuah Iskandar is a regular at full back, Ezrie Shafizie is the defensive foil to Safiq's forward runs in central midfield, and Zamir Selamat is a secure young goalkeeper.
It's not been a spectacular start, but Johor Darul Takzim can certainly argue that things are very much going to plan. And next up are the Lions XII. A Causeway rivalry reignited. Darul Takzim are on the up but the Lions will be boosted by an emphatic demolition of Pahang on Saturday night, by the return from injury of their talismanic (and newly married) central midfielder Haris Harun, and the recent emergence of Shafiq Ghani and Zulfahmi as players who can make a difference at the scoring end of the pitch.
This kind of match is the kind that will take headlines in Malaysia and Singapore away from the European leagues. And that is wonderful for football in this region.
Who says Money can't buy you love? The hope is that its a long-lasting love for football in South-east Asia, and not a fleeting romance.
Dez Corkhill is the managing Editor of Astro Arena - the Malay-language sports Channel that broadcasts Malaysian Domestic football. He is also a commentator on the Malaysian Super League for Astro, and has commentated on Asian Football Leagues from Singapore to India via Indonesia and Malaysia for the past nine years.