S.League - Must get it right from Vengadasalam Rengayyan, ex-S.League manager, Singapore
After 17 years of having the S.League, a league which we could finally call our own after severing our ties with the Malaysians in 1994, what have we achieved? Look at the state of our league attendance now.
The controversy, or rather the talking point element is missing. If we don't talk about the league or if the media finds your press conference boring, how can they write about it? I believe freedom of speech is lost in the league as coaches and managers fear being taken to task by the Football Association of Singapore.
Society is influenced by the media; newspapers thrive off the controversy of the characters they depict.
There are no honest opinions, no candid post-match interviews. FAS keeps a tight leash on everyone in the S.League through their chairmen's meeting of the clubs. The meetings, which I have attended, are very self-centered - always interested in the club instead of the bigger picture i.e the league itself. So in the end, they decided that managers like me are hindrance and only chairmen need attend.
Local coaches are ideal these days because they toe the line and won't speak. So coaches may have an'A' license and other professional licenses, but are they capable of producing the goods and exciting football to draw back the crowds?
How about clubs that constantly finish bottom of the league? Why are they not spending to improve their squads while they invariably scrape the bottom of the player pool to make up their teams? Everyone is given the same seed money, so why are they not competing for the signatures of better players?
What is their purpose of remaining in the league if they are content to prop up the table year after year? Is it fair for their long-suffering fans to go through the apparent lack of ambition? Do they exist merely to make money out of operating their jackpot rooms while remaining indifferent to the real reason that they exist – which is to develop local football?
These clubs which finish constantly in the bottom should be subject to investigations by FAS-appointed external auditors.
While we're on that topic, I think that there should also be rules to curb foreign clubs from having Singapore Pools outlets and their own jackpot rooms, like Sinchi and Albirex Nigata. Why are we giving licenses to them when they are not promoting local talent?
They are using funds to fund a team of foreign players, while foreign sides are also given seed money to ply their trade here. Why must we do that? Why can't we invest the money into our league, turn the National Football League (NFL) into an eight-team premier league with subsidies to them?
There is a real lack of scouting by our S.League clubs. No club in the S.League travels to discover new players. There is simply no incentive for them to do it.
Players, especially foreign ones, move from one club to another without any form of compensation. This defeats the purpose of clubs finding new players, only to lose them to other clubs with a paltry amount, or worse, without any compensation at all. We had these rules in place regarding compensation in 1999 or 2000. What happened to them?
The transfer of promising players who are under 23 years of age to other clubs must also see their parent clubs receiving compensation. This should also apply to the teams playing in the NFL. National Football Associations should pay to take players from S.League and NFL clubs.
Prime League players are also being paid $300 (since 1997) instead of a proper amount of money. Even by working part time, McDonalds staff make four times the amount of money a Prime League player earns. Why have we set such a benchmark for all our S.League clubs?
How do we support our league and at the same time the LionsXII? There should not be any games on when the LionsXII play at home, including youth games.
Every year the fixtures come out one week before the league starts – why? By the start of January, the league fixtures should already be published. Noticeboards in HDB void decks should carry them, and clubs should liaise with town councils to carry the fixtures in their magazines.
LionsXII integral to local football from Hazrul, Singapore
(In response to Alan Tan's
Are the LionsXII a worthy venture?
)
The LionsXII attempted to solve several key issues surrounding our football landscape. Since its introduction, it is an undeniable fact that fan interest among Singaporeans have increased with rather healthy attendances. The players learnt and grew playing in front of sell-out crowds in sometimes hostile atmosphere, week in-week out, something they have rarely experienced before this.
As the FAS have taken a more developmental route, which should be lauded, rather than criticised, the bulk of the ex-LionsXII senior players have seen their careers rejuvenated. For example, no one knew Sufian Anuar until the MSL, despite being second favorite to Agu Casmir for much of last season. But when news of his release broke, it was revealed that he had been offered contracts by many Malaysian clubs, something that would have never happened had we not returned to the MSL. Another example is Hyrulnizam Juma'at, now a first choice keeper in the new SAF team, having played as a reserve for so much of his career, after strong performances in the MSL last season.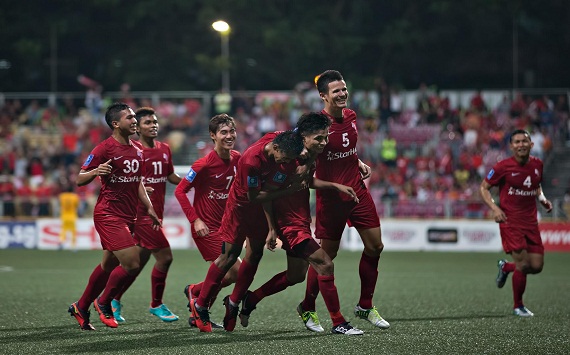 The LionsXII created overnight stars out of our local players, and with our current track and underdog tag, the younger LionsXII team can only grow from playing in the much rougher Malaysian game.
Shahril and Bai may have a good opportunity playing in Thailand, but they have signed contracts. What message are we sending to our young players if our seniors are showing it is okay not to live out their commitment?
They are in the team for a reason. To guide our Young Lions, turned LionsXII, to grow as a footballer, and hopefully their guidance will reap dividends in this year's SEA Games in Yangon.
Local coaches the way to go from Craig, Singapore
I was very happy to hear that Sundram had been appointed as the interim coach for Singapore last week, as our national team prepares to begin their 2015 Asian Cup qualifying campaign against Jordan next month.
I believe it was an astute decision from the FAS after seeing how well Sundram did in leading the LionsXII to second place in their debut MSL season last year. Moreover, with many members of the victorious AFF Suzuki Cup 2012-winning team coming from the LionsXII, it means Sundram will be more familiar with them and know how to handle the players. This will help the team to do better on the pitch.
While Sundram's task is only to lead the Lions for the Jordan game, I feel FAS should consider giving him the job on a permanent basis. As a former national player and a legend, Sundram would command the respect of the players and also impress upon the younger players the significance of donning the red jersey.
At the very least, I hope a local is appointed as Raddy's successor, because it's time to give one of our own a chance to lead the country again. Someone who is familiar to the players already will help ensure a smooth handover and continuity, instead of them having to possibly adjust to a new foreign coach with different training methods.
Nothing wrong with stopping play for Azan from Zack Deen, Malaysia
I would like comment on your article '
What a farce FAM, give the LionsXII a fair chance
'
I have no problem with most of the comments you made on that game. But what really disappointed me is when you said: "Add to that the unusual decision to stop the game for a few minutes, half-hour into the match when the Islamic call to prayers was heard, something that was never written into the rules of the game or even that of the FAM."
And all the irregularities in the game were summarised as following;
"I can't remember anything like this happening in professional football, except in amateur Sunday leagues or kick-about session in the street soccer courts, where rules are applied in accordance to the law of the jungle."
This really ticked me off.
By reading your name, I would assume that you are coming from a Muslim family. It made me wonder; haven't you been taught to respect the call for prayer aka Azan in your country? Whichever country you might be coming from?
The stopping of the game due to Azan was an act of respect.
If you observed carefully, most of the players are Muslims. I think they did understand why the referee stopped the game for awhile. V. Sundramoorthy himself had played in Malaysia for many years before. I bet, he would also understand why.
So, I would praise the referee to take such action even though it is not written in the rules of regulations of FAM.
Do you want to have yourself heard as well?
All you have to do is submit your email (150 words or less with name and location) to singaporedesk@goal.com with the subject heading of 'Goal.com Singapore Speakeasy:' followed by the topic of your choice, and we'll publish it!

Whatever you have to say, we're up for it and Speakeasy will be Your Place, Your Voice!
GOAL.COM SINGAPORE

singaporedesk@goal.com