Italian media are joking about a spell that has allegedly been cast over the Meazza Stadium. The classic gag is a straight forward "San Zero," paraphrasing the old name of the stadium (San Siro) to point out the number of games won so far at home between Milan and Inter combined. The Nerazzurri have played five home games (three in the Europa League, two for Serie A) and Milan three (one in the Champions League, and two in Serie A). The merciless numbers speak clearly of utter failure: in total five games lost, three tied, none won. As we enter autumn, Milan is still to score their first goal of the season at home.
This past weekend as well, while Juventus cruised to their fourth victory (their 43rd undefeated game in Serie A) with another devastating second half, the two Milanese teams both lost. Thus far they have gathered nothing but the misery of a combined nine points out of an available 24. Truth be told, the exact same total was what they had racked up last season after four rounds, but the feeling is totally different this time around.
This time last year Milan was an aging team, one however that still featured colossuses such as Zlatan Ibrahimovic, Thiago Silva, Alessandro Nesta and Gennaro Gattuso, to mention a few. Inter sported an emblem on their chests saying "FIFA World Champions," and despite serious misunderstandings between their manager, Gian Piero Gasperini and president Massimo Moratti, were still considered a powerhouse of Italian and European football.
We are still talking of teams that have won two of the last three Italian titles, plus Champions League titles as recent as 2007 for Milan, and 2010 for Inter.
What happened?
The simplest answer is that bad planning has finally caught up with the two clubs managed by presidents and executives who let glamour and perhaps feelings of gratitude towards their players become more relevant than hard facts.
Both teams carried on with the same players for too many seasons, with a series of very predictable collateral side effects; loss of motivation, veteran's oligarchies in the locker room and inflated salaries. As new Financial Fair-play regulations extinguished the remaining embers of European football's mad expenses and the economic crisis in Italy finally caught up with the wealthy, the Milanese clubs stuttered as they were forced to learn to make up for the lack of cash with savvy management.
The awakening to the financial crisis resulted in radical changes at Milan. In addition to their talismans, Ibrahimovic and Thiago Silva, during one wacky summer Silvio Berlusconi's club suddenly discharged basically all their veterans, from Clarence Seedorf to Pippo Inzaghi. Their countermove was the goofy (failed) chasing of their prodigal son Kaka, who fell from grace in Madrid quite some time ago.
Inter were slightly more moderate with their pruning, got rid of their Brasilian clan (Lucio, Maicon and Julio Cesar) and managed to invest in some allegedly reliable and tested players such as Palacio and Antonio Cassano. But at the helm they pay the price of inexperience in Andrea Stramaccioni; the fifth manager in just over two seasons since the fateful farewell of Jose Mourinho in May 2010.
The last time Milan lost three of their first Serie A games was in 1940, during WWII. Despite the allegory, there were no heroics from Allegri's Milan this season; they have been defeated by Sampdoria, Atalanta and a stuttering Udinese.
One wonders, among the ongoing chaos, where Berlusconi is, after for years he used his successes with the team to propel his political career. At present the club could surely use some leadership; however, he is nowhere to be found, leaving the task of cheering up the Rossoneri's masses with improbable messages by his second-in-command Adriano Galliani.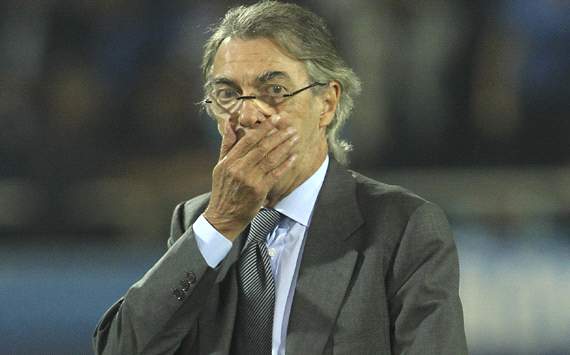 How did it come to this?|Moratti left wondering what went wrong

Massimo Moratti, who is clearly as guilty as his counterpart for the decline of Inter, is at least showing his face at home games, alas he seems to be back to the role he played for over a decade when Inter failed to win titles year after year despite his massive investments.
It is hard to say what the future holds for these clubs, but besides the sad current state of affairs, there are concerns for the ever emptier "San Zero" stadium. Champions League-related revenue has been the bedrock of both clubs' income in the past decade, and while Inter must already live without it after finishing sixth last May, it is hard to envisage either of these two teams qualifying for the main European tournament at the end of the current season.
The natural winner of this game of musical chairs is of course Juventus, but what's interesting is that there are a few other clubs that have been able to ride the wave of change: besides Napoli, the only team to defeat Conte's Juventus in the last Coppa Italia final, there are emerging forces such as Sampdoria, Fiorentina, with the most solid of them this season probably being Lazio. And lest we forget Udinese, who once again sold their best players, but managed to bury Milan in last Sunday's game, leaving the Rossoneri one single point above the relegation zone.
The future is unwritten, and football's tales unfold in mysterious ways, but there is no doubt that the Milanese teams are at present living through very dark days, and the reasons for this are by now quite clear. They keep calling it a curse; it would probably help them if they would start to see it as more of a karmic retribution: Cause and effect.
How do you stay up with football when on the move? With http://m.goal.com –your best source for mobile coverage of the beautiful game.