During a popular football radio show last week, Italian journalist and pundit Carlo Genta and famous Fifa agent Ernesto Bronzetti pointed out Milan owner Silvio Berlusconi's refusal to trade young Brazilian Pato for Carlos Tevez as the key moment of last season.
As discussed in a previous column, Paris Saint-Germain had laid out an offer for Pato that would have allowed the Rossoneri to buy out the rebellious Argentine from Manchester City, as well as pocket an extra €10 million. The deal, however, did not go through after prolonged negotiations.
We know the rest of the story: Pato's interminable series of injuries continued, while Tevez made peace with Mancini at City, helped them to clinch the title, and is today considered once again one of the top strikers in the world.
I do not believe that the story of a given season can be defined a single episode. However, the namedropping of Pato inspired me to research his series of injuries further, and in doing so I bumped into a study that Juventus athletic trainer Roberto Sassi wrote for the Gazzetta dello Sport.
Sassi's data mercilessly points to a very simple truth that few have discussed so far: injuries, more than anything else, have played a crucial role in past seasons. In calculating the number of games missed by players of each Serie A team due to injury, Milan's total for the 2011-12 season was a flabbergasting 307. In contrast, Juventus--the season's champions - totaled only 44.
A look at previous seasons further confirms this data: Juventus players missed 210 and 216 games in their 2009-10 and 2010-11 campaigns respectively, and twice they finished with a disappointing seventh place.
Inter won their last title in the 2009-10 season, when their players missed a total of 108 matches.
In the following two seasons, in which they finished second and sixth respectively, injuries prevented players to be fielded for 182 and 179 rounds; an increase of more than 60 per cent.
In the past season, Juventus had the advantage not to play in European competitions but, in the end, they had played just eight fewer competitive games than Milan; surely not enough to justify the differences in physical condition and the number of injuries.
In fact, the fitness programs of the two clubs differ drastically: according to Sassi, Juventus switched last season to aerobic training based on long runs of 60-75 minutes, while for muscle care they use isoinertial machines and eccentric training.
The workout routine is based on Barcelona's famous method, created by Julius Tous. Furthermore, much attention is dedicated to diet and the mental aspects of the players.
Meanwhile, Milan's athletic fitness program takes place in the secret rooms of the famous Milan Lab, and is said to be mostly based on the use of standard gym machines combined with scrupulous data analysis.
While this method was considered the key factor in the the athletic longevity of the previous generation of Milan players [including Franco Baresi, Paolo Maldini, and Alessandro Costacurta, to mention a few], doubts have arisen as to whether the system is universally effective, and the Lab has recently come under criticism.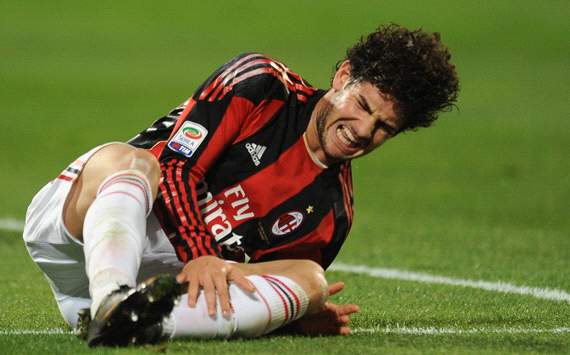 Pato strikes a familiar pose for Milan during the 2011-12 season.
Another factor that may be contributing to the high number of injuries in Serie A is the high amount of stress, both on a physical and mental level, that surrounds Italian football. Players are under a 24/7 media microscope, and the need to perform under such extraordinary pressure surely does not help them avoid injury.
The aforementioned Pato epitomizes the 'chronically wounded' stereotype. He was also often in the eye of the media hurricane because of his relationship with club owner Silvio Berlusconi's daughter.
It is impossible to state for sure how stress has influenced his poor physical condition, but we know that Pato has experienced fifteen injuries since January 2010. Five occurred in the past season as he played on the shattered pitch of San Siro, possibly the worst in Italy.
Milan and Inter have managed to rebuild their home stadium's ground this European summer with a mix of synthetic and natural grass that will hopefully guarantee a better surface throughout the season and reduce the number of injuries.
Yet the beginning of the season has not been promising; a total of 14 Inter players sat out matches due to injury in the first two rounds, while 13 were absent for Milan.
Among Serie A clubs, only Genoa have avoided a single injury so far. Should they keep it this way, the statistics say they might be bound for a glorious season.