Goal.com Singapore rounds up all the instances fans can be likeliest to expect, in a new league campaign that already promises to be anything but ordinary
COMMENT
By Jeremy Lim
A new season lies around the corner for Serie A fans once again. Change, as they say, is inevitable, but while several aspects of the league have transformed themselves over the span of the past year, others remain exactly as they have been. Nevermind that it is now Juventus' turn to rule the roost, when it was AC Milan who began top of the class last time around; supporters will still be guaranteed a taste of the all-out action that had been missing from their essential tools for survival since the close-season.
In anticipation of the beautiful and the ugly that so often cumulates into the entity we have come to endear ourselves to as
Calcio
,
Goal.com
brings you the top five things fans can expect most to happen, as the season finally gets underway.
1. Juventus to make it two Scudetto victories in a row
Judging by how the new Italian champions have strengthened over the summer, tip Antonio Conte's men to clinch their second Serie A title by season's end. Looking to build upon their unbeaten league run dating all the way back to the beginning of their previous campaign, Juventus have promisingly added the likes of Kwado Asamoah and Sebastian Giovinco to their already-potent mix of Andrea Pirlo, Mirko Vucinic and Arturo Vidal.
Despite Conte possibly being suspended for the span of the new campaign following his implication in the recent domestic sports betting scandal, the team retains sufficient strength in depth that should enable them to rise to the challenge and emerge victorious, even allowing for the absence of their coach on the sidelines. As the
Bianconeri
continue striving to secure the services of a world-class striker so as to boost their lavish arsenal upfront, the sky continues remaining the limit for the Turin giants next term.

2. Milan, Inter, Napoli and Roma ready to fight it out for the scraps
With Juventus dominating the top spot, Milan's recent losses of Zlatan Ibrahimovic and Thiago Silva have somewhat evened out the playing field targeting this season's Champions League qualifying berths. Factor in the excellent transfer campaigns enjoyed by both Inter and Roma, coupled with the growing prominence of a resurgent Napoli, and fans are now faced with an increasingly tight and heated affair to qualify for Europe's premier club competition this time around.
Andrea Stramaccioni's
Nerazzurri
look particularly ready to impress from the outset, with his new-look outfit easily capable of bringing stars such as Rodrigo Palacio,
Philippe
Coutinho and Antonio Cassano to bear, propelling their climb back into Serie A's upper echelons. They will be wary of underestimating a Zdenek Zeman-led Roma however, whilst the indomitable
Partenopei
have also proven themselves capable of slugging it out with all but the biggest opponents in their previous Champions League campaign.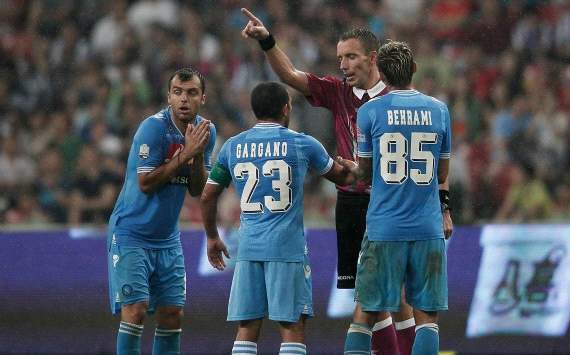 3. The controversy that doesn't kill you on the pitch, will kill you off it
Debate surrounding the validity of charges issued to members of the Juventus coaching staff during match-fixing allegations. Incessant, none-too-subtle sniping between a certain-Zeman character and various
Bianconeri
directors. Napoli boycotting the idea of playing the Italian Super Cup in Beijing first, that closely followed next by the traditional season curtain raiser's award ceremony. This Serie A edition has not yet even begun, but how it must already feel like just another day at the office,
as Goal.com's managing editor in Asia, Cesare Polenghi, highlights the pitfalls that Italy is digging herself into
.
Conspiracy theorists, ready your weapons nonetheless. With daily talk revolving around sending-offs, fixed matches, hidden agendas and just about everything else to do with apart from the sport, do not merely expect to derive your source of entertainment completely from the games you see out on your screens. With newsrooms and club boardrooms nigh poised to kick out the legs from under their league opponents by stoking the fires of controversy, the term 'boring' never quite seemed farther away from describing the seasonal soap opera that is
Calcio
.
4. New generation of Italian starlets poised to make it their time to shine
If the recent departures of Fabio Borini and Marco Verratti for foreign pastures are indications of anything, it is that Serie A sports a high quality, in-demand group of youngsters that are ready to seize the next decade of Italian football as their own. Barring the two losses for clubs overseas apart, there still remains a good many more talented individuals in storage awaiting their moment to shine within the domestic league, a future generation ready to light up Italy's shores.
Mattia Destro, Ciro Immobile, Luca Marrone, Stephan El Shaarawy and Lorenzo Insigne et. al. can only benefit from the emphasis Italian clubs are placing on spotting, acquiring and fielding their country's hottest prospects. Once criticised for focusing too much on imported talent, Serie A's biggest sides have taken heed of the need to ensure the continuity of their own sporting community, a change of heart that is also likely to pay dividends in each team's own quest for domestic and continental glory.
5. Italy's displays at Euro 2012 indicates possibility for strong runs in European competition
If Serie A's European representatives this season could learn anything from the exploits of Cesare Prandelli's
Azzurri
earlier this summer, it is all about the power of belief. Taking on the cream of the Spanish La Liga and the Premier League will be no easy task, but if Juventus and Milan manage to achieve a sort of momentum regarding both their performances and results, the odds of achieving a quarter-final place and beyond may not turn out to be as stacked against them as people might have come to think.
Over in the Europa League, Inter and Napoli can harbour reasonable optimism in winning the second-tier continental prize. Despite selling talisman
Ezequiel
Lavezzi to Paris Saint-Germain, Walter Mazzari's team still remains a force to be reckoned with, as derived from their pre-season friendly victories over German giants Bayern Munich and Bayer Leverkusen. While it remains to be seen how they manage their fitness issues in juggling three competitions simultaneously, the Stadio San Paolo outfit will indeed be fancying their chances for European glory this campaign.