The Welsh star had a lively Friday, packed with media events. He not only launched the new LFC kit but also promoted his charity work in Sierra Leone
SPECIAL
BY Patrick Lim and Kwan Loong Wye | Goal.com Singapore
It was a busy day for Craig Bellamy. The Liverpool star was in Singapore on Friday for the launch of the new Liverpool kit by Warrior Sports and raise awareness of his charity in Sierra Leone, the Craig Bellamy Foundation.
A unique deal was signed between Warrior and Bellamy with the sponsorship fees going directly to the Craig Bellamy Foundation to promote sports and education for underprivileged children.
The unveiling of the new kit took place in the Post Bar in Fullerton Hotel. Warrior Sports paid homage to the rich history of the club by incorporating design elements from the golden eras of Liverpool. Most notable was the return of the amber and yellow Liver Bird as the club's crest, best known for being worn during Liverpool's dominance between 1976 and 1985.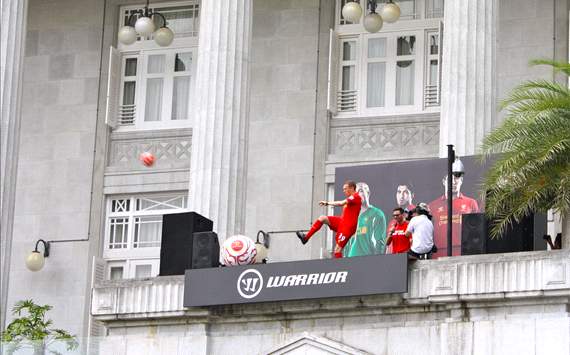 Eager Liverpool fans got a glimpse of the new kit in action after the press conference. Bellamy took centre-stage atop the second-floor balcony of Fullerton Hotel as he attempted to kick footballs into a net mounted on a river taxi out in the Singapore River.
Needless to say, Bellamy scored an impressive 5 out of 10 balls, with many just missing narrowly and several cannoning off the sides of the boat. Perhaps, not quite satisfied with his tally, he decided to autograph and then boot several balls towards the crowd gathered on nearby Cavenagh Bridge.
Bellamy was then presented with a SG$25,000 cheque made out to the Craig Bellamy Foundation, from S-cafe, a major textile manufacturer and producer of the fabric used for the new kit.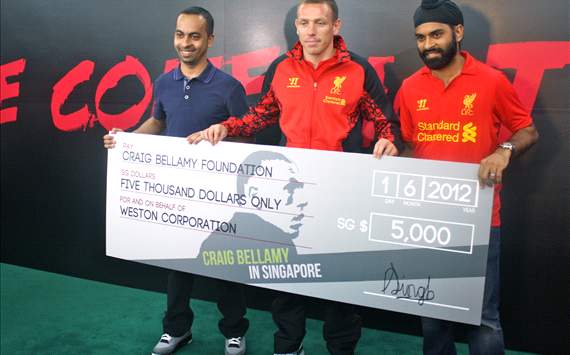 In the afternoon, the contingent headed to Weston Corporation in Queensway Shopping Centre for an in-store signing session. The first 50 fans who had bought the new Warrior kit got the chance to have their merchandise autographed by the star striker. The storefront was packed by many more Liverpool fans eager to catch a glimpse of their idol.
In the end, the crowd's patience was rewarded as Craig announced much to the fans' delight, that he had signed a stack of postcards to be distributed out among everybody. Weston Corporation, as a sign of gratitude and support for the player, presented Bellamy with a SG$5,000 cheque for his foundation as well.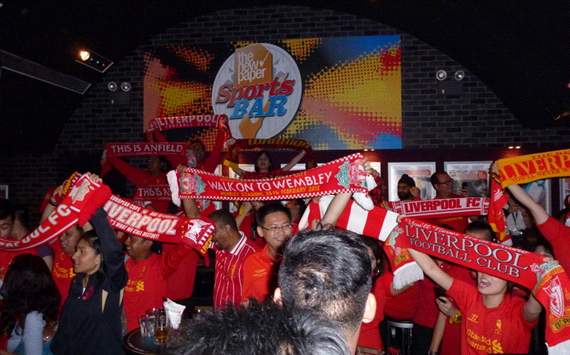 Craig's day was not quite over yet, as he joined the Singapore Liverpool Fan Club in the evening at The New Paper Sports Bar. Bellamy was greeted with a rousing chorus of "You'll Never Walk Alone" from the local fans as he stepped foot inside the bar.
The evening's event wrapped up with a mini-auction of two large autographed Warrior Sports footballs with a personalised message from Craig Bellamy and a framed Liverpool jersey, with all the signatures of the current Liverpool squad. All proceeds raised from the auction went to the foundation.
After an entire day of media events, the Craig Bellamy Foundation managed to raise a grand total of $40,000.