COMMENT
By Ben Hayward | Spanish Football Writer
Not many teams can stop Barcelona from winning three times in a row. Atletico Madrid showed why they are genuine contenders for La Liga by holding the Catalans again on Saturday night - and in the process, Diego Simeone's side did city rivals Real a huge favour, too.
Carlo Ancelotti's men will be right back in it at the Primera Division's halfway stage if, as expected, they win the weekend's other Barcelona-Madrid match-up at Espanyol on Sunday.
That would represent a remarkable return for
Los Blancos
considering what was a sticky start to the current campaign, with the team initially struggling to come to terms with Ancelotti's tactics, new signings like Gareth Bale and Asier Illarramendi taking time to settle in and Xabi Alonso absent through injury until October.
Over the course of the campaign so far, Madrid have been well short of the league's leading duo, while they were extremely fortunate to win against Elche, Levante and Valencia. Nevertheless, victory at Espanyol, traditionally a happy stomping ground for Real, will see them just three points behind as the competition heads for its second half.
Saturday, though, was all about Atletico - and just as Simeone had said in the build-up to the match,
Los
Rojiblancos
make up in intensity and group effort what they lack in individual quality.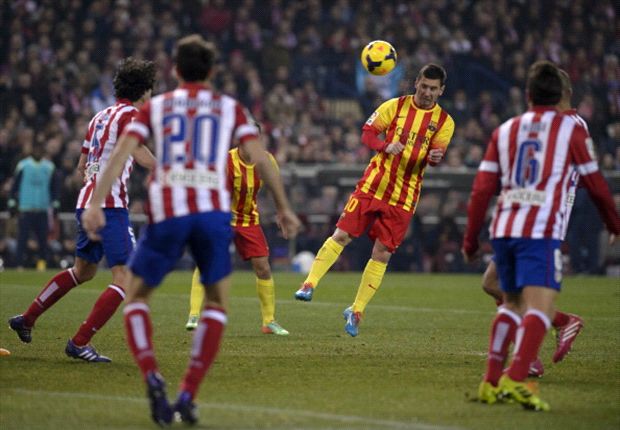 Nothing to celebrate | Messi was unable to add to his 20 goals against Atletico


The home side began the game on the front foot but the match soon adopted a predictable pattern: Barcelona all passing and possession; Atleti absorbing the pressure and attacking on the counter. That said, however, this was anything but dull - far from it. The startling clash of styles made for fascinating football viewing, in spite of the lack of goals.
Atletico sought to close the gaps between the lines; Barcelona looked to minimise danger on the break. "It was a game of chess," Simeone said afterwards. "Both of us were looking to impose our srengths and to stop our rival." And in the end, that's exactly what happened as the two teams cancelled each other out, just as they had done in the Spanish Supercopa series back in August.
The first of those meetings was a 1-1 draw at the Vicente Calderon, before a goalless return at Camp Nou saw Gerardo Martino's claim the trophy on away goals. But for a third time in a row on Saturday, Tata's team failed to defeat Atleti. Simeone's side, meanwhile, have edged out Madrid twice in the last 10 months, but are yet to beat Barca.
"We expected a very compact and defensive team," Xavi said afterwards. "They are one of the best teams in Europe and we dominated much of the game. We just couldn't create enough chances." Martino, meanwhile, was content. "We came here to win the match, but a draw is OK," he said. "This game will make us stronger."
The result, however, and the manner of the performance by Atletico on Saturday, is likely to make them stronger, too, and proved that this team is the real deal. Title contenders? Why not. With 19 games played, Barca and Atletico are separated by just five goals. At the league's halfway stage, Catalans and
Colchoneros
both have 50 points, having dropped just five apiece. Meanwhile, Barca have scored 53 and conceded 12, while Atletico have netted 47 and let in only 11.
If the two teams are in a similar position at the end of the season, Barca and Atleti will face off in a thrilling title decider at Camp Nou to establish the destiny of the Primera Division trophy. And having held the Catalans three times in a row, Simeone's side will travel to Catalunya without fear if that scenario arises. There's a long way to go yet, however, and Saturday's draw means Madrid may yet have a significant say in the outcome of La Liga, too.
Follow Ben Hayward on