COMMENT
By Kris Voakes | Italian Football Writer
"I don't think derby tickets are on sale yet," said the cashier. "They go on sale this morning," assured the customer. The cashier wandered off, returning a moment later with a sheet of paper. "Yes, it appears you're right."
Such was the sense of apathy toward the first Milan derby of 2012-13, the first day of general sale was nothing like it usually is. There were no queues outside the banks at opening time, no pushing and shoving as people stood in line at the cashier's desk, no frantic phone calls to friends to check if they had had better luck at a different branch. Nor was there any real piquing of interest in the two weeks which followed ahead of the big game. In fact, there were still more than 20,000 tickets available just a few days before the match.
The eventual attendance of 73,736 was greater than it had threatened to be at one point, but still it was seen as the latest example of how the lustre was gone from Calcio. The one game Italians would always come out to see was suddenly considered an unappetising prospect. Rumour had it many were staying home to watch Barcelona play Real Madrid instead.
It did not help matters that AC Milan, the home side for that clash back in October, had lost 2-1 to Udinese the day before tickets became openly available. By the time they and Inter faced off, they had added four points from two games and earned a Champions League win away to Zenit St Petersburg, but there was no disguising the facts.
Milan were in crisis, and the last thing their supporters wanted to do was watch Inter rub their noses in it.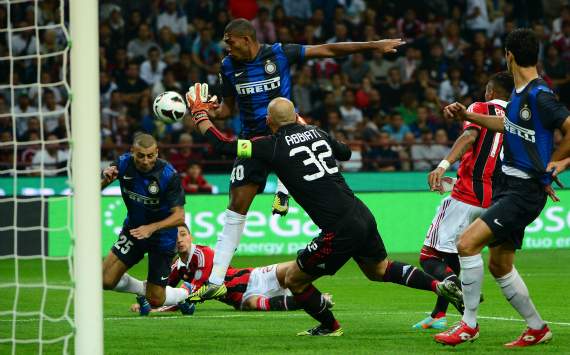 Derby defeat | Milan's early-season woes were compounded by Walter Samuel
On Sunday night, five months to the day after that conversation in the bank, Milanese football will showcase itself to the world again. This time, there is no Clasico, nor is there the feeling of dread about the Rossoneri camp. Inter's are the fans who seemingly have something to fear given recent form, but they are a group who have often fought against the sense of them playing second fiddle over the last 25 years.
Milan, on the other hand, are a club that have exuded a sense of romance and lustre for many decades. When the likes of Adriano Galliani talk about competitions or ideologies being "in the club's DNA", they believe every word of it. Forget the pragmatism that other outfits cherish, Milan's world is one in which football is an expression of love and of joy.
And that is why the events of mid-2012 hit the fans so hard. They had lost so many of the storied players they had called heroes for decades. Alessandro Nesta, Clarence Seedorf, Gennaro Gattuso, Filipo Inzaghi… all gone. Thiago Silva and Zlatan Ibrahimovic, the two rocks on opposing ends of the pitch on whom this paradise island was meant to be built on for years to come, were also sold. Then came the string of horrific results and even worse performances.
It was not a love lost, but it felt like there was a gaping hole all the same. This was not the club that Milan fans, and the wider public, had fallen in love with.
But things have certainly changed of late. There was already a shift to some extent as Stephen El Shaarawy, M'Baye Niang et al helped to stage a mini-recovery from the depths from mid-November onwards, and then came 'Super Mario'.
MILAN'S SEASON OF TWO HALVES

The fall

Midweek heroes |
Boateng & Muntari

* Lost 1-2 after extra time
The rise
vs Sampdoria 0-1
vs Bologna 3-1
vs Atalanta 0-1


vs Anderlecht 0-0


vs Udinese 1-2


vs Cagliari 2-0


vs Parma 1-1


vs Zenit 3-2


vs Inter 0-1
vs Lazio 2-3
vs Malaga 0-1
vs Genoa 1-0
vs Palermo 2-2
vs Chievo 5-1


vs Malaga 1-1


vs Fiorentina 1-3


vs Napoli 2-2





Won 5, Drew 5, Lost 7

vs Anderlecht 3-1
vs Juventus 1-0
vs Catania 3-1
vs Zenit 0-1
vs Torino 4-2
vs Reggina 3-0
vs Pescara 4-1
vs Roma 2-4


vs Siena 2-1




vs Juventus 1-1*


vs Sampdoria 0-0
vs Bologna 2-1
vs Atalanta 1-0
vs Udinese 2-1


vs Cagliari 1-1


vs Parma 2-1
vs Barcelona 2-0



Won 12, Drew 3, Lost 2
With Balotelli's signing there came the attention that the Italy striker demands. His introductory press conference was typically captivating, and his opening performances have been suitably spectacular. When he has played, no other Milan player has scored. He has demanded to be the centre of attention and it has suited everybody down to the ground.
Next came the heroics of midweek. Without the cup-tied Balotelli, Milan went about their business in as convincing a fashion as any team has against Barcelona in quite some time. When Chelsea beat them last year, they had to recover from a losing position and survive a missed Lionel Messi penalty. In Real Madrid's recent successes over the Blaugrana there have been decent spells for the Catalans during which they could have done more damage.
But in Milan's victory on Wednesday there was the performance of a team that was forcing the football world to take note once more. They showed why they are the attractive proposition they have always been. Why they capture the hearts of so many.
And thanks to that result, the return of 'Super Mario', and the superb upturn of the past three months, they have ensured that San Siro will be the centre of the football universe come 20:45 on Sunday night. Just as it should be.