Back in his glory days, Ronaldo was widely recognized by fans of the game as one of the most fearless strikers of the century.
Known as El Fenomeno, or "The Phenomenon", the Brazilian striker has made his mark across Europe, playing for the best clubs in the region such as PSV, Barcelona, Inter Milan, Real Madrid, and AC Milan - and scoring a massive 247 goals along the way.
Internationally, the impeccable forward has had an amazing track record, bagging a total of 62 goals in 98 international appearances for Brazil. He won his first Fifa World Cup in 1994 at the tender age of 17 and went on to represent the Selecao in three further stagings of the tournament.
Under the guidance of Luiz Felipe Scolari, Brazil won their record fifth World Cup title in 2002 and Ronaldo was awarded the Golden Boot award as the top scorer with eight goals to his name.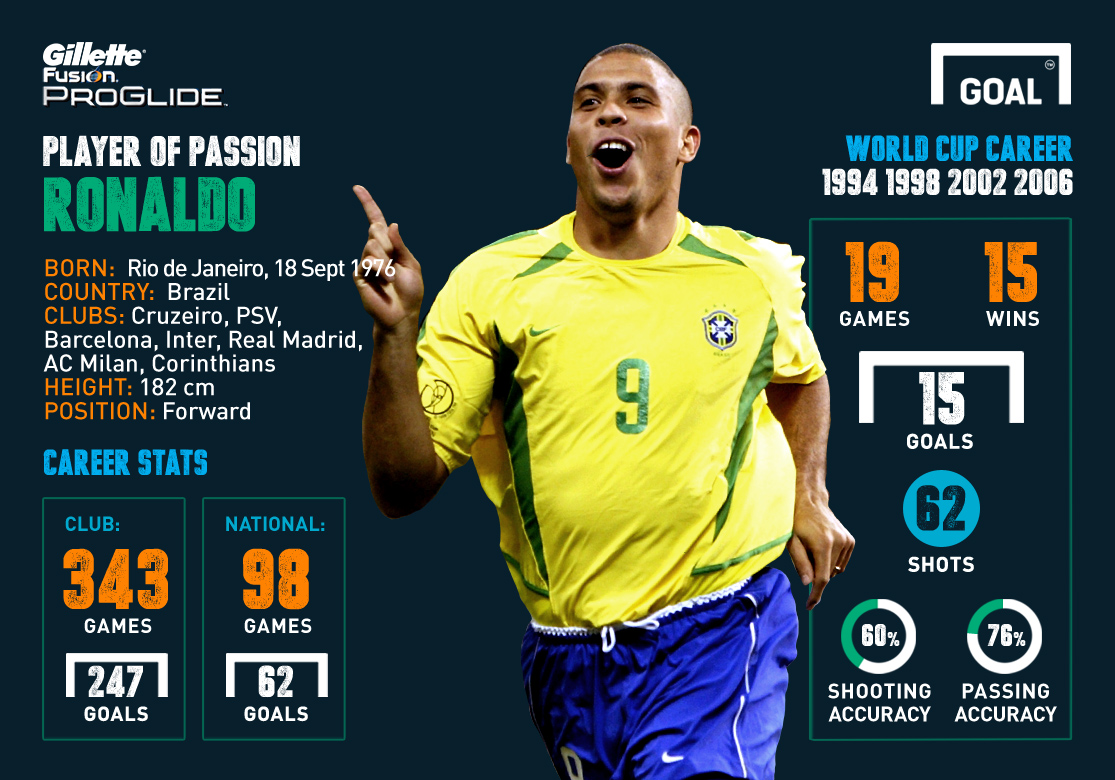 But prior to that campaign, Ronaldo had barely played football after rupturing a ligament in his right knee in 2000. The forward missed Brazil's entire qualifying campaign, but was determined to make it back onto the international stage.
Ronaldo's incredible comeback from an injury that threatened his career was a true display of his Inner Steel. The striker was shining star of the final as well, capping a remarkable tournament by scoring twice in a 2-0 win over Germany to secure his side the coveted trophy.
In football, just as in shaving, the best outcome is determined by precision. When the smallest details make the biggest difference between winning and losing, a mental and physical toughness is needed – a true show of Inner Steel. For football fans who are driven by their passion and their own inner steel,Gillette introduces the Special Edition Brazil Team Razor - available at stores nationwide now for a limited time only.
To find out more about the Gillette Special Edition razor, fun in-store activities and details of prizes to be won, visit www.facebook.com/GilletteSingapore.