Have you undergone football training on a beach? National Football Academy (NFA) Under-17 defender Thaniyath Vishaal has - and his first session was a memorable one.
The 17-year-old recently returned from a three-month training stint with Brazilian side Boavista SC's U17s, having left in January with compatriot Mahathir Azeman, who signed a one-year deal with the club's reserve (U20) team after impressing on a prior stint last year.
As the U17s had not started training, Vishaal joined the U20s for the first two weeks. Under the training schedule, every Monday was "Beach Day", where players would run and do drills by the sea.
"The first time I did it, it was really intense and I almost collapsed!" he recalled to Goal Singapore. "We ran like seven, eight kilometres and after that, we did the soccer drills."
But the intensity in those early weeks greatly helped the centre-back, who starred in the NFA U16s' Lion City Cup campaign last year, during the rest of his stay.
"It was difficult to cope with the U20s because it was a whole new level, but when I dropped to the U17s, it was much easier [to cope]," Vishaal explained.

Learning experience
During his time in Rio de Janeiro, Vishaal trained four times a week and took part in friendlies as well. He was also set to play in the Copa Rio, a regional U17 tournament, during which Boavista was to take a closer assessment of him.
Unfortunately, while they subsequently beat favourites Vasco da Gama enroute to topping the group, Vishaal injured his right hamstring on the night before the competition. He could not take part in the latter stages after recovering either, as he had to return to Singapore to start his diploma course in business administration.
Despite that, Boavista was still impressed with Vishaal's performances and sent him a letter a few days after he came home, informing him that they would like the player to return for another assessment.
The entire experience has also greatly aided Vishaal's development, who believes he has returned as a better player.
"I am not really a fast defender so sometimes I have trouble marking fast players," he said. "But after my coach told me how to position myself, now it's better for me to mark fast players and give them a hard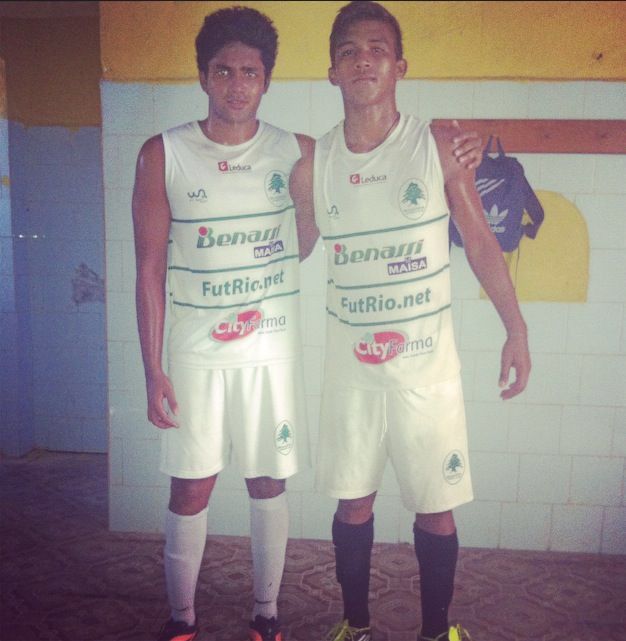 time."
To that end, Vishaal is thankful for the help rendered by former Singapore international R. Sasikumar and Mahathir's coach, Fabio da Silva, in helping him to secure the stint.
"I don't think there'd be any chance [to go over without them] because they have the contacts," he admitted. "Training for a few weeks doesn't help you [much]; you must stay for three months or more, then you can feel the effect."
Vishaal was room-mates with Mahathir, whose companionship helped him greatly in adapting to his new environment. In addition, the technical director Joao Silva was very friendly. Both stayed in the latter's place, a condominium-style unit, but rarely wandered out to the nearby malls as it was "not a safe area".

Determined attitude
While his team-mates at Boavista came from different backgrounds, all of them had the same determined attitude to succeed – something that Vishaal believes makes them better players.
"The players want it more, their mentality is different; they don't complain much," he said. "For example, Brazil is hotter than here (Singapore), but they don't complain about the weather and just give their best.
"During training, there's not much intensity, but during the games it's very high. Pass and move and fast, attacking football. They go 100 per cent for every ball, they don't stop chasing and they are very composed and rarely lose the ball."
Vishaal also felt that some of his NFA peers like Irfan Fandi and captain Lionel Tan are individually as skillful as the Brazilians, although in general the latter are technically and tactically superior.
"As a defender, for me it was quite easy because whenever I got the ball because I have a lot of options, my midfield is always there for me to pass to," he pointed out. "The pitch is quite bumpy, but I think that's what makes them good; playing on that kind of field, your touches become naturally better."

Football and studies
It is also tough to juggle studies and training daily in Singapore, while over in Brazil the players study in the morning and train in the afternoon, before resting.
"Seventeen is the most important age [for development]," Vishaal said. "After they reach that, it's soccer all the way, that's why they can improve so much."

Vishaal's focus right now is to rejoin the U17s' Prime League campaign and he is set to resume training on Wednesday, while the team is also preparing for the 2016 Asian Football Confederation U19 Championship qualifiers next year.
With his current studies and National Service (NS) looming, in addition to those commitments, Vishaal will not be heading back to Brazil any time soon. Mahathir, one of only two players from his batch to be signed on by the club, also has to return to Singapore at the end of the year due to NS. In contrast, the other player, Lucas Perdomo, has already made it to Boavista's first team.
"In Singapore, it's really complicated," Vishaal said. "If I was born anywhere else, I'd prioritise soccer, but here you can't."