The BMDP, which manages the only donor registry here, have partnered with the S.League side to get the word out as they seek to recruit more new donors
Courts Young Lions
midfielder
Shamil Sharif
used to be unaware what bone marrow donation entailed until he attended an event last July with a 15-year-old transplant recipient.
The
Match For Life
media event saw the 21-year-old become an ambassador for the Bone Marrow Donor Programme (BMDP) here and has since helped him to gain a clearer understanding of the procedure.
Eight months later on a Friday morning, he is seated alongside team-mates
Stanely Ng
and
Ammirul Emmran
in BMDP's office in Novena, preparing for a photoshoot as part of BMDP's partnership with the Football Association of Singapore. This year, the organisation will feature the Young Lions squad in their efforts to raise the profile of bone marrow donation.
"I think through football we can get to more people, so we can get them to be more aware of this programme and to donate," Shamil told
Goal Singapore
.
That awareness is still "woefully inadequate", according to BMDP president Jane Prior. This is despite the BMDP, which builds and manages the only local donor registry here, having helped patients with blood diseases since 1993.
"The challenge is that very few people understand that they have the power to save somebody else's life and it's really so easy," she stated.
One of the difficulties, she admits, is reaching out to the Muslim community, where some members might be apprehensive about the issue, although the Islamic Religious Council here has issued a
Fatwa
giving approval for Muslims to be bone marrow donors.
"For me it's fine, but maybe some are reserved in the sense that when they think about donating, they think it's something that is not right to do," Shamil explained. "But it is changing for my generation as compared to my father's time; it is different now. They'd leave it (whether to donate) up to me."
"That is a point there; the older generation needs time," Prior added. "Getting young people to sign up as donors, getting the older generation to simply know that if we can risk our national youth team as donors - then obviously there's no risk, is there? And I think that's a big message."
A simple two-minute cheek swab is all that is needed for one's DNA to be profiled and stored in the BMDP database, which is checked daily for matching donors. An average of six patients are diagnosed with blood cancers daily here. The registry currently has around 55,000 donors, which BMDP hopes to expand by 20,000 starting from 2013 to 2015.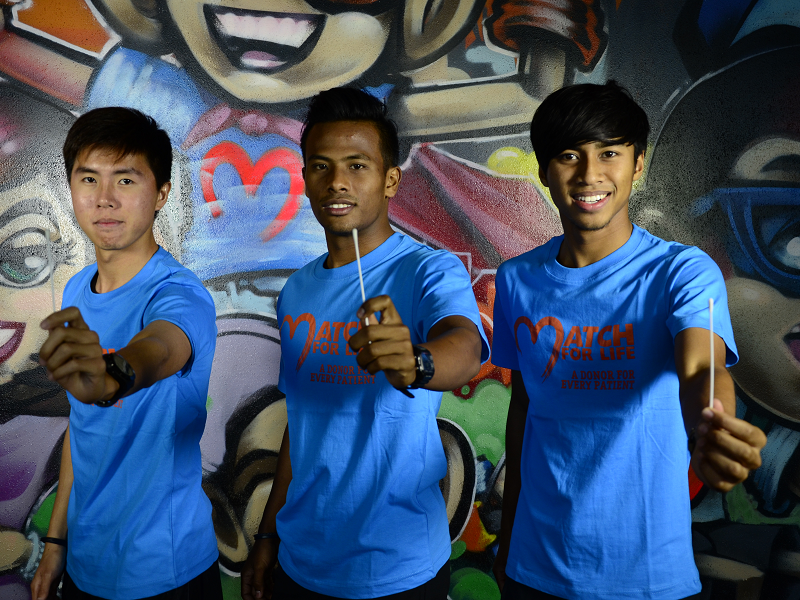 To that end, a video featuring some of the players has been produced in conjunction with the campaign. It will be screened at Young Lions matches, where there will be a booth set up to encourage on-site sign-ups amongst spectators. There are also plans to rope in players to participate at future outreach programmes.
The local football fraternity experienced first-hand the devastating effects of blood illnesses when former
S.League
player
Adrian Dhanaraj lost the battle against Hodgkin's lymphoma
last September. It came as a bit of a shock to Shamil to see a fellow professional who trained daily, who was "so fit" pass on.
"It's a message to every one that no matter how fit and healthy you can be, you cannot avoid these diseases," he reflected.
"It was really about lymphoma when we first caught up with the Young Lions; Adrian Dhanaraj had just passed away a week before and it was just really a coming together of all of those things," Prior explained. "That was why we asked them (FAS) and they can help us get to places that definitely I can't; these guys can help us reach a different public, so that's what it's about."
Shamil, already a registered donor himself, added that they could help reach out to friends and fans through the use of social media like Facebook, Twitter and Instagram to heighten awareness amongst youth.
"We all have these accounts and when you share, your friend will be there to
kaypoh
a bit," he chuckled. "When your friend posts something, you want to do your own research on it, so that can be quite helpful (in spreading the word)."
As for Stanely, he hopes to inspire the next batch of footballers through being part of this tie-up.
"Definitely, they will look up to us as this (playing as a professional) is where they want to climb up to next, so if we do something like this they'd be interested," the 21-year-old said.
That might even apply for Ammirul, the baby of the trio, who's turning only 19 this year.
"If my team-mate Shamil can do it, why not me?" he said. "I'd give it a try, it's a new challenge for me and I am willing to learn more about this."
"If we can get the whole team to sign up, that will make a statement," Shamil concluded.
Indeed, this reporter joined both Stanely and Ammirul in swabbing our cheeks and registering ourselves on the spot right after the interview was over. The Young Lions have pledged to do their part for the BMDP, and they hope you will follow suit.
For more information on the BMDP, visit their website at http://bmdp.org/.