Vietnam team Thai Son Bac won an exciting final against Malaysia's Equal FC to earn bragging rights for being the best team in the international finals of the Singapore edition of Tiger Street Football.
Thai Son Bac had raced to a 3-0 lead at half-time before Equal FC pegged the Vietnamese with two goals to keep themselves in contention.
However, Thai Son Bac's quality shown through as they found a killer goal in the dying minutes of the game to emerge as overall champions.
It was only an exhibition game with a US$5,000 prize purse at stake, compared with the upcoming Grand Finals prize money of US$30,000 in Vietnam.
But the strong desire to win was apparent with the display by both teams as they dived in to tackles, putting their bodies on the line they fought hard for the crown.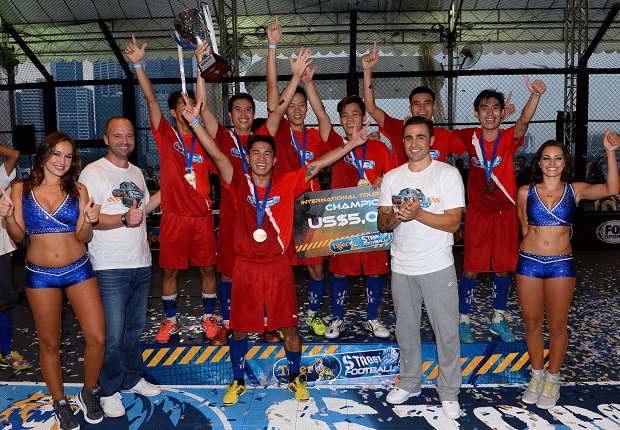 Thai Son Bac captain Bui Minh Quang admitted after the game that his side had initially faced difficulties playing in an unfamiliar setting.
"We were not used to the setting, they do not have these tents in Vietnam and it was strangely foreign to us, but we adapted to it quickly because we wanted to win," Minh said.
Earlier in the day, the winner of the Singapore qualifiers, MNA, did their best but only managed to earn third placing in the tournament.
MNA captain Ariff Hamdan said his team was still happy despite finishing in third place.
"We were very proud to have represented Singapore, and play against teams from Germany and Italy," Ariff said.
"[This tournament] gave us a chance to perform and show what Singapore [football players] can do."
However, Ariff was adamant his team will not rest on their laurels as they will be facing up against the same teams again in the Grand Finals in Vietnam in November.
"We will work our asses off, and try to bring them (the other teams) down," Ariff promised.