What is your training regime ahead of the games next weekend?Dorset Boys (Rooban Kanth, 25):
We've stepped up our game and we're holding weekly trainings, in which the focus is more on team tactics. In addition, we also watch videos of our previous games as well as those from other teams to better understand their playing style. These days it's hard to get soccer courts for us to train, so we adapt by playing our game at any space we can find. As Tiger Street Football has a unique
pitch and no side-lines, we adapted that into our training.
La Plata Jr (Kiyasuden, 32):
We play twice a week together, where we try to emulate the Tiger Street Football conditions as closely as possible. Some of our players are already in the NFL so we all have our base level of training; subsequently it's about coming together as a team to play and get organised.
As we have 3 teams within La Plata, we have sparring matches internally. We use our internal games to build internal fitness, train our tactics and practice our set pieces.
How do you intend to assert themselves as a strong team to become champions?Dorset Boys (Rooban):
We look to bring our fitness levels up, and cultivate the sense of knowing the game - it's about being smart and playing smart. Otherwise we want to take it cool, but give our best anyway.
La Plata Jr (Kiyasuden):
Most definitely the first cut is to give our level best performance. In the past we've gone up against strong teams like Brazil and Argentina, and it was all about being mentally prepared. This year's competition is really stiff, it's hard to say who will win.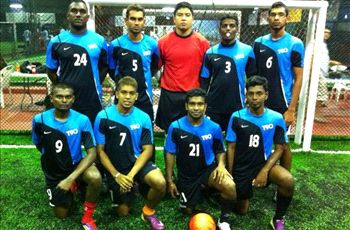 What are the obstacles that you have overcome to be at the level in the sport right now?Dorset Boys (Pictured right) (Rooban):
Team bonding could have been a potential issue, but I guess we overcame that potential problem by sticking together, whether we win or lose. Some teams just get together for a tournament, then separate after. We stick it out as a team. Sometimes we have members we pull in externally cause of occasional lack of players, but it'a always the same core of players.
Very importantly, as the captain, I have to manage the players well - that helps in team cohesion.
Of course, growing up together and playing football since 2002 helps.
La Plata Jr (Kiyasuden):
La Plata was formed over 30 years ago. However, when the current players got together, it was a new team. But through our manager's guidance we bonded and learnt to play as a cohesive unit. It also helped that we were also childhood friends.
Touch N Go - your views on their threat as a team in the competition?Dorset Boys (Rooban):
They have won the Tiger Street Football trophy twice, come with an extremely strong track record and is definitely a threat. They also have that advantage where they've gone overseas and competed against international teams with players who are physically bigger with different playing styles. They have had the chance of exposure to different types of competition and that makes them highly experienced.
La Plata Jr (Kiyasuden):
Well they are definitely a strong team, but to a certain extent everyone is on a level playing field with some luck involved. In Singapore, there's no official futsal governing presence as of yet, so futsal here still remains a sport where everyone here has an equal chance with equal room for growth.