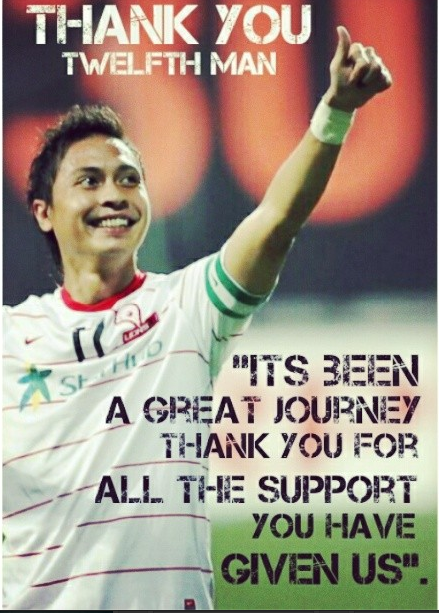 "

I'm honoured to lead the team to be crowned 2013 MSL Champions! #thankyou #12thman #wesaluteyou #respect #shahrilishak #17 #keeptheredflagflyinghigh



- LionsXII captain Shahril Ishak (above) via Instagram (thenumberseventeen).

"

Thank you fans for your positive thoughts and comments. I had a great season with the team and winning the MSL is something to remember. I am proud of my team mates as they fought really well, giving fair competition for the coach to pick the team every week. Not forgetting the NS boys who came all the way for games and training, having to juggle their mandatory commitments. Looking at a team which consists of all local [players], without 2 foreign slots, I could say we did extremely well and the boys should be proud as this may be the highlight of their career. Last and foremost, I would like to thank the Fans who were there week in and out, travelling hours just to

support us and also back home. Without you fans, the game doesn't seem to look complete and You were really our 12th man.



- Centreback Baihakki Khaizan, via Facebook.

"

How I wish we can keep this 'family' together going through ups and downs where everybody doubted us and criticised us the whole season but we marched on to be the MSL champions. [For] some of us the journey may end but some will live to continue but wherever we are, we are still one and still united and the FANS will always be in our heart!! #ishalim #lionsxii #family



- Midfielder Isa Halim via Instagram (isahalim04).

"Been a very long and hard season for us. We proved people wrong, obstacle after obstacle, we fought hard together as a team. As we go our separate ways, I wanna say thanks for all the memories and wish you guys good luck for the future. Gonna miss the great bunch of people. #LIONSXII #MSLCHAMPIONS2013 #GOODLUCKGUYS

- Goalkeeper Izwan Mahbud via Instagram (izwanmahbud).

"The memories and experiences we shared throughout this year will always stay with me forever. Through thick and thin we stayed close together to overcome many challenges and critics as a team. Definitely my best soccer career being in the LionsXII team and thankful to have such wonderful players and staff. How we wish our last game could be played at JBS in front of our 12th man whom has always been with us since last year! Yesterday could be my last time wearing the jersey with pride and once again thank you for the amazing experience and opportunity. Love you LIONSXII #blessed

- Centreback Safuwan Baharudin (above) via Instagram (saftwentyone).

"

It's so sad. Last trip with LionsXII. A memorable journey full of ups and downs. Most importantly, the boys came out as fighters and true champions.



- LionsXII phyiotherapist Nurhafizah Sujad via Twitter (@fizahphysio).

"Yesterday officially concluded the end of our season. A big thank you to my teammates which made this season so enjoyable for me, and the fans who pack Jalan Besar week in week out. It's a joy playing in front of ya'll. Thanks for the support 12th man . We love you, you know we always do. #lionsxii

- Winger Gabriel Quak vis Instagram (gabrielquak7).

"After a long year, our season comes to an end. Thank you fans for being there! Hope to see the same support next year. #lionsxii #THANKYOU

- Defender Madhu Mohana via Twitter (@madhumacintosh).

"I still can't accept the fact that our season is over. I'll miss you guys badly :( #LionsXII13

- Midfielder Zulfahmi Arifin via Twitter (@Zzzuzul17).